Face reading: Deborah Ferguson '86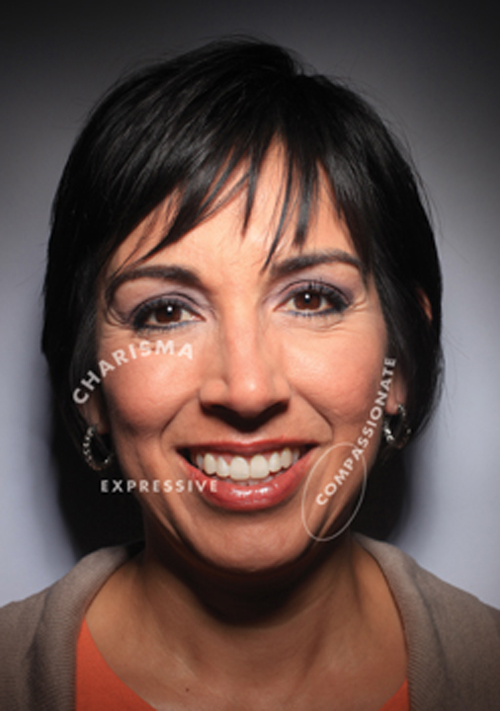 Face reading: Deborah Ferguson '86
Face reader Mac Fulfer's take on … Deborah Ferguson '86, anchor, "NBC 5 Today," KXAS-TV:
Her close-set cheeks say she is the go-to person if there is a crisis, emergency or deadline. She can crank it into high gear and run circles around most people in getting it done.
She has about four hours of barn-burning energy and really does not have a lot of patience, nor does she like to work with slow people, stupid people or plodders who drag things out and waste time.
Thick, even eyebrows indicate that she is mentally brilliant, with a focus on people. She likes real-world examples.
High eyebrows indicate that she is selective and does not like to be rushed in making a decision. Things need to feel right to her first.
Compassion lines (circled), means she is a sensitive person who has experienced grief, loss and pain, both in her personal life and professional life. When she is comforting someone and says, "I know exactly what you are going through," they know she is telling them the truth.
The ball on the tip of her nose means she inherited a creative or artistic gene and needs an outlet for her creative contribution.
Full lips are a sign that she has a natural expressive ability and an ability to communicate.
The light bouncing off her movie-star cheeks make her striking so when she walks into the room people will notice. It is her source of natural charisma.
Ferguson's take on Fulfer's analysis:
"xxxxxxxxxxx."(Still to come)
Next face: Bob Schieffer '59, moderator, "Face the Nation," CBS News
Sidebars:
Face value: Attorney turned professional face reader Mac Fulfer '71
Fulfer reads some "TCU famous" faces
Face reading 101