Face reading: Mac Fulfer '71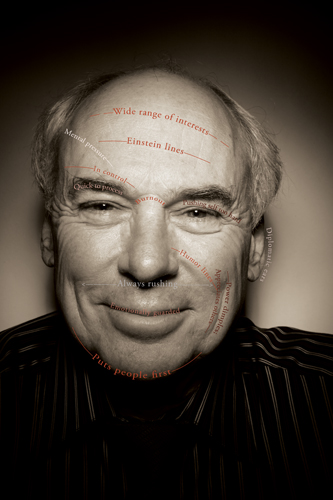 Face reading: Mac Fulfer '71
Face reader Mac Fulfer's take on … Mac Fulfer '71, Amazing Face Reading:
I have those horizontal Einstein lines on my forehead, showing that at some point in my life I pumped iron with my left brain. However, they are broken lines, which shows that I have a wide range of interests and that I am curious about a lot of different things. The diagonal lines on my forehead are mental pressure lines that I got while I was practicing law and working with court docket deadlines.
The horizontal line across the bridge of my nose is a burnout line. I felt better after I discovered that Mohandas Gandhi also had a burnout line. He too had once been a lawyer before he became a spiritual teacher.
I have close-set cheeks that says that I don't have a lot of patience for working with slow people, and I am always rushing to get things done. I can't even mow the yard slowly.
My power dimples are the deep vertical lines on my cheeks. They indicated that I am an exhorter who wants to acknowledge others and encourage their efforts and try and lift them up and show them my appreciation.
The thin upper lip indicates that I am emotionally guarded.
I have small high ears and low eyebrows, which reveal that I take in information quickly and process quickly. However, I have to be careful to slow down and even be willing to repeat myself so I don't mentally run off and lose my listener.
My ears are in at the tops and out at the bottom. For most of my life they stuck straight out like two taxi cab doors left hanging open, but when I started practicing law, I had to learn how to negotiate and compromise. When I changed professions, my ears changed. Now, they are what I would call diplomatic ears, someone who can fund middle ground and talk on their feet without a script.
The lines on the side of my nose are humor lines and expose a person who has an impish sense of humor and who likes to have fun.
My angled eyebrows say that I stay mentally in control, but my round chin says that when I get down to acting on my thoughts, I put people first.
My eyelids are also hanging down a bit, which says that I am pushing myself too hard. I must admit that I never thought I would still be working as much as I am at this stage of my life, but I enjoy what I do so much that it is hard to make myself slow down.
Sidebars:
Face value: Attorney turned professional face reader Mac Fulfer '71 
Fulfer reads some "TCU famous" faces
Face reading 101