Face reading: Tejay Johnson '12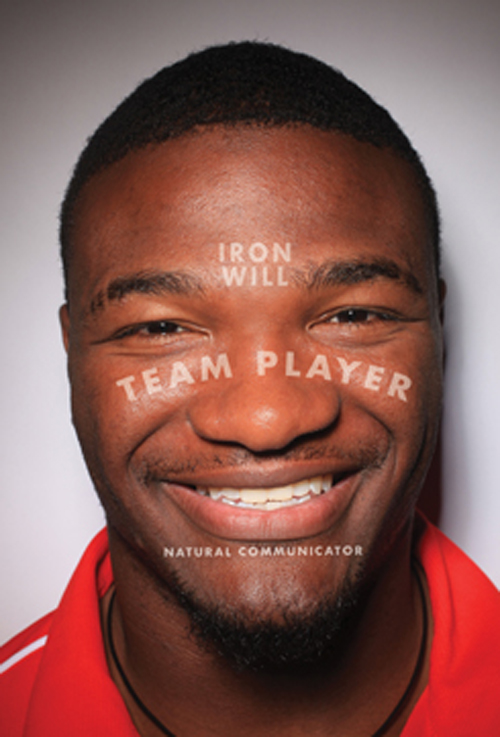 Face reading: Tejay Johnson '12
Face reader Mac Fulfer's take on … Tejay Johnson '12, All-American and First-team All-Mountain West Conference safety:
He has warrior cheeks and can go the distance. Coupled with his big square chin, he is a person who is not afraid of competition and goes all out for his goals. Like a Super Ball, if he gets knocked down he bounces right back up.
The low bridge on his nose is the mark of a team player and one who wants to make a contribution to the team. He would not do well working by himself in a cubicle in a back room.
The wide base of his nose indicates he is a natural provider, and he puts a broad umbrella of support over those he bonds and connects with.
Since his nose tip turns down, he does not extend trust quickly or easily. His approach is, "Show me, then I will believe you."
Small irises reveal that he is sensitive and may be almost allergic to anyone raising their voice or yelling at him.
Hidden upper eyelids indicate that he is focused like a laser beam, when he puts his attention on something he can almost tune the rest of the world out. However, he needs his own personal space, and in relationships he needs someone who does not try to control him, smother him or tie him down.
The wide space between his eyebrows is the mark of someone with an iron will. Once he decides to do something, he is hard to stop.
Excess hairs at the start of his left eyebrow show he is a quick judge of character and can size someone up in just a few minutes.
Full lips make him a natural communicator with a warm personality.
Johnson's take on Fulfer's analysis:
"In regard to the face reading, I agree with some things that were stated. I feel that most of them are all my characteristics and some were my characteristics in the past, such as the yelling part. All in all, I like the reading and feel that it was accurate."
Next face: Mac Fulfer '71, Amazing Face Reading
Sidebars:
Face value: Attorney turned professional face reader Mac Fulfer '71 
Fulfer reads some "TCU famous" faces
Face reading 101