All spooks day extravaganza: Monte Maxwell '86
Naval Academy Organist Monte Maxwell '86 draws a huge crowd for his annual Halloween concert.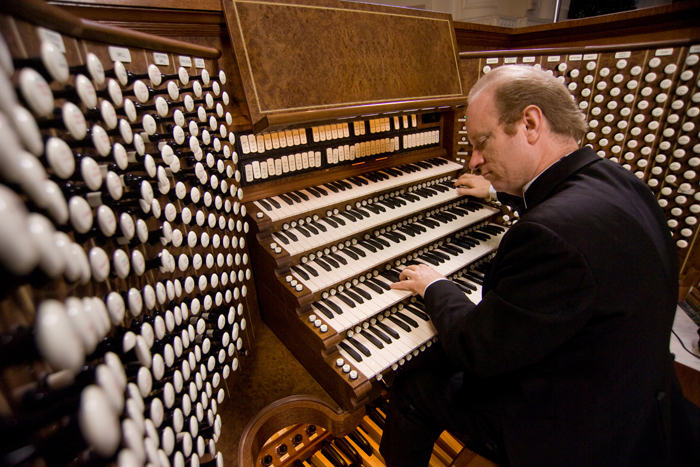 All spooks day extravaganza: Monte Maxwell '86
Naval Academy Organist Monte Maxwell '86 draws a huge crowd for his annual Halloween concert.
Every head turns toward the back of the chapel as six hooded monks bring a casket down the aisle. Monte Maxwell '86, in long-tailed tux and red bow-tie, is a much more comfortable corpse this year.
"After I complained last year, a few of the midshipmen fitted my coffin with padding and a pillow," laughs the director of music and chapel organist at the U.S. Naval Academy. "They even put in a light for me."
Lights are a signature of Maxwell's annual Halloween extravaganza, a musical mix that features him (once he exits his casket) at the five-manual, 268-rank Academy organ, playing everything from Bach's Toccata and Fugue in D Minor  to The Addams Family theme song to theBattle Hymn of the Republic for a talented brigade of singing, acting and dancing midshipmen.
Maxwell, who plays at Chapel weddings, memorial services, funerals and both Protestant and Catholic services year-round, instituted the show his first year of employment at the Academy.
"In 1997, there were only about 300 people in the audience. But the following year, 3,000 people showed up. Now, we give two performances to a full house of two thousand each time." The tickets are sold out weeks in advance to a faithful local community and graduates who fly back each year from all over the world.
Maxwell's road to the Academy — and the role as a zombie organist — began when he was just a kid. At age 9, he convinced his parents to let him take piano lessons. The first time he heard an organ, in church, he was smitten. Lacking an organ teacher in his hometown of San Angelo, he began to teach himself. He bought and borrowed LPs of organ music, playing them until he "nearly wore the grooves out." When he felt he was ready, he asked the church organist if he could practice when church wasn't in session. Not long after, he was playing Bach at services.
Maxwell found both organ teacher and mentor in emeritus professor Emmet Smith '54 MM, who encouraged him to apply for the Nordan Scholarship. Winning the competition allowed Maxwell to study at TCU tuition-free.
"Emmet was a major catalyst in my career," says Maxwell. "He introduced his students to the wider world of music, by bringing organists to TCU from all over the globe."
Smith could also recognize talent, and two weeks before Maxwell graduated, encouraged John Weaver, then head of the organ department at The Curtis Institute, to audition him. After hearing Maxwell play, Weaver invited him to attend the Institute, then later Juilliard. He also recommended him for the Naval Academy post.
Last year Smith, now an emeritus professor, and his wife, Judy Oelfke Smith '61, took the train from Fort Worth to Maryland to see the All Saint's Day concert. "Monte played for one hour and fifty minutes, all from memory," said Emmet Smith. "It was the finest non-Broadway Broadway show I've ever seen."
Judy Smith says the genesis of the Annapolis program was something Emmet arranged when he was chairman of the music department in the mid-1980s and Maxwell was a student. TCU presented the Lon Chaney silent movie Phantom of the Opera Halloween evening, and invited the campus and community in their costumes to Ed Landreth Hall. Student Tom Helms '82, who was carried onto the stage in a casket, jumped out in tux and cape and sat down at the organ console and began playing the "Bach D Minor," accompanying the entire movie with improvisations and effects on the organ.
Maxwell was painfully shy as a child, but the organ, he says, demands that you stand up to it. The Halloween show, which features more than 100 midshipmen, professional makeup artists, costumes, lighting, and even a fog machine, is centered by the organ's magnificent sound. And Maxwell is clearly its master.
His other passion, roller coasters, whisks him out of the driver's seat. But playing the organ and riding a coaster are really not so far apart as they might seem.
"They are both thrilling experiences," he says.
When he plays, Maxwell is in complete control. But when he's riding, "the roller coaster has control of me. There's a balance there."
On the Web:
http://www.usna.edu/Music/Accessable/halloween.html