Stay wired!: John Campbell '08
John Campbell '08 combines tech help with java at his Stay Wired! Coffeehouse and Computer Service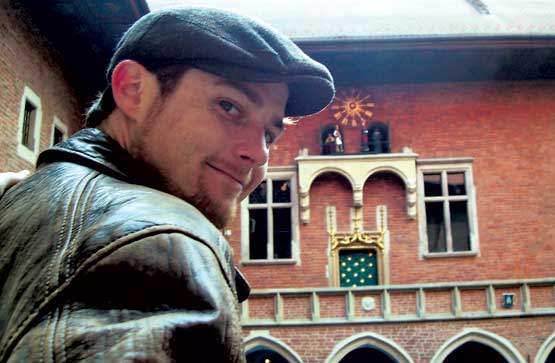 Stay wired!: John Campbell '08
John Campbell '08 combines tech help with java at his Stay Wired! Coffeehouse and Computer Service
A computer failure can turn into a positive experience if the repair shop has a coffee bar, friendly technicians and a thriving culture to keep you company. That is the premise behind Stay Wired! Coffeehouse and Computer Service, owned by John Campbell '08.
The 28-year-old launched the business in 2009 to create a welcoming environment where customers can forget the stress normally associated with computer problems.
Stay Wired! stands on the northeast corner of Cockrell and Berry Streets, across from the TCU bookstore. On any given day, you'll find students armed with lattes hunched over laptops, studying. Music by the likes of Theolonious Monk or Budgie plays quietly from the overhead speakers. If it's Thursday, a sound system is getting set up for open-mic night. The upstairs space has seen TCU physics professor Bruce Miller and German and French professor Jeffrey Todd teach impromptu class sessions.
"TCU's approach to education," Campbell says, "really helps foster the entrepreneurial spirit. It's about getting things done in the real world."
He's figured out that offering free computer diagnoses keeps business coming in and that tweaking machines for better performance at no extra charge keeps customers happy.
"We don't want to turn the shop into a showcase of how much we know about computers," he says. "We just want to make it work; but we also want to give customers some information they'll actually appreciate rather than information that just confuses them more."
Meanwhile, on the coffee side of the business, an eclectic culture flourishes on its own. Without Campbell's input, regulars and baristas formed a book club, and the shop has hosted both a branch of the International Socialist Organization and a Tea Party group.
"We have to make sure we don't schedule them together, which happened once," Campbell says with a laugh. The coffee side lets the community steer, featuring art by local talents and drinks such as "The Nemo" named after favorite folk.
"Giving customers a positive experience is something that has been missing from the IT field," he says. "We want people to look forward to using technology."