Keys of success
Two Frogs earned top honors at prestigious international piano competitions.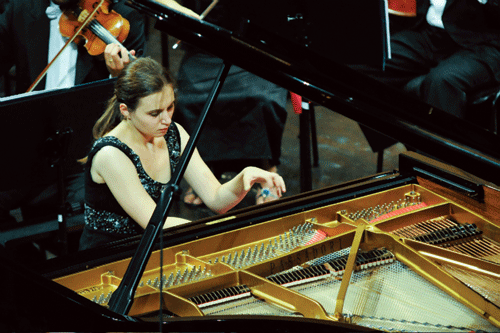 Keys of success
Two Frogs earned top honors at prestigious international piano competitions.
Anna Bulkina, a master of music in piano performance student, was awarded equal second prize — essentially a tie — in the Busoni International Piano Competition in Bolzano, Italy, on Sept. 2. A first prize was not awarded. She received 10,000 euros as well as concert engagements.
Cheng Zhang '11 received the gold medal at the 24th Clara Haskil International Piano Competition on Sept. 16 in Montreux, Switzerland. His prize was 24,500 Swiss francs and opportunities to perform recitals and concerts.
Bulkina, who recently completed the Artist Diploma at TCU, says her success at the Busoni represents the best she was capable of on the day of the finals when she performed Prokofiev's Concerto No. 2.
"But I don't think that this is my limit of what I can do," said the 25-year-old from Krasnodovsk, Russia. "I just tried to improve myself as much as possible before the competition."
How a successful competition will affect a pianist's career is "something you never know," Bulkina said. "I don't consider myself a complete artist yet. I still have to learn and digest many things."
Bulkina's teacher sounds the same note. "The competition is not the end for any student," said Tamás Ungár, professor of piano. "There is so much more to learn and the student's continued desire to learn is the way we, as teachers, know that we've done our job," he said.
Ungár wears many hats: He is also the director of the annual PianoTexas International Academy & Festival, scheduled for June 7 to July 1, 2012 at TCU, and also artistic director of the Beijing International Piano Festival.
Bulkina and Zhang won numerous piano competitions as children, and have participated very successfully in PianoTexas for several years. Ungár recruited them to TCU.
"I came here because of Dr. Ungár," said Bulkina, a graduate of the Sergei Rachmaninoff Russian Conservatory of Rostov. "I never looked anywhere else for further study," she said. In November, Bulkina will perform a solo recital in São Paolo, Brazil.
Now back in China, Zhang says that his years at TCU have been a time of growth. "I really appreciate my teacher and the School of Music of TCU for giving me such an environment to think and to be myself." He is now  preparing for several concerts in Germany and is waiting for a visa so he can relocate to Berlin, where he'll be studying at the University of the Arts.
Ungár said that both Bulkina and Zhang, "have the attitude that winning a competition is the beginning, not the end. They will continue studying and working toward a career."
Nevertheless, he recognizes that a good showing at a well-regarded competition, such as the Busoni or the Clara Haskil, can boost the potential success of a young artist. Though the Busoni isn't a top-tier event like the Cliburn or the Tchaikovsky, it can be "like a final career-jolting competition. The winners have an opportunity to be considered as up-and-coming professionals," said Ungar.
The Clara Haskil Competition, also well-regarded but not top-tier, said Ungar, "is much more about assisting the careers of students, which is perfect for a 21-year-old artist" such as Zhang, who was born in Hunan, China, and attended the Shenzhen Arts School to study piano performance.
In the Clara Haskil finals Zhang performed Beethoven's Concerto No. 4 in G major. Not only did he win the Gold Prize from the judges, he also received the Audience Prize, based on concert-goers' votes.
Like Bulkina, Zhang doesn't presume that his win at the Clara Haskil will dramatically affect his immediate future. "I know that for the moment I will receive support and a few concerts from this competition, but I must continue to develop as a musician."
"Music," he notes, "is not a business, but a mission full of passion."