Home conference home
All it took was good ol' fashioned planning, fundraising, building and a whole lot of winning to get TCU from Southwest Conference castoff, through five leagues in 17 years, to BCS credibility, and, finally, into the Big 12.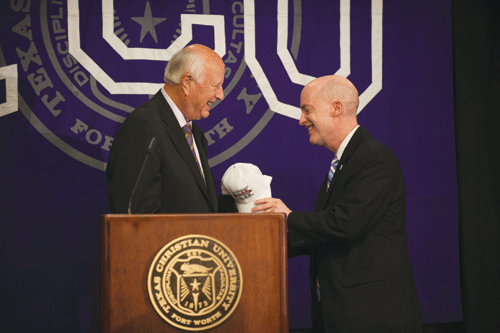 Home conference home
All it took was good ol' fashioned planning, fundraising, building and a whole lot of winning to get TCU from Southwest Conference castoff, through five leagues in 17 years, to BCS credibility, and, finally, into the Big 12.
TCU Director of Intercollegiate Athletics Chris Del Conte was parked in his driveway at 7:42 a.m. on Oct. 6 when his cell phone rang.
"Welcome to the Big 12," said Chuck Neinas, the conference's interim commissioner. Moments before, Neinas had called Chancellor Victor J. Boschini, Jr. and interrupted his Thursday morning breakfast with the same greeting and invitation. Both times, the commissioner's words were met with stunned silence.
It was a historic moment for TCU, as unexpected as it was thrilling, and perhaps the most noteworthy development at the school since it was included in the old Southwest Conference (SWC) in the 1920s.
But this time, the meaning was much deeper and the stakes much greater. The invitation to join the Big 12 was the capstone of a nearly two-decade effort to restore the Horned Frogs to national prominence. It spanned the tenures of three chancellors, four athletics directors, dozens of trustees and scores of donors. It was the culmination of a quest to rejoin the company of former SWC brothers who decided in 1994 that the Frogs had too few resources — and was too far from being a significant player again — to include them when the Big Eight Conference absorbed Texas, Texas A&M, Baylor and Texas Tech. The Big 12 was born, the SWC was no more and TCU was left behind.
For some, this invitation was validation — confirmation of worthiness and hard-earned respect. For others, it meant the ultimate return on investment. After years of planning and fund-raising and building, TCU was back in the big time, back where it belonged.
It had been a thrilling 24 months leading up to that day. In November 2009, the school hosted ESPN's College GameDay for the first time, and on the same Saturday, shattered the attendance mark for Amon G. Carter Stadium, squeezing in a standing-room-only crowd of 50,307. The 55-28 pounding of No. 16 Utah was the signature win on the way to the school's first 12-0 regular season record and a maiden trip to the Bowl Championship Series' Tostitos Fiesta Bowl. The following season brought another unblemished 12-0 mark and an appearance in the prestigious Rose Bowl game, which the Frogs won, 21-19, in the contest's dramatic final minutes. Sandwiched in between, just one November ago, was the invitation to enter the Big East Conference and finally become a member of the BCS.
Put simply, TCU was now among the haves.
Even sweeter, the program was a commodity. The oft-criticized Big East sought out the Frogs alone to secure its football credibility. TCU was praised widely as conference savior, and as odd as it sounded (and appeared on a map), the Rhode Island-based league, known more for hoops than the gridiron, was seemingly the terminus on the Frogs' decade-plus, multi-conference odyssey. True, TCU was not back with its old SWC brethren, but the school had finally arrived. The 1994 SWC breakup and Big 12 snub were now mere footnotes of the journey.
But then the college athletics landscape quaked again in summer 2011, with conferences east and south seeking new territory and greater television riches by adding to their membership. Texas A&M's flirtation with the Southeastern Conference garnered the loudest and longest hype, but the tremor that shook TCU and its new home the most was the shocking departure of long-standing Big East members Syracuse and Pittsburgh to the Atlantic Coast Conference. Suddenly, the fragile Big East was demoralized, like the Mountain West after the exits of BYU and Utah. It was not the conference the Frogs agreed to join.
Meanwhile, the Big 12 had its own chaos. Just a year after inciting Nebraska and Colorado to leave, conference antagonist Texas worked its own private deal with ESPN on a 20-year, $300 million startup called the Longhorn Network, which could show games not televised by the Big 12's broadcast and cable partners. The richest was getting richer. When it came to light that the Longhorns planned to air league games and the games of potential high school recruits, Texas A&M, in particular, couldn't let it stand.
For weeks, the league and its members alternated between pleading with the Aggies to stay and threatening to sue them if they followed through on their SEC wish. Eventually, the conference relented, and the suddenly nine-member Big 12 needed another school to remain at 10, a critical stipulation of its freshly negotiated 13-year, $1.17 billion television contract with Fox and existing eight-year, $480 million deal with ESPN.
BYU, West Virginia, Louisville, Cincinnati, Air Force, even Tulane were rumored and then vetted for the conference vacancy. TCU, while frequently discussed, was dismissed because the Frogs supposedly offered little in a fan base and no new turf.
As the 2011 season kicked off, rumors swirled about league stalwart Oklahoma and others eyeing the Pacific 12 Conference, calling into question the Big 12's future.
It was another crisis for a league that had become synonymous with turmoil. The northern schools wanted a new commissioner who would promote what was good for the entire conference, not just its heavyweights, as embattled league boss Dan Beebe was criticized for doing. They also favored a more equitable financial model and TCU as the 10th member to give them another annual trip into the talent-rich Lone Star state. By the end of September, Beebe was gone.
In Neinas, the league found compromise. Respected by all parties, the 79-year-old former Big Eight commissioner, NCAA administrator and president of the defunct College Football Alliance brought experience and strong relationships. He had helped many of the schools identify successful head coaches, including Oklahoma's Bob Stoops and Texas' Mack Brown.
Within weeks, he brought the Big 12 back from the brink of fracture, hammering out a six-year agreement on the equal sharing of broadcast and cable television rights, while allowing each school to retain its own third-tier media rights. Texas could keep its network (and riches) but agreed to programming restrictions, including no high school games.
To settle on the league's 10th school, Neinas' just-the-facts approach was difficult to rebut: TCU's on-the-field performance, cultural and historical ties, economic ascent and geographic fit all trumped what other candidates offered.
Perhaps most stunning, and what swayed TV partners, was TCU's television attractiveness. The Frogs' last five national TV appearances, boosted by the nearly 21 million viewers who watched them at the 2011 Rose Bowl, drew better ratings than Texas A&M's last five televised games. The Frogs and the Big 12 needed one another.
At the on-campus press announcement, just four days after his phone calls to the TCU brain trust, Neinas handed Boschini a hat with the conference logo on it and acknowledged the Horned Frogs' journey: "TCU has traveled a long path, been to different places. Sir, I'd like to welcome you home."
Minutes later, Del Conte fought back tears behind the podium. "We never made an excuse. We never said, 'Why not us?' [TCU donors and fans] decided, 'We will take care of our own. We will get to the promised land if we work hard and believe in each other.' And you did that.
"This is living proof that dreams do come true."
New challenges
The Big 12 in 2012 has a nice ring to it, but is TCU ready for its new home? If there is any question about the weekly gauntlet the Frogs will face, check out the conference's football standings this season: There are no undefeated teams. Everyone has a conference loss. Eight of the league's 10 teams were ranked in the Top 25 polls at some point during the season, and nine had a chance to go to a bowl until the final Saturday.
That's why the Big 12 is arguably the nation's most competitive league top to bottom — and it may be getting tougher. In TCU and West Virginia, who at press time had been invited, the Big 12 is getting two teams ranked in the Top 25 and champions of their conferences. The Frogs have won 10 games or more for four consecutive seasons; the Mountaineers have played in three BCS games in the last seven years.
Next year figures to be the Frogs' most rigorous regular-season slate in school history. The basketball and baseball programs will face similar tests. In men's hoops, three Big 12 teams began the season ranked. On the women's side, the league had four Top 25 teams, including No. 1 Baylor. On the diamond, six teams were in last season's NCAA Tournament, including two hosts, both of whom reached the College World Series.
"TCU has built itself slowly into a Top 25-caliber athletics department, and joining the Big 12 is like taking the last big step," said John Denton '85, director of major gifts for TCU Athletics and radio color commentator. "There is no question we are going into a league that is going to present some serious challenges, but it's not going to be like the old SWC where we just come along for the ride."
Radio partner and Frogs' play-by-play man Brian Estridge agrees: "We're going to be fine. The Big 12 is going to raise all ships. We have quality coaches and great student-athletes. That's not changing. Our old friend [MWC commissioner] Craig Thompson always said, 'When you add to a conference, you add to the top. Not the middle.' That's what the Big 12 has done. We're going to come in and compete on day one."
But among old TCU hands, there is concern that the recent glory days will come to an end once Texas and Oklahoma appear annually on the Frogs' schedule. In fact, legendary sports writer Dan Jenkins '53 told one national writer, "It's goodbye 12-0 seasons, hello, 8-4s."
Will Frog fans need to change their definition of success?  Not necessarily, says Del Conte. "We'll manage our expectations, but I love for our fans to have great expectations. I do," he said. "Expectations make you strive to get better. No expectations means you're apathetic. This new challenge will make us strive to do our best."
Del Conte points out that the Frogs enter their new league with facilities that rival anything in the Big 12, but numerous improvements planned even before the conference shuffle began will be needed. The $164 million renovation of Amon G. Carter Stadium, with a final capacity of about 45,000, will be ready in September and feature 32 suites and 2,537 club seats, wider concourses, a new press box and two video boards.
"The stadium still could be expanded to 50,000," said Del Conte, "but we want to make sure all the seats are filled with Horned Frog purple, except for a small sliver for the visiting team."
That fan base is growing. Athletics sold a record 22,000 season tickets for the 2011 season in a transition year for the stadium. Future seasons could push that up over 30,000 or higher, some believe. It will have to for the Frogs to keep up in the Big 12.
Facilities are growing, too. Earlier this fall, the department opened an 18,000-square-foot all-sport Intercollegiate Strength and Conditioning Center that links the Ed & Rae Schollmaier Basketball Complex with Daniel-Meyer Coliseum and the Sam Baugh Indoor Practice Facility.
By next summer, football will move into a new 6,000-square-foot locker room inside the Walsh Complex, where the former weight room was located. Sports Medicine and Equipment Services will also get larger spaces.
Baseball's Lupton Stadium and Williams-Reilly Field expanded to 4,500 seats in 2010, but the home and visiting locker rooms are due for an upgrade, both of which will happen before Big 12 play.
Athletics also plans to expand the John Justin Center to provide office space for track and field and rifle coaches and construct a field house at the Lowdon Track and Field Complex.
The biggest-ticket item, however, is 50-year-old Daniel-Meyer Coliseum, which most believe shows every bit of its age. Plans call for a widened concourse, improved restrooms and concessions and aesthetic touches to the front façade. "We think it's a good arena. We like the bowl,"  said Del Conte. "It's loud and every seat is a good one."
All these capital projects will rely solely on fund-raising and not the department's budget, said G. Malcolm Louden '67, a university trustee and previous chair of TCU's intercollegiate athletics committee from 1986 to 2006. The good news is that the school already has major commitments promised for baseball and track, plus there's interest in the coliseum, he said.
TCU's athletics' budget of about $52 million last year was highest in the Mountain West, but it would rank eighth in the Big 12. Still, that's a major upgrade from the Conference USA days when it stood at about $21 million. But there's no denying the Frogs are now playing against programs with deeper pockets. Texas leads the conference with a whopping $153 million ledger with Oklahoma ($90 million) also a big spender. Can TCU keep up?
"Revenue [from the Big 12] is going to go up, but it's also going to be more expensive. We know this," Louden said. "But great people can make a difference, and we have them. Our athletics director is amazing, and our chancellor has done just an incredible job. Lots of other people, now and earlier, laid a great foundation, and we wouldn't be in the Big 12 if not for them."
TCU donors are contributing at record levels. Total athletics giving in the 2010-11 year was an all-time high of more than $39 million. Frog Club fund-raising for athletics scholarships was also a record $5 million, covering about half the cost of TCU's 300 student-athletes.
B
ut the university has some logistical questions to answer in the next nine months. Can existing traffic management handle an influx of Big 12 fans? Are there enough parking lots? Is the current shuttle system from neighboring schools and churches adequate? Where will TCU put opposing fans that show up in a fleet of RVs four days before a game?
Del Conte and the department are mulling potential solutions, acknowledging that the city and community will be relied on for continued help. The Fort Worth school district's Farrington Field and the Will Rogers Memorial Center may be options.
"It's going to be like [the Crowne Plaza Invitational] Colonial several times a year," said Denton. "Think of it this way: Instead of New Mexico for Homecoming, it might be Oklahoma State or Texas Tech."
Frog fans may have to adjust their game-day routines. It's going to be crowded and loud, Denton warns, but the tradition and pagentry of college football will be here like TCU has never experienced and the Frogs will be a part of it.
"We're in the Big 12 now. We need to focus on the first word of that — big."
Related stories:
Home conference home – From SWC castoff, through five leagues in 17 years, to BCS credibility, and, finally, into the Big 12
The original conference call – A century ago TCU fought to play in the Southwest Conference. With the Big 12, they won their way in.
Dancing in Sundance Square – Fort Worth city leaders are over the moon with excitement about the hometown Frogs' move to the Big 12.
Video:
Ethan Waters, age 6 and son of editor Rick Waters, introduces the teams in the Big 12.