Frogwarts
Harry Potter's Quidditch moves from fiction to the TCU campus.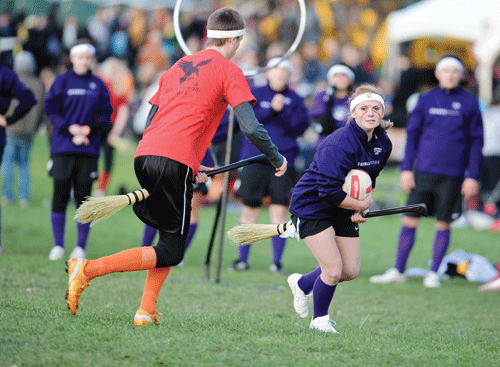 Frogwarts
Harry Potter's Quidditch moves from fiction to the TCU campus.
Harry Potter and his Hogwarts chums popularized the game on flying brooms. But TCU students have found that even ground-bound Muggles can enjoy Quidditch.
Organized last spring, the TCU Quidditch Club plays the J.K. Rowling-inspired sport against other universities in the International Quidditch Association. In fact, their brooms have traveled far and wide. The TCU club scrimmaged against Oklahoma City University in October and in November traveled to New York to compete as one of 80 teams in the Quidditch World Cup. The sport's main season is actually in the spring, when the TCU squad will compete in tournaments at LSU, Texas A&M, Texas Tech, Arkansas and South Alabama.
"I would say that most of the people who play Quidditch are Harry Potter fans," says Lindsey Carnes, TCU Quidditch Club founder and president. "But there are a surprising number of players who have never read the books or seen the movies and just thought it looked like a cool game."
Because the competitors are Muggles — ordinary people with no magical abilities — some adaptations had to be made.
"The rules are the same as in the books and movies except for the fact that we can't actually fly — we're working on that part," explains Carnes, a junior psychology major and child development minor. "So we have to run instead."
In this version of Quidditch, the snitch is not a small flying object. It's a person dressed in gold who runs around campus being sought by a group of players known as seekers. TCU Quidditch Club members wear Nike soccer uniforms as their game duds rather than Hogwarts-style prep school outfits.
Brooms, though, remain a key piece of equipment. Players are required to have a broom between their legs at all times, or it is a penalty.
"The entire TCU community, including the administration, faculty and staff have gotten the Quidditch fever," Carnes says of the club, which in a short amount of time has already swelled to 60 members — an impressive figure considering only 21 players can represent the team in matches.
"My hopes are that through Quidditch we might be able to bring a little bit of magic to TCU."
Follow the team:
facebook.com/pages/TCU-Quidditch
twitter.com/TCUQuidditch