Healing arts
Nursing professor finds therapy is a work of art.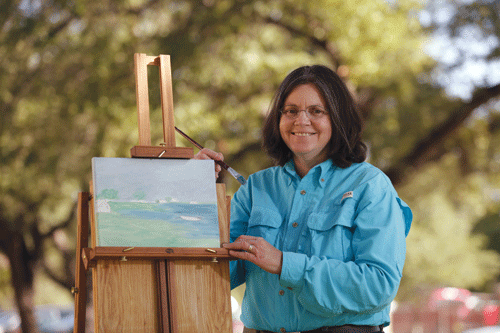 Healing arts
Nursing professor finds therapy is a work of art.
Debra McLachlan discovered a passion for art just when she needed it most.
Diagnosed with a chronic autoimmune disease, she was looking for a way to cope with her pain and fatigue. McLachlan, an associate professor of nursing in the Harris College of Nursing and Health Sciences, hadn't really drawn since fifth grade, but with the encouragement of art therapist Jane P. Avila, founder of The Art Station in Fort Worth, McLachlan started sketching again.
"I was looking for something to enhance my quality of life, something holistic," she says. "In nursing, I certainly believe in holistic care, treating the whole person, whereas in the field of medicine the focus is primarily disease management. There are many complementary therapies such as art therapy, music therapy and others that address the patient's body, mind, and spirit and can increase quality of life."
In 2006, she went on a trip to London with her husband and sketched everything from St. Paul's Cathedral and the Tower of London to boats on the Thames. Back in the States, she showed her work to her art therapist, who then turned to her and said, "You can draw."
Since then McLachlan has expanded her artistic endeavors into watercolors and oils, spending some time last summer in an artist residency at the Nantucket School of Design & The Arts in Massachusetts, where she painted images of the Atlantic Ocean. Paulette Burns, dean of the college, had suggested that McLachlan stage an exhibition of her works and tell her story to students. On Sept. 6, McLachlan made her artistic debut at an exhibition in the Annie Richardson Bass Building. The title of the exhibition was "Healing."
The exhibition was incorporated into the curriculum for several nursing classes. Grace Chi, a new nursing faculty member to the Harris College of Nursing and Health Sciences, developed an assignment for the art exhibition that asked students to explore art (painting, music, sculpture, dance, poetry, storytelling and journaling) as healing interventions for patients. Students were also encouraged to brainstorm ways they could integrate "art" into their nursing care of patients, particularly when teaching their patients.
During the art exhibition, students interviewed McLachlan to gain insight into how art and similar therapies can help patients.
"I said to them, 'You're going to give IVs and medicines, but think about the whole life of the patient — what they like to do, how they relax,' " she says.
Students were also asked to write down their impressions of the artwork and what the artist was trying to express.
Sophomore nursing student Rachel Presson wrote, "She used mostly blue and images of ocean waters. This gives off a serenity which can be useful in healing because the images are calming. Using waves of an ocean can symbolize renewal."
Sophomore Amanda Hillary observed, "The artist emphasized the idea of natural movement, peaceful rhythms, as well as more vigorous waves, pertaining perhaps to her struggle with chronic illness."
In 1998, McLachlan was diagnosed with Sjögren's Syndrome, an autoimmune disorder in which a person's white blood cells attack his or her moisture-producing glands and organs. Symptoms such as dry eyes and dry mouth are hallmarks of the disease, but Sjögren's can also lead to the dysfunction of major organs such as the kidneys, lungs, liver and central nervous system. Many patients experience extreme fatigue and joint pain. An estimated 4 million people in the United States have Sjögren's, including Venus Williams, who withdrew from this year's U.S. Open after disclosing that she had been diagnosed with the disease.
For McLachlan, art provides one of the only respites from the disease and the related stress.
"When you're making art, painting or sculpting or whatever, you're working more in the right brain so the left brain, your analytical thinking brain, is not really working full at that time."
When I paint, it's like going on a vacation. I am less aware of the pain, the fatigue and things I have from the chronic illness. It's also energizing. After a painting session, I feel like the stress has come right out of me. Plus you have something to look at — you paint the picture and the art gives back."