First Person with … volleyball coach Prentice Lewis
Women's volleyball started a school-record 13-0, racked up 25 wins and finished third in the MWC, but they just missed the NCAA Tournament. Coach Lewis reflects on the year and motherhood.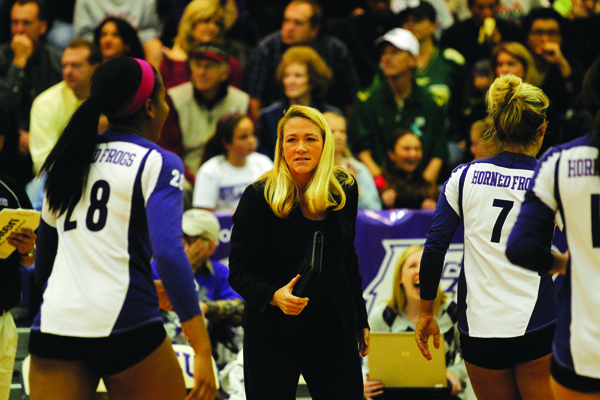 First Person with … volleyball coach Prentice Lewis
Women's volleyball started a school-record 13-0, racked up 25 wins and finished third in the MWC, but they just missed the NCAA Tournament. Coach Lewis reflects on the year and motherhood.
There was the undefeated streak at the beginning of the year and some tough losses in conference play. How do you feel about how the season went?
We were 25-7 and that is a pretty good season. We were 17-3 on the road and 8-1 against BCS teams so we had a number of highlights. We almost reached our goals, but we have high expectations. Our goal every year is the NCAAs. We lost close games against UNLV, San Diego State and Wyoming. Those really hurt, but we came back strong to beat Pittsburgh and UC Santa Barbara to give ourselves a chance. It just didn't work out.
When did expectations change?
When our players returned healthy I knew we were going to be good. At the start of the season, we beat a lot of good teams on the road. Teams that thought they would beat us. Winning those matches gave our team confidence.
We lead the MWC in digging and that is one of our biggest strengths. You have to dig and pass in order to win matches and the only matches we lost this season we were out dug.
This was the third season that I have felt like we should have been in the NCAA Tournament. We made it in 2009, but the 2004 team — Dominika Szabo and Ellen Rheme's senior year — beat Arkansas head-to-head the last weekend and Arkansas got in the tournament over us. But [the selection committee has] to know who you are to get in. It happens every year to one or two teams.
This was your 10th season at TCU. When you look back, is the program where you thought it would be?
It's gone by really fast. I always wanted to have players that want to train, be coached, and want to win as much as I do. Being candid, I thought we would make the NCAA Tournament sooner but the wait made it sweeter. This year was great in that it showed that last year's 15-16 record was due to injuries and an aberration. Twenty-win seasons is what we are about. I want to be at TCU, I like the players we've had and I think we've gotten better and better over time. I like to think it is night and day from when we first started.
The match against Texas in October showed just how much interest people are beginning to have.
We've tripled our attendance since we got here. This season, we averaged at least 1,700 fans per match. That's 19th in the country. I think that shows that people are thinking about TCU volleyball and want to watch us and root for us. We have great support, and with moving conferences, we are going to need a bigger building! And some facility upgrades.
Such as … ?
We had 2,600 [attendees] for Texas and had to close the door — 300 were outside wanting to get in. What a great problem to have. I'd like to see us add bleachers on the ends, and give the gym a college-event feel.
Would you move matches back to Daniel-Meyer Coliseum?
No. Not at all. Too big. Too round!
What are your thoughts on changing leagues next year?
We have moved leagues two times in 10 years and started at the bottom in each league, but moved up to the top three within three years. We hope to do the same thing in the Big 12, but we have our work cut out for us. The Mountain West has been awesome for us. Each move has been better for us — C-USA, then MWC. The Big East would have been, too. I think we could have been one of the top programs there. Now with the Big 12, we'll have to scrap our way up again. Competition will be tough. [Eight Big 12 teams made this year's NCAA Tournament field, and four are hosting in the first two rounds.]
How have you changed as a coach since you became a mom? [She and husband Jeff welcomed a daughter, Landry Madison, in February of 2011.]
I go just as hard. I'm just as focused. I'm just as determined. But it has changed my perspective. I look at Landry and I'm not worrying about everything with the team. I am not stressed 24/7. I think being a mom gives you a little time away. You wouldn't think so. I get less sleep. But I'm not giving the team any less. There's no less motivation. I just don't take it home every night. I think her face does it. I was ticked right after the Texas match. Then see her wheeling around, and it's an automatic smile. But it doesn't make you forget because when she went to bed, I went back to being ticked again.
Once a coach, always a coach.
Well, it's nice to have that time of peace. People don't realize the amount of baggage coaches carry. It's not a Monday to Friday job. I still wake up in the middle of the night and think Oh, I can do that. Landry just gives me some relaxation and calming. She smiles all the time. It's infectious. I love being a mom.
You experienced a very scary episode in 2003 on the recruiting trail and had brain surgery for an inflamed abscess. How is your health these days?
I average about a seizure a year. It would have been two years without one, except I had one when Landry was born. They usually come when I'm exhausted, and with her, I had a C-section and a lot of hormones, and it triggered a big one. It's not something I think about or worry about. Not something I can control. I just deal with it when it happens and move on.
What are your thoughts about next season?
I'm excited about our recruiting classes for 2012 and 2013. The timing for the conference announcement was not the best, to be honest. But we will have two of our best recruiting classes. So I look forward to seeing these teams compete in the Big 12. The Big 12 gets six to eight teams in the NCAA's every year. [MWC got one this season.] It will be tough every night. The good news is that you really just have to be in the top half to get in, and the way the Big 12 schedules, you play everyone twice — home and away. I like doing that. I think you get to know your team better and see growth.