Business minded
Coleman Fellows bring entrepreneurial thinking across the disciplines.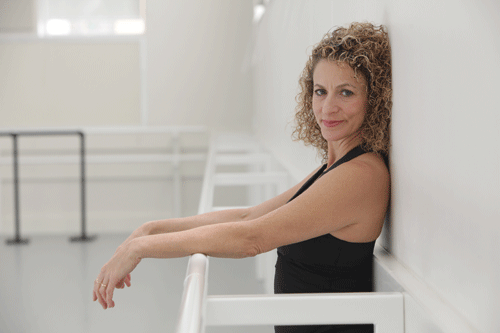 Business minded
Coleman Fellows bring entrepreneurial thinking across the disciplines.
Students in Suki John's International Dance Forms class get an interesting assignment each spring.
In the senior-level seminar, designed to be one of the last classes dance majors take before graduating, students are asked to create their dream job.
"They research dance opportunities across the world and they try to create work for themselves," says John, an assistant professor in the School for Classical & Contemporary Dance.
This year, John is enhancing the class with a curriculum that builds her students' entrepreneurial skills — from promotion to crafting a business plan — thanks to a grant from the Coleman Foundation, a private, independent foundation that supports entrepreneurship education. John is excited about the opportunity because she knows how much her students will benefit by building their business skills.
"Self-promotion is a big job and it can be exhausting for performers, but you have to learn to do that in order to have a career with any longevity," she says. "You have to learn to blow your own horn and that's difficult."
John is one of the dozen or so Coleman Fellows at TCU and 125 on 20 college campuses across the nation. The program's goals are to build support for entrepreneurship education in non-business departments, encourage job creation and build a diverse group of entrepreneurship educators across the country.
The foundation reports that last year 90 courses were developed or modified and more than 2,300 students, including 273 at TCU, were engaged in self-employment education through the fellows program.
Nurtured at TCU through the Neeley Entrepreneurship Center, the program includes professors from all over campus — from journalism to engineering to nursing — all dedicated to enhancing student skill sets, whether they start their own company, work for a major corporation or end up in government or at a non-profit.
"Most entrepreneurs are not business majors," says Michael Sherrod '10 MBA, the William M. Dickey Entrepreneur-in-Residence at the Neeley Entrepreneurship Center. "Seventy percent major in something other than business. So it is important to reach out to the other colleges on campus so we can help professors help their students learn more about starting businesses, whether it's speech pathologists or nurses or journalists," he says.
The Coleman Foundation contacted Brad Hancock, director of the Neeley Entrepreneurship Center, in the summer of 2010 to see if TCU would be interested in the program. Hancock jumped at the opportunity and the Entrepreneurship Center matched Coleman's $15,000 grant so more faculty could participate.
Homer Erekson '74, the John V. Roach Dean of the Neeley School of Business, personally promoted the program by reaching out to other deans to encourage a wide range of faculty to apply.
As a result, the first class of Coleman faculty fellows included eight professors in fields as diverse as engineering, fashion merchandising and English. This year's class is even larger at 12, and includes faculty from fine arts, education, nursing and science and engineering.
Faculty fellows gather for monthly online chats, dubbed "Coffee Cup Sessions," with their cohorts from around the country. They are also able to meet face-to-face at conferences, including the recent CEO Conference that was held at Fort Worth and hosted by the organization's TCU chapter, which is the nation's largest.
While the idea of teaching entrepreneurship at the college level isn't new, most classes tend to be centered in business schools. What makes this program different is the way it works to spread that "start-up" mind-set into classes and coursework seemingly far removed from the business school.
The Harris College of Nursing and Health Sciences is adding more entrepreneurial touches as part of a revamp of the college curriculum. Melissa Sherrod, an associate professor of nursing, said the change reflects the influential Institute of Medicine's report detailing the 10 fundamental principles they want nurses to focus on in the coming decades.
"One of them is entrepreneurship," she says. "I thought, oh my gosh, we have this report, we're revising our curriculum, I think I'm supposed to do this."
Sherrod signed on as a Coleman Fellow and will be bringing entrepreneurial skills into her senior-level Management for Nursing class. She says while entrepreneurial skills aren't traditionally associated with nursing, they are desperately needed to help encourage nurses to act on their ideas.
"Almost everyone can see a better way, a safer way, a more cost-effective way to deliver care with a higher level of outcome, but they don't know how to act on the idea," she says. "I'm hoping that through content in the course and assignments, we'll give them the tools so that when they have that idea, they can recognize it is an opportunity for them."
The College of Science and Engineering has three Coleman Fellows this year, Jeffrey Coffer and Eric Simanek in chemistry and Tristan Tayag in Engineering.
Coffer, who was a fellow last year and senior fellow this year, said he began seeing the need for scientists to have entrepreneurial skills in recent years; as hiring began to shrink at the large pharmaceutical firms, there were still opportunities with smaller, start-up firms.
"It became apparent to me this is where job growth is," Coffer said. "Our students have a science and math curriculum core, but they need exposure to the basics of what it's like to work for a start-up. Will they create their own company? Probably not, but statistically the odds are that they will go to work for a start-up and need to understand that culture."
In some other classes, students have taken class assignments and turned them into the beginnings of a small business. For example, in Coleman Fellow Sally Fortenberry's senior-level fashion merchandising class, Jenna Guarascio '11 and Hillary Latham '11 created an online company that fuses their passion for travel and shopping. They are working to develop a mobile application that guides shoppers to top boutiques in travel hot spots such as New York and Los Angeles. The company, dubbed Parachute, also promotes awareness of global issues such as counterfeit products, child labor and the environment.
Fortenberry and other Coleman fellows welcome alumni who bring real-world experiences to the classroom. For example, Chuck Mooney '90, MLA '92, the managing partner for the Kelly Charles Group, an independent sales organization of Fort Worth-based First American Payment Systems, recently lectured on "Merchant Services 101: What Every Business Owner Should Know About Credit Card Processing but is Too Busy to Ask."
"The information I shared with these fledgling entrepreneurs could literally save their business thousands of dollars by avoiding a few common mistakes," he said.
In the Schieffer School of Journalism, students are creating possible new business models in an industry that's undergoing massive changes. Aaron Chimbel '02, also a Coleman Fellow, brings entrepreneurial lessons into his Introduction to Journalism class. One of the first assignments is to create a possible business, such as a website.
"The idea is to change the mind-set," Chimbel said. "To get them thinking from the beginning about personal branding, how you become your own news organization by becoming your own news site or your own Twitter feed. Then we move to the next part: the business model and the entrepreneur aspects of starting a business. They have to come up with their own idea for a journalistic venture and write an assignment on that."
Also important is emphasizing a social conscience by teaching students to give back to the community. Hancock says being values-oriented is one way TCU is setting itself apart from other entrepreneurial programs.
"TCU is leading this effort,' Hancock says. "We're not the only ones. We have other colleagues interested in creating ethical entrepreneurs, but we created a business plan competition where 20 percent of the judging is based on how well you incorporate personal values into the business."
That competition, the Values and Ventures program, welcomed six teams from across the country. TCU's team took second prize and $5,000 to help start the company, which recycles Styrofoam and turns it into finished housing materials. They are now launching that business.
"We're talking about for-profit businesses, but we're encouraging teams to incorporate values, a life of meaning and a way to make the world a better place as part of the competition," Hancock says.
Initiatives such as the Values and Ventures program and Coleman Fellows have helped Neeley build its reputation and climb in national rankings of entrepreneur programs. In the last year, Neeley was named National Model Undergraduate Entrepreneurship program by the U.S. Association for Small Business and Entrepreneurship and ranked 19th in undergraduate business schools' entrepreneur programs by Bloomberg BusinessWeek.
Sherrod, who came to Neeley earlier this year after a career in newspaper publishing and online ventures, including AOL and the online newspaper The Texas Tribune, said he's been impressed with the university-wide spirit of teamwork.
"Here at TCU, we have this incredible opportunity because of our size and the spirit of collaboration to really create an environment where business students, dance students, merchandising students and nursing students are all creating together and learning from each other," he said. "The ability to pick up information from other disciplines will be important to them and round out their experience."
Related story:
College CEOs gather in Cowtown
On the Web:
Coleman Fellows program — colemanfellows.com
Neeley Entrepreneurship Center — nec.tcu.edu