Clean, lean and green
TCU students help design a solar-powered water purification system and win international undergraduate engineering award.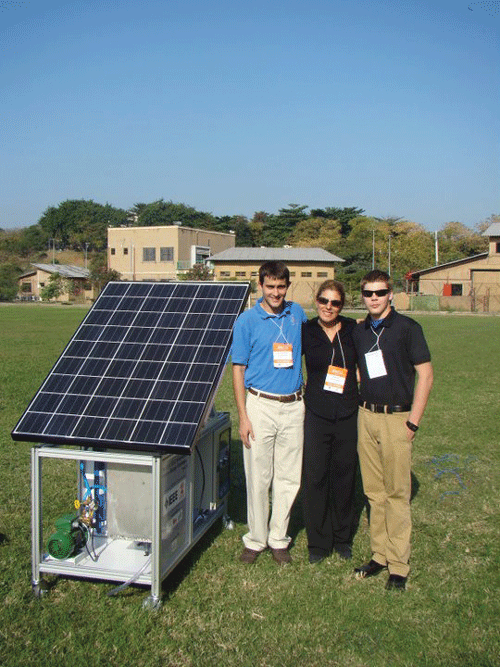 Clean, lean and green
TCU students help design a solar-powered water purification system and win international undergraduate engineering award.
According to the World Health Organization, 1.1 billion people worldwide lack access to clean water. With the population growing exponentially, it can only get worse. The Institute of Electrical and Electronics Engineers (IEEE), an international professional organization, recognized the crisis with this year's International Future Energy Challenge (IFEC).
Every two years since 2001, the IFEC, sponsored by the Power Electronics, Power & Energy and Industrial Electronics Societies of the IEEE, has invited undergraduate engineering students worldwide to address one of two topics relating to electrical energy.
This year, for the first time, TCU was an entrant. Engineering students Monica Hennen, Brian Preskitt, Melissa Reinsche and Bor Shkurti teamed up with UT Dallas to tackle IFEC's topic B: a solar-powered water purification system.
More than 30 university teams, from Dhaka to Dallas and Urbana to Yangzhou, entered the competition in October 2010. After two rounds of screening, only 11 made it through to the finals held in Rio de Janeiro, Brazil, in July.
Not surprisingly, most of the IFEC finalists are from large technical universities or well-known engineering schools, said Morgan Kiani, assistant professor of engineering and TCU faculty adviser for IFEC 2011. But wherever they hail from, in the months spent designing, constructing and testing real-world devices, students learn, "that there is a huge difference between theoretical analysis and experimental realization of a concept."
Preskitt, chosen by his teammates to represent them in Rio, agrees. "As sophomore engineering students, almost every single idea at work in this project required our team to stretch our knowledge and grow as engineers."
Getting to grips with core electrical engineering concepts in class is one thing; shooting two or three semesters ahead to MOSFET circuits and digital signal processors, the nitty gritty of power electronics, is another.
The first Saturday crash course with grad students from UT Dallas was a revelation. "We put in countless hours of hard work catching up so we could contribute meaningfully to the team," said Preskitt.
Kiani was impressed by their dedication. "Imagine second year undergraduates spending every weekend in the lab for nearly seven months!"
The challenge for the Topic B teams was one that all solar-energy designers must address: how to channel the sun's energy into usable electricity. Preskitt explains: "The solar panel provided us with low voltage (25-30 V) DC power (the kind of power produced by a battery), but the motor driving the water through the filter required high voltage (250-300 V) 3-phase AC power (the type of power found in your wall socket). We accomplished this in two stages: first, boosting the voltage level, and then changing the 'shape' of the power."
In contrast to the electronic system sitting in your purse or on your desk, which transmits information through its circuitry, power electronics systems send and process electrical energy. Kiani, hired in January for her expertise in power electronics, points out that while the other teams, many of them sponsored by industry, bought prefabricated boards, the TCU-UT Dallas team designed and built their own micro-controller board and circuit board.
Perseverance and ingenuity paid off. The TCU-UT Dallas team won the Education Award for IFEC 2011. Kiani is thrilled with the result.
"I'm very, very proud of my students. They were so motivated and committed to the project the whole way through. Winning this international award from such a prestigious body as the IEEE brings credit to them, to TCU and to our department. I want everyone to know that we're serious about renewable energy here at TCU, and that using power electronics to make solar and wind power more efficient is our priority."