Write stuff
English department recognizes student scribes at annual creative writing awards.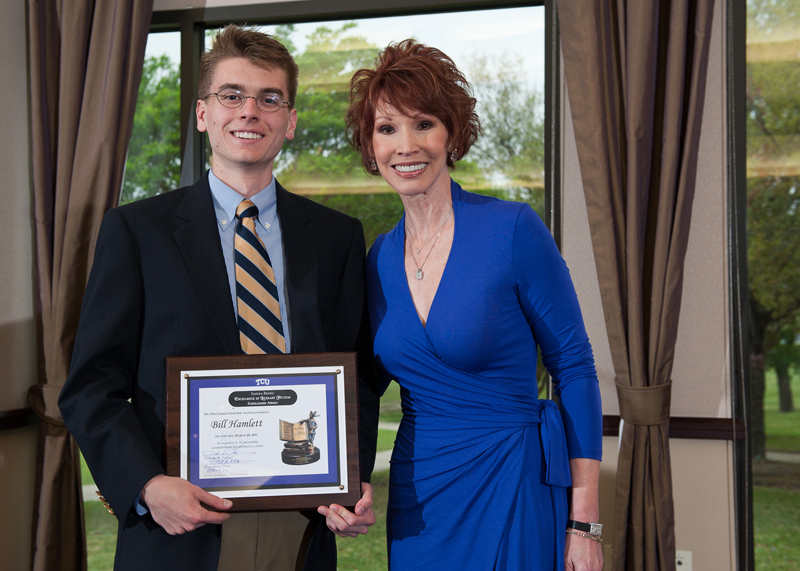 Write stuff
English department recognizes student scribes at annual creative writing awards.
Writing well is a gift.
Being an exceptional writer is hard work.
That's what best-selling author Sandra Brown '69 (PhD '08) told students, faculty and others gathered in April for the Department of English's annual Creative Writing Awards.
"As far as I know, after having written 77 novels, you can only write by putting words on paper and you can only do it one word at a time," Brown said. "It takes a lot of time. It's easy to say what you want. It's more difficult to decide what you're willing to give up to get it."
But the payoff is worth it, she added.
"Being a fiction writer is the best job I can imagine," she said. "You spend your days playing God, you get to put a spin on untruths and make them sound true, you get to lie for a living, yet you don't have to run for public office. It's a terrific career, a terrific job."
Brown has written more than 73 novels including 60 The New York Times bestsellers. In 2008, she was awarded an honorary Doctorate in Humane Letters from TCU.  That same year, she and her husband Michael established the Sandra Brown Excellence in Literary Fiction Scholarship (ELF) to a TCU student who demonstrates both academic excellence and significant potential as a fiction writer. The scholarship is given to a rising junior with 54 or more credit hours and provides full tuition for the junior and senior years.
"This for a literary athlete, a power forward of writing," said English professor Dan Williams.
He noted that past recipients of the award – Kelli Trapnell and Travis Freeman – were recognized with several wins at this year's awards. Trapnell won the Kurt Lee Hornbeck Poetry Award and the David John Ball Memorial Prize for a writing portfolio. Freeman won the Mortar Board Prize in Literary Criticism, Bill Camfield Memorial Award for Humor and Satire.
The awards ceremony concluded with the announcement of this ELF year's winner: Bill Hamlett, a sophomore from McKinney majoring in writing and French. Hamlett also won the Siddie Joe Johnson Poetry Award.
Alex Lemon, a lecturer in the department of English, coordinated the awards and noted that this year the competition drew more submissions that the previous two years combined.
"It was a lot of really exceptional work and a lot of exceptional work was not chosen because of the richness of everything," added Lemon.
This year's awards had a special addition from the Amon Carter Museum, the Fort Worth museum celebrating American art. Brady Sloane, public programs manager, said the museum wanted to include a writing award for TCU students as part of its 50th anniversary celebration.
Students were invited to write a poem based on one of the works displayed in the museum's collection.
Trapnell won for her poem inspired by the abstract work "Blips and Ifs" by Stuart Davis. Honorable mentions went to Freeman and Mary Martin.
Brown said she impressed by the writing talents evident when students read from their award-winning works during the ceremony.
"All I can say is wow I know there were a lot smart kids when I was at TCU, but let me tell you know of them were as smart as those of you who have shared with us your talent with us.
"I'm so impressed. Faculty you are to be commended. Students, young writers, aspiring writers you are to be congratulated, not only for your talent but also for the discipline that it requires to be a writer."
Other winners announced included:
Claire Martindale '69
poem "Solstice"
Margie Boswell Poetry Award
Kinzi Beckham
Woman's Wednesday Club Award for Research Paper
Environmental Writing Award
Anh Mai Pham
Sigma Tau Delta Essay Award
Ashley Hart
Harry Opperman Short Story Award
Nathaniel Pesina
Thursday Group
TCU Women Exes Award for Non-Fiction
Neil Daniel Drama Contest
Grace Palmer
C.S. Lewis Prize for Christian Literature
Nancy Evans Memorial Award for Texas Writing
Becky Boeshaar
Subversive Thought Award
Rachel Spurrier
Woman's Wednesday Club Merit Award
Lorraine Sherley Prize for writing Portfolio
Kristi Dena
Margaret Rose Marek Memorial Multimedia Writing Award
Lorin Milotta
Lilla Thomas Award for an Interpretive of Critical Essay on Feminist Writers or Issues
Australia Tarver Award for Critical essay on Post-Colonialism or Multi-Ethnic Studies
William L. Adams Center for Writing Prize for the best essay about Rhetoric and Composition
Joel Overall
Betsy Colquitt Graduate Poetry Award