Mother Nurture: Renee Peterson Trudeau '88
Renée Peterson Trudeau's '88 journey to motherhood proved to be a path to helping other harried moms.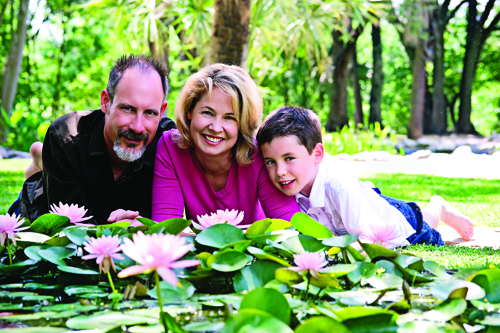 Mother Nurture: Renee Peterson Trudeau '88
Renée Peterson Trudeau's '88 journey to motherhood proved to be a path to helping other harried moms.
During her freshman year at TCU, Renee Peterson Trudeau '88 was trying to figure out what she wanted to do with her life. One thing seemed clear.
"I wanted to help people," she says. "I thought about majoring in sociology and becoming a social worker."
But her heart and creativity urged her to follow another interest — writing. So she ended up with a double major in journalism with an advertising and public relations emphasis, and English with a creative-writing emphasis.
Now Trudeau is combining her writing and marketing skills and her professional career in public relations and career coaching with her longtime passion for helping others — namely women who feel overwhelmed by the demands of modern-day motherhood.
"Because we're multitasking so much we really don't have a lot of opportunities to have a deeper dialogue," she says. "You're on the playground or you're at a birthday party, you're going here and there and you really don't have a lot of time for anything other than surface-level conversations."
But Trudeau is helping to change that. As an author and workshop facilitator, she's helping women learn to live "from the inside out." In other words, listen more to their own needs and desires so they can do a better job helping others.
It started in 2002 with the birth of son Jonah, just as she was growing a new business offering strategic career coaching.
"Having Jonah really rocked my world," Peterson says over coffee and croissants at an eatery in Austin, where she lives with her son and husband, John.
"I was in the middle of balancing this business and having a baby and I was craving an opportunity to have a deeper dialogue about what I was feeling," she says. "I wanted to explore issues around life balance and self care. How in the world do you care for yourself while still caring for a child?"
She went looking for books for insight, and while she found volumes of parenting titles on issues such as breast feeding and starting a playgroup, nothing was out there for mothers looking for balance and a way to stay connected to who you are in the midst of parenting.
Even though she felt swamped, she decided to reach out to other moms going through the same thing and advertised for members to join a support group.
"I said we're going to meet for a year and every month we would explore an in-depth issue like 'reconnecting with who you are,' or 'building a support network,' 'getting comfortable with asking for and receiving help' or 'unleashing your creativity' and I hoped to find 20 women committed to doing it."
The 20 spaces filled in 72 hours.
Trudeau knew she was on to something. She saw how members of the group were passing along their exercises to others so she decided, despite all the other chores on her to-do list, she had to add one more: write a book.
"I never really had that burning desire to write a book, but I had a passion to get my message out," she says. "I was sitting at a coffee shop in Austin, thinking if I were to write a book, what would the title be? Three or four minutes later, I'd written out the title and 12 chapter titles. I felt like I was really tapping into something bigger than me."
The book, The Mother's Guide to Self Renewal: How to Reclaim, Rejuvenate and Re-balance Your Life (Balanced Living Press, 2008) has not only touched thousands of readers but landed Trudeau on the pages of Family Circle, U.S. News & World Report, Parenting and Working Mother magazines.
It's also led other moms across America and also Germany, Canada and Mexico to form personal renewal groups modeled on her book and to attend retreats focused on reclaiming and rebalancing their lives.
Those unable to start or join a group can listen to her monthly "Live Inside Out" tele-classes available on her website, www.reneetrudeau.com. She also has a Live Inside Out community on Facebook with more than a thousand followers, and a newsletter that goes out to 12,000 subscribers.
"I get very inspired when I see the women who come to our retreats and workshops and participate in our groups," she says. "Their eyes light up and they begin to awaken and say, 'I'm worth it, I can begin to create what I want, say no to others, draw some boundaries and say yes to myself.' "
Trudeau, who is now working on a book about everyday spirituality, comes from a family she describes as "truth-seekers." Her parents both graduated from TCU in 1962 (Frances "Kit" Peterson and Juliana Harrison). While her father became a doctor, her mother left medicine to support him as a teacher. She later went to nursing school and became a medical educator.
In the 1970s, Trudeau's father left his private practice in San Antonio to move the family to Northern California. Renée, the oldest of seven, says her parents were in search of a more laid-back lifestyle.
"We started doing the whole simplify-your-life thing before it was popular," she says. "We rode horses to school, did yoga and lived a much simpler life."
When it came time to attend college, Trudeau knew she wanted a more personal, intimate experience than most major state schools would offer. She chose her parents alma mater — TCU.
"The small class experience at TCU was so meaningful," she says. "My family was going through a lot at the time and I wasn't getting a whole lot of attention from them. Knowing I could talk to all my professors, I had easy access to them and got a lot of support from them, that small class experience was so powerful."
She also credits her professors for giving her practical, hands-on experience and access to multiple internships that laid the groundwork for her successful career in communications and her ultimate goal of starting her own consulting firm.
Her list of accomplishments in marketing and public relations includes managing the national advertising/public relations account for Whole Foods Market; developing public-service campaigns for national nonprofit organizations; and securing national media coverage for clients on CNN, the "CBS Evening News," The Wall Street Journal, The New York Times, National Geographic, People and other national news outlets.
Listening to her inner desire to help people, she eventually switched from helping market products to helping professionals market themselves, becoming a career coach and launching the firm Career Strategists in 2000. Soon after, she became a mother and formed her first support group focusing on self-care.
In 2007, Trudeau launched Renée Trudeau & Associates, a coaching/consulting firm dedicated exclusively to helping people achieve more balanced living. In addition to serving as the president of both her companies, promoting her books, training Personal Renewal Group Facilitators and leading retreats, she conducts work/life balance workshops for corporate clients such as IBM, Dell Computer Corporation, State Farm Insurance, Shell Oil and Samsung.
"I feel really blessed," she says. "It's all been such a blessing and it happened because I said yes to that first book — that was the key to all that's unfolding now. I love it. I love seeing how it's touching others."
On the Web:
www.reneetrudeau.com