A legend's last round
Thanks to a unique friendship, golfer Ben Hogan spent a sunny August afternoon in 1986 playing the back nine at Shady Oaks Country Club with TCU golfers Kris Tschetter '87, Ellie Gibson '89 and Kirsten Larson '89.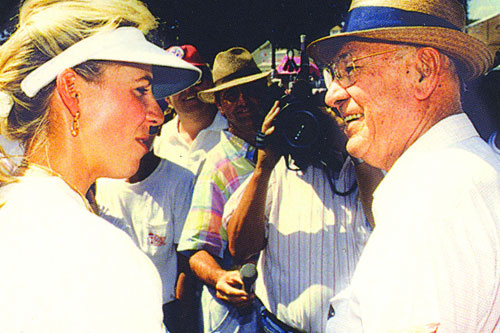 A legend's last round
Thanks to a unique friendship, golfer Ben Hogan spent a sunny August afternoon in 1986 playing the back nine at Shady Oaks Country Club with TCU golfers Kris Tschetter '87, Ellie Gibson '89 and Kirsten Larson '89.
When Kris Tschetter '87 joined Shady Oaks Country Club as a junior member during her freshman year, she knew there were some unwritten rules — including, Whatever you do, don't bother Mr. Hogan.
She knew Ben Hogan was one of golf's all-time greats and admired that he survived a near fatal head-on collision in 1949 to come back and win the first three major professional golf championships in 1953, a feat dubbed the Hogan Slam.
"Then I thought, this is silly, I talk to every other man here, why treat him any differently?" she said in a recent phone interview.
Soon she had graduated from saying the occasional 'hello,' to getting the occasional golf tip from the living legend. In her new book, Mr. Hogan The Man I Knew, Tschetter recalls how the man that others said was "curt, cold and wanted to be left alone," grew to be her friend.
"I loved his sharp sense of humor and his compassionate heart," she writes in the book. "We would laugh and tease each other. I can hardly remember a time at Shady Oaks that he didn't come out to watch or hit balls with me."
Over time, they built a friendship and occasionally would play a few holes together. She would repeatedly ask him to play a round of golf, but he'd always decline. Then on Aug. 27, 1986, he finally agreed.
She decided to invite her roommate, Kirsten Larson '89, who she describes in the book as, "The type of person who never has a bad day, and if she does, you would never know it," and their teammate Ellie Gibson '89.
"Mr. Hogan had watched her hit balls a few times, and I knew she would be pretty comfortable with him (well, as comfortable as you can be playing nine holes with Ben Hogan.)"
Tschetter wasn't sure he would show, so she didn't tell her teammates who would be completing their foursome. The next day they grabbed their bags and hit the range.
"I hadn't seen Mr. Hogan yet that day," she writes. "I would put it at about 50-50 that he would make it. I think he enjoyed spending time with me, but he wasn't comfortable being on display, especially swinging a golf club. People had certain expectations of him, and he felt it was not enough to go out and bunt a few shots down the fairway."
Still, Tschetter was pleasantly surprised when he drove up in his golf cart and suggested playing the back nine. She turned to her startled teammates to hear Ellie say, "We're playing with Mr. Hogan?"
"No way! Kirsten added.
"If anybody had known this was going to be Mr. Hogan's final round, there certainly would have been more fanfare," Tschetter writes in the book. "Instead, we simply walked to the tee. My teammates, still in shock, stood motionless with their mouths open while Mr. Hogan teed up a ball, took a couple of abbreviated practice swings, and promptly duck-hooked his first shot of the day past a line of oaks separating the 10th fairway from the driving range.
"He was 75 years old and hadn't hit a single warm up shot," she writes. "I guess we all thought he should never miss a fairway, but since that wasn't reality even when he was winning championships, it was unrealistic to expect it in a casual round with us."
On his second shot, Hogan punched the ball out of the trees to reach the fairway, then made a shot that flew just long of the green.
"I immediately felt bad for having asked him to come out," she writes. "It looked like he was going to make double bogey or worse on his first hole."
He got to the ball and pulled out what looked like his Equalizer, the Hogan Company name for his pitching wedge, then made a miraculous shot out of the rough that landed a foot from the cup, enabling him to bogey the hole.
"Can you believe that shot?" Ellie said.
"I couldn't believe my eyes," Tschetter added. "Then Kirsten piped in with, 'I thought I might have beat him on that hole.' We laughed. She couldn't be serious about wanting to beat him could she?"
It was bad enough she wasn't playing with Hogan-branded clubs.
"Every hole we noticed Kirsten draping her towel over her irons in the impossible hope that Mr. Hogan wouldn't notice that she wasn't playing Hogan clubs. The funny part was, she had played with Hogan clubs her whole life, and had only recently changed to Pings," she writes. "Ellie and I chuckled about it most of the afternoon."
On 13, Hogan pulled up to Tschetter and asked if she thought Kirsten, who was a short hitter, would be offended if he gave her his heavy club to swing with for a couple of weeks. "He wanted to give Kirsten one of his homemade (and ahead of its time) training aids to help her increase her distance off the tee."
He missed a six-foot putt coming back up the hill to bogey the hole, and Larson missed her birdie putt, but since he was one-over-par through four holes, she still felt like she had a chance to beat him.
But at 15, she hit a rough patch, driving the ball in the trees on the right side of the fairway. He made birdie and she fell three shots behind.
Even though he bogeyed the next hole, giving Larson a slim chance at coming from behind, it wasn't meant to be. On 17, he pulled out his 5-wood to hit another jaw-dropping shot.
"Even though he was hitting a shot from an uphill lie, he made a balanced swing and the ball shot off the face like it had been fired from a gun," Tschetter writes. "It started at the edge of the bunker and faded right at the flag, a shot all of us knew was going to be close before it landed."
Even though Larson's chance to beat the golfing legend was over, she couldn't stop praising what was one of the finest approach shots she had ever seen.
"I know people have said that he could go an entire round without saying a word, but that was not the case with us," Tschetter writes. "As we played, he complimented us when we hit good shots, and by the time we had played a few holes, he had made us all feel comfortable enough to relax and chat easily."
Hogan ended up shooting par on the nine holes, an amazing feat given his age and the fact that he hadn't played a round of golf in years.
After the round, he asked them all to join him for a drink.
"Since none of us knew this was going to be the last nine holes he would ever play, our celebration consisted of Diet Dr Pepper for us and a vodka martini with olive for him, which hopefully relieved the obvious pain in his knee."
"I thanked him again for joining me and my teammates, then I went back out to practice and Mr. Hogan went to his table in the men's grill. And just like that, his final round ended with a quiet goodbye."
From the book Mr. Hogan, The Man I Knew by Kris Tschetter with Steven Eubanks. ($22.50 Gotham Books, available at most major booksellers.)
Related story:
Q&A with Kris Tschetter '87