Breaking tradition
For some students, Spring Break isn't beer bongs and bikinis. It's helping others through service-learning opportunities.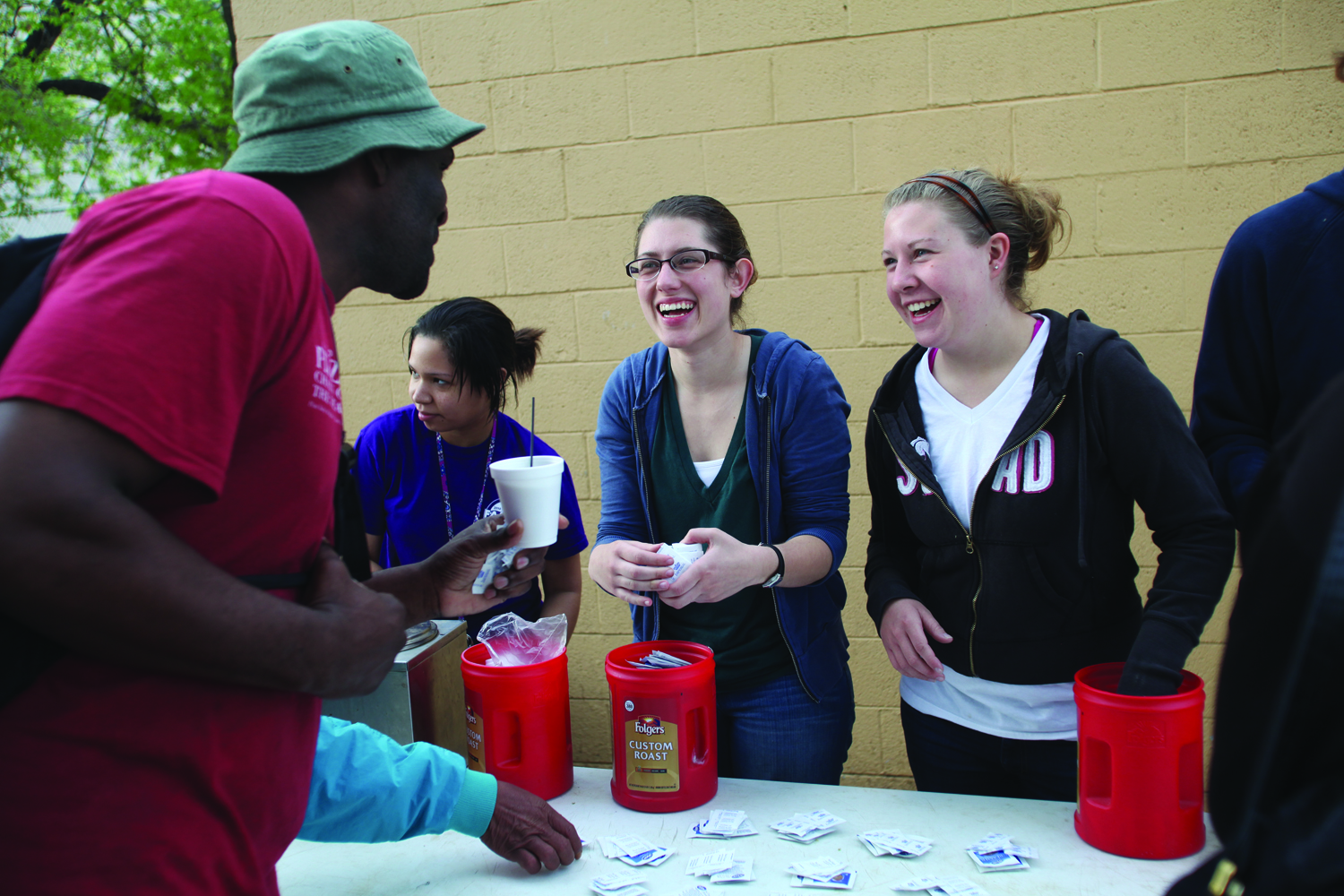 Breaking tradition
For some students, Spring Break isn't beer bongs and bikinis. It's helping others through service-learning opportunities.
For the last three years, Leah Richardson has spent her spring break in a lush tropical locale, but she wasn't simply hitting the beach to work on her tan.
She has been working in the Nicaraguan village of Tepeyac where she and other TCU students learned about the region's history and culture while also surveying local needs, providing health care and forging life-changing friendships.
"I definitely enjoy going back every year," says Richardson, a rising senior majoring in political science. "It's enabled me to really have a connection with the people. That's important because we're not simply coming in for that week and never seeing them again."
Richardson is one of the scores of TCU students who are spending their spring break giving back to others through university-sponsored service-learning opportunities. It's a new twist for the mid-semester break traditionally associated with beer bongs and bikini contests.
The trend is reflected in the growing number of alternative spring break programs nationwide. Break Away, an organization that trains and helps colleges promote alternative spring break programs nationwide estimates 72,000 college students participated in an alternative spring break programs this year.
Students say it's a no-brainer.
"I was able to talk and laugh with friends, learn about an important issue and help others," says Liz Schmitt, who was the student leader for Homelessness in Tarrant County, an alternative spring break sponsored by TCU's Center of Community Involvement & Service-Learning.
Alternative breaks started catching on the in 1990s as universities began looking for positive ways to connect with the local, national and international communities. Unlike other types of "voluntourism," where volunteers spend a week in a given location performing needed chores and services, TCU's alternative breaks emphasize a deeper connection.
"It's an opportunity that really gives teeth to our mission of educating students to be responsible leaders in the global community," says John Singleton, director of the Office of International Services, which teams up with the TCU Campus Catholic Community to offer the Nicaragua trip.
He says the TCU team doesn't simply go into the village and begin offering up their ideas of how to fix things, but instead works to understand the people, their culture, history and challenges.
"We don't want to be that stereotype of the Americans coming in and telling people how to run things," Singleton adds. He says because the TCU team has been going to Tepeyac for the past four years, students, faculty and staff participants have been able to build and maintain deep relationships with the villagers as they work together.
This spring, students were divided into separate tracks based on their majors, including education, health services, sustainability and community building. In the morning, the groups split up to gather information and serve the local community in various ways. In the evening, they came back together to discuss what they learned.
Jennifer Kinney '11, who majored in Spanish and French with a minor in education, worked in the education track, interviewing teachers and students at both the village school and a nearby university.
"I was really lucky because I spoke the language," she says. "I got to know the teachers and a couple of the guys who took us around all week and told us about the village's history and culture. I had the best of both worlds — I got to learn about their education system and the people in general."
The TCU team learned that local students had their books and other materials stolen by thieves, who broke in after class, so the Horned Frogs helped build a stone wall to protect the school. As they began stacking the massive stones, they were suddenly joined by villagers of all ages.
"It really was a community effort and we were part of the community," Singleton adds.
Participating in a service-learning trip can have lasting impacts. Research has shown that students who take part in alternative spring breaks are more likely to vote and perform community service after  they return home.
Rosangela Boyd, director of TCU's Center for Community Involvement & Service-Learning, says service-learning can be related to a specific course or be part of the student experience through residential life, career development or other student groups.
For the last seven years, Boyd's office has teamed with Habitat For Humanity to offer a spring break service-learning opportunity. The location of the trip has varied, with students helping select a project from Habitat's multiple options.
This spring, nine TCU students went to Habitat's headquarters in Americus, Ga., where they built homes as well as toured Habitat's Global Village.
"It features Habitat houses from around the world," says Mary Kathleen Baldwin '03, assistant director of the Center for Community Involvement & Service-Learning. "So you walk into a life-sized house just as it would be constructed in Africa, South America, or another part of the world."
Boyd says they want to get more students involved in life-long community service. "The hope is that if they're not already connected, they'll get connected to Habitat or some other kind of program related to housing, poverty or a social issue that speaks to them."
Boyd's office used to sponsor trips to Mexico, but travel restrictions due to violence in that country have forced them to search for options. A few years ago, she was attending a national conference and heard another university talk about its immersion trip, where they took students around the local community to really get to know and understand local needs and issues.
Back on campus, she and staffers worked to adopt the approach for Fort Worth.
"We knew some students stay behind for spring break and not all students here know a lot about Fort Worth and all the neighborhoods."
The first year they offered a three-day program that allowed students so do as much or as little as they wanted. But this year, Melissa Gruver, coordinator for community engagement, teamed with James Petrovich, assistant professor of social work who has researched and worked with the local homeless population, to offer a more intense experience — a week learning about the homeless in Fort Worth.
Students went through some of the same experiences a homeless person would, including getting the identification cards that are required to access certain services. They also served, and stood in line to eat, at shelters and churches in town. On the final night of the week, they slept outside in a park.
"For liability reasons, we were locked inside the park, so we didn't actually sleep side by side with homeless people," Schmitt says.
The students also met with city leaders heading the local task force on the homeless, including a face-to-face with Fort Worth Mayor Mike Moncrief. They also planted flowers at the downtown YWCA's shelter and preschool.
But for Schmitt, one of the most rewarding aspects of the experience was getting to know the people who live on the city's streets and who shuffle between its shelters. She and other students spent a day with residents of an area tent village, where they helped one couple plant a garden.
"I think one of the things I realized is just how much they need someone who will listen to them," Schmitt says. "They are used to people just looking the other way."
The experience has strengthened Schmitt's desire to pursue a career in social work. Now she encourages other students to sign up for alternative spring breaks.
Kinney says her friends warned her she would be missing out on all the fun she could have hanging out with fellow seniors who traveled to Destin, Fla. for the break this year.
"I didn't miss anything at all," she adds. "When I got back and told them about Nicaragua, they were the ones who were jealous."
The Office of International Services is recruiting alumni who are interested in participating in a service-learning trip this fall to the Nicaraguan village of Tepeyac. For more information, please contact Jon Singleton at j.singleton@tcu.edu or call 817.257.7292.
On the Web:
Center for Community Service & Service-Learning