Blog posts from Antarctica
Adjusting to 24-hour sunlight and other challenges at the bottom of the world.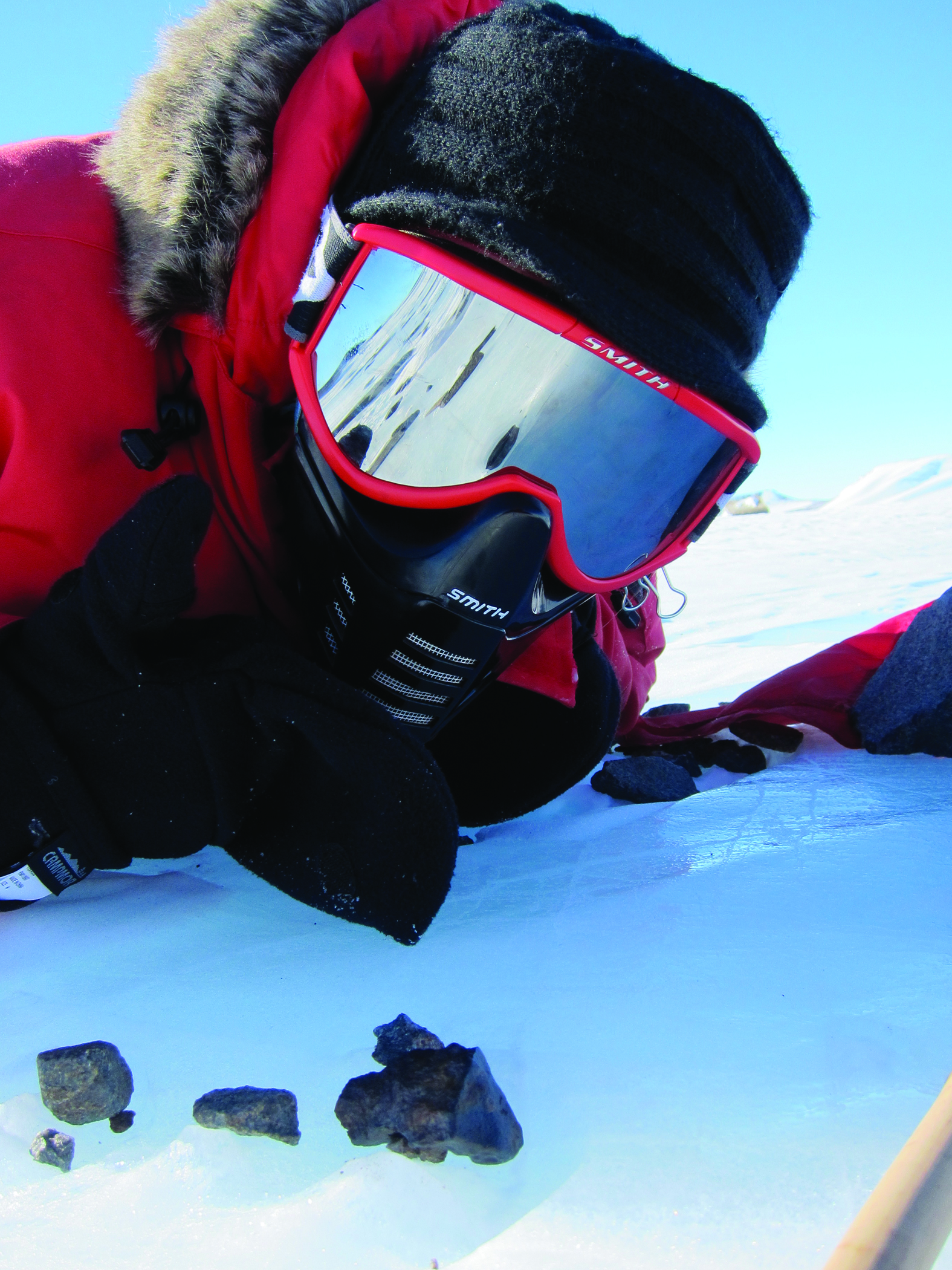 Blog posts from Antarctica
Adjusting to 24-hour sunlight and other challenges at the bottom of the world.
Members of the ANSMET team blogged about their expedition to find meteorites in Antarctica. Here are a few excerpts from TCU assistant professor of Geology Rhiannon Mayne's blog posts:
Dec. 12, 2010
Time in McMurdo is a cruel master. When we first arrived there was so much to do that just making a phone call home required timing things with military precision … or for me it meant getting up extra early and crossing my fingers that I was able to communicate with my husband even though my brain was still really asleep in the dorm."
Dec. 15, 2010
As I type this (which is less like typing and more like negotiating with this keyboard), Inge and I are warm in our tent preparing for our second night. Inge is trying to find order in the chaos we have already created and appears to be winning. We had a 'how to find a meteorite' lesson today and have already found six! Very exciting. We are ready for a full search day tomorrow.
Dec. 19, 2010
I could never be accused of being a lover of the cold. On Thanksgiving morning we had our first winter frost in Fort Worth, and I could be observed shivering in the back garden, desperately trying to convince our dogs that it was time for them to come in. My husband lovingly pointed out that, in fact, it would likely be 50-degrees colder some days in Antarctica. I had nothing to throw at him at the time apart from my best disapproving woman's glare. The fact is, he was quite right. It gets bloomin' cold here. I find myself developing unnaturally warm and fuzzy feelings towards the articles that keep me warm. This mostly involves articles of clothing. So imagine my horror when my little down jacket was torn. It was a situation no Stephen King novel could ever capture.
Dec. 24, 2010
Yesterday, the wind was howling around camp and so we were tent bound. This was seen as an opportunity for bathing, cribbage lessons, Scrabble games, knitting and general laziness. There was much tent hopping and general socialization. I also managed the cliché of catching a cold in Antarctica, so there was much sneezing as well.
Today, the boys headed out on their trusty steeds early while us girls (with a cold and a case of Ski-Doo hand between us) stayed in camp. This meant that the task of thawing the turkey for Christmas dinner tomorrow fell on us.
Jan. 6, 2011
As I began to write this, Inge was wondering how to defrost the Clif Bar she claimed she could kill me with (I am hoping it was not an actual threat). Throughout my agonies of typing, she combined the Clif Bar (carrot-cake flavour) with hot water, soy milk powder, grits, and raisins. She claims it was enjoyable. Perhaps my next blog should be about food!
Jan. 10, 2011
A few weeks back, I was reading a book that has passed through many ANSMET hands. It is about a woman who takes a job as a chef in a remote Antarctic location for a season. As I sat and read it one morning, nice and cozy in my tent, I found myself marveling at where this woman was, how amazing her experiences were, and how lucky she was. It was only when I left the tent that I remembered that the same applied to me, that I too was in Antarctica in a remote location — and collecting meteorites is way cooler than being a chef (in my opinion). ?
At the end of ANSMET, there will be memories of the lack of "facilities," the joy of clean clothes after a week, and the cold. But these memories will be overshadowed by others: The silence that seems to surround me as I leave the tent, the view from Mt. Ward stretching for miles, the chattering sound of my Ski-Doo on the ice, the joy on finding my first meteorite and every other one after it, the friendship found amongst new people, and my big smile as my first foot touched the Antarctic continent.
Related story:
Gallery of photos from Antarctica
Rocks at the bottom of the world
On the Web:
More info on ANSMET and diaries from the expedition