Getting real
Students get real-world experience in campus reality show.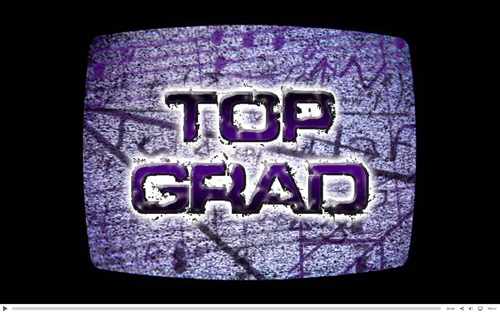 Getting real
Students get real-world experience in campus reality show.
With reality television shows dominating the airwaves, it was only a matter of time before they came to campus.
This past semester, the department of Film Television and Digital Media (FTDM) opted to create the reality television show "Top Grad" as its large spring project. The cast spotlighted 11 students all vying for the title 'Top Grad" and a prize package that included $2,000.
Richard Allen, professor of FTDM, said the department has staged large productions in the past, including the television pilot "Fork in the Road" in 2008 and soap opera "Southern Comforts" in 2006, and so when it came to choosing the next genre, doing a reality shows seemed like a natural fit.
"We have so many alums working on reality shows now and we thought they could come back and teach the students what to do," said Allen. "The other plus is that reality shows don't cost as much to do and if, you look on television, they're everywhere."
He said more than 80 students worked on all aspects of creating, producing and promoting the show, which aired on TCU Channel 20 and online at topgradtv.com.
Students in Allen's Video III class, along with those in Audio III taught by Andy Haskett, formed the nucleolus of the production team, with some assistance from the Directing and Media Law classes.
Julie Harrison, a junior FTDM major, took on the duties of executive producer. She was able to get insiders tips from Kate Simonides Wilke '01, who is a senior producer of the reality show "Cupcake Wars" on The Food Network.
"Kate came in and did a workshop and based on that Julie set up the basis of the show, its structure and production schedule," Allen said.
The show's contestants had to complete a variety of challenges taken from the pages of popular reality shows such as "Project Runway," "Top Chef" and "Survivor." The challenges were organized to showcase various colleges at the university, from fine arts to business and communication.
After each challenge, contestants faced a panel of judges, including journalism adjunct professor Punch Shaw and senior broadcast journalism major Katie Love, as well as two guest judges from the college of that week's challenge.
"The two permanent judges are really looking at how well you represent TCU and the TCU ideal that we would like," Harrison said. "And the other two judges are representing how well you effectively showcase the major and follow the criteria well."
Of course, there was the familiar reality show twist thrown in at the end — when the final three had to work in tandem with former contestants who had been voted off.
The three finalists­ — Kelsey Bond, a senior advertising and public relations major; Corinne Hodges, asenior theatre major, and David Crouch, a senior FTDM major —faced the final the challenge of designing a marketing campaign for one of the show's sponsors — Schloztky's, Smoothie King or the Rock Bottom Bar and Grill.
Bond's advertising and marketing experience paid off and she was able to win the title Top Grad.
"I'm so scared to graduate and enter the real world, but I've left my legacy at TCU," Bond said in the final episode titled "Graduation Day."
Allen said he was amazed by the dedicated work of the students, calling them "the most egoless group I have ever worked with."
"I don't know if we'll be able to repeat this success," he said. "We'll take a year or two off and maybe do it again. The good thing about a reality show is you can come in with a new cast every season."
On the Web:
To see all the episodes of Top Grad plus behind the scenes extras, go to topgradtv.com.
Meet the winner Kelsey Bond