Face reading: Chris Del Conte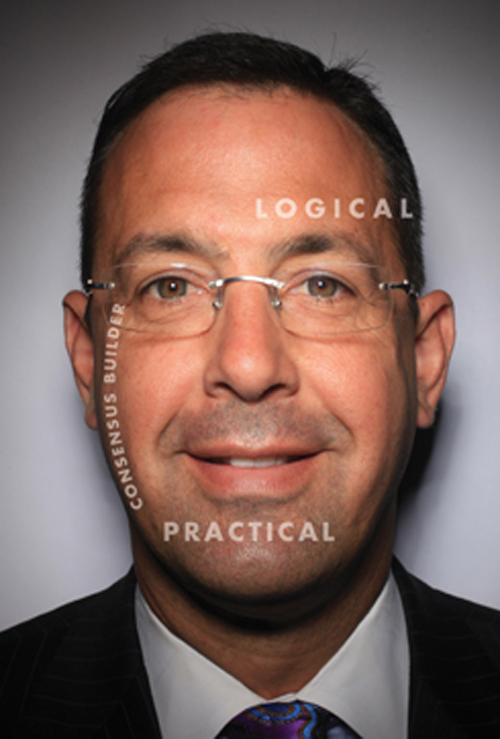 Face reading: Chris Del Conte
Face reader Mac Fulfer's take on … Chris Del Conte, TCU Director of Athletics:
The high forehead says he is good with logic theory, planning and academics but needs distinctions. He wants to be able to compare and make up his own mind. The big lower area of his forehead indicates that he is earthy and grounded and prefers to take his thoughts and bring them down to earth for some grounded, practical value. This trait also says he does not work well cooped up in a small space. He actually thinks best when pacing or walking around. Most professional athletes have this feature.
Large nostrils mean he comes from a space of abundance, and he is generous to a fault with those to whom he is connected. His challenge may be in telling people "no" when they ask for his help. His answer is most often "yes," and his internal feeling is, "I have plenty, I can do that." His challenge may be in taking on too much.
Full round cheeks indicate he is a consensus builder and can get others on his bandwagon. He also has the broad cheeks of an Energizer Bunny and can keep going and going. He will eventually wear out most others who are trying to keep up with him.
Angled eyebrows say, "Don't jack with me," which indicate he stays mentally in control and give him a sense of authority. If anyone ever tells him that he is intimidating, they are reacting to his eyebrows.
His power dimples show that he leads by encouraging and lifting others up rather than trying to push them around — He will say, "Thank you. I really appreciate that. You did a great job."
The dimple in chin indicates that he is a good sport and can adapt to whatever the situation at hand requires.
Del Conte's take on Fulfer's analysis:
"I was honored to join some of my esteemed TCU colleagues in this very unique endeavor. It was my first foray into face reading. The results were definitely interesting."
Dr. Robin Ward, Del Conte's wife, offers a few comments too:
"Fulfer was right on when he said that Chris 'thinks best when pacing."  Based on the phone calls Chris has taken while at home, I think he has walked to China and back. The comparison to the Energizer Bunny was quite accurate, as Chris is always 'going and going.' Additionally, Chris was born a giver. His mother once shared with me that, when in elementray school, Chris packed a suitcase full of his own clothes to give to a friend a friend was being teased because he had worn the same clothes 3 days in a row."
Next face: Victor J. Boschini, Jr., TCU chancellor
Sidebars:
Face value: Attorney turned professional face reader Mac Fulfer '71
Fulfer reads some "TCU famous" faces
Face reading 101