Adding things up
Education professor examines online program's ability to build mathematics skills.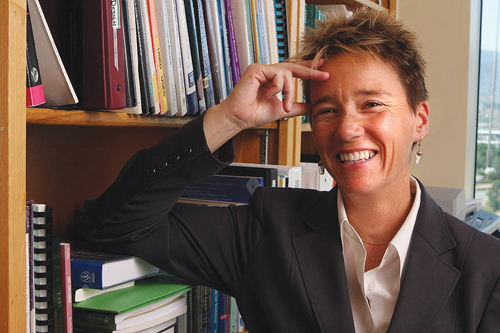 Adding things up
Education professor examines online program's ability to build mathematics skills.
Students who struggle with traditional classroom instruction may find it easier to learn new math concepts by working at their own pace on a computer.
That's the approach being investigated by Lindy Crawford, the Ann Jones Endowed Chair in Special Education.
Crawford is the principal investigator of a $1.5 million federal grant studying the Math Learning Companion, a computer program that provides individual instruction for students with math learning disabilities.
The program covers math for grades 3 to 8, allowing students to go back and repeat instructions. It also has interactive support, including a dictionary of key terms, Spanish translations, hints and other options like "need more help."
"We try to help kids with disabilities understand math and take out all the extra stuff," Crawford says. "For example, the program reads to them so that if reading is an issue, the program takes that out for them."
The program is currently being used in more than a dozen states, including Texas, where Crawford and research associate Lindsey Hall '10 are closely observing it as an effective learning tool for about 30 students in public and private schools, including Starpoint School, TCU's laboratory school serving students with learning differences.
Approximately 10 percent of the nation's students are categorized as needing special education, including those diagnosed with autism, learning disabilities such as Attention Deficit Hyperactive Disorder (ADHD) and physical disabilities.
The program has been in development for about eight years and is derived from another program designed to teach math to Spanish-speaking students. Crawford says the ability to fine tune instruction and allow students to go back and replay lessons make it a natural fit for those with learning differences as well.
"It really gives the student control over his learning," Crawford says. "I'll go into the classroom and tell kids, 'Have you ever wanted to stop and rewind your teacher because you didn't understand something? Well, with this, you can do that.' They say, 'Wow, that's great.' "
So far, students are giving it rave reviews. At Starpoint, the program is being used in conjunction with regular classroom curriculum covering concepts such as rational and irrational numbers, interpreting graphs and figuring out variables.
"Normally when the teacher's up at the desk just talking and we have a book, I tend to space out a lot because I have really bad ADHD and tend to get bored very easily," says Starpoint student Aidan O'Shea. "But with this program it's really exciting and, with all the pictures and words, you don't tend to space out a lot and even if you do, you can go back and do it again."
Video: