TCU's designing woman LaLonnie Lehman
Even in an age of computers, theater professor LaLonnie Lehman '73 (MA '75) still considers costume design largely a hand-made pursuit.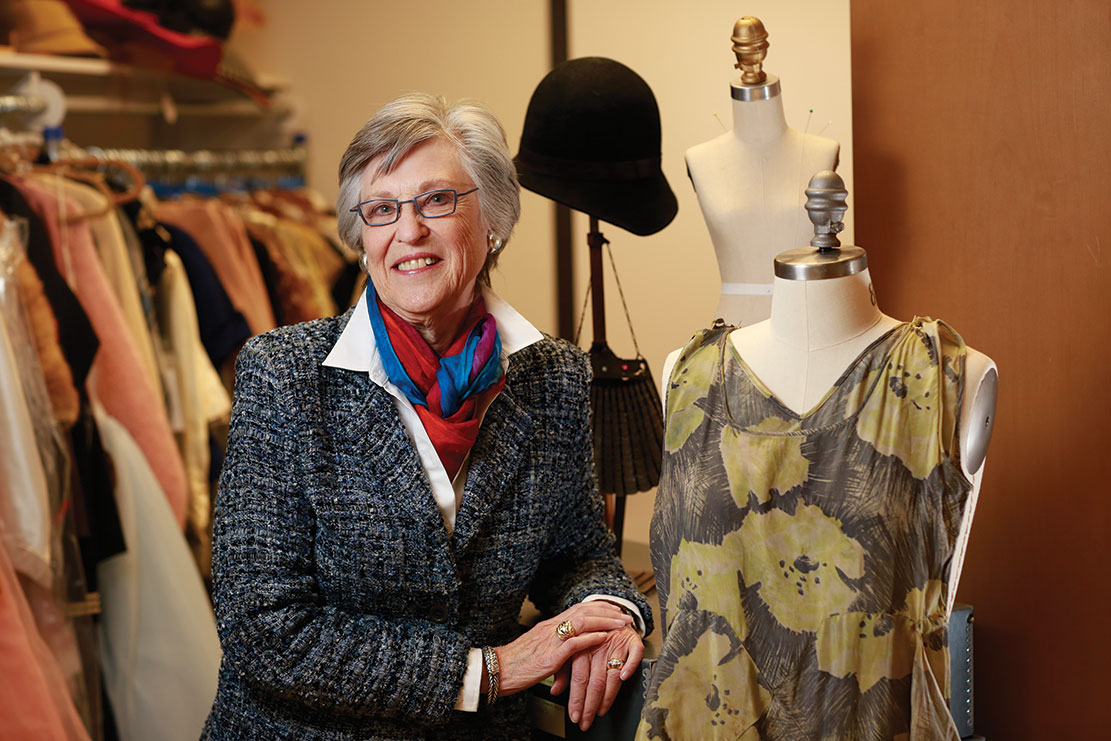 TCU's designing woman LaLonnie Lehman
Even in an age of computers, theater professor LaLonnie Lehman '73 (MA '75) still considers costume design largely a hand-made pursuit.
About a year ago, when a touring production of "Mary Poppins" swung through Fort Worth, the production's costume manager got a visit from a local professor who has been immersed in teaching the rarefied art of theatrical costume design.
LaLonnie Lehman '73 (MA '75), one of TCU's longest serving theater department professors, chatted with the "Mary Poppins" costume manager about the five identical aprons the wizardly Mary Poppins wore during each performance. Lehman touched on the virtues of polyester versus 100 percent cotton and how difficult it can be to maintain a costume done in cotton versus an artificial fabric.
"But I agreed with him that if you had an apron done in polyester, it just wouldn't look quite right, it wouldn't hang the same way and give off the same appearance under the lights like the cotton one," says Lehman. "I admire a company that is all about the seriousness of the work."
"Seriousness of work" is certainly an accolade that could be pinned on the professor. For more than 40 years, Lehman has been all but synonymous with the theater department's costume curriculum. And now marking her sixth decade of teaching at TCU, the 73-year old Lehman has published her first book.
Lehman's debut literary effort, Fashion in the Time of The Great Gatsby, is 73 pages. The slender volume is packed with lovely pictures and lean prose, which chart the distinctive fashion trends that exploded during that Champagne-fizzy period of the Roaring 20s – memorably captured by F. Scott Fitzgerald's most famous novel, The Great Gatsby.
"The publisher first gave me the choice of writing about the fashions of the Edith Wharton period or during The Great Gatsby," recalls Lehman. "I chose the latter because, first off, it's such a great piece of literature – thank you very much, which I've always loved."
Lehman's book illustrates that much of the liberation of the post-World War I Gatsby age was mirrored in the trends of women's clothing. For the first time, women wore daring shorter skirts, brashly skimming the knee. They sported sleeveless evening dresses. All of this was topped by a pert, bob hairdo.
"The whole shape of the more exposed body changed dramatically," says Lehman. "Gone were the corsets. The ideal woman's body type was almost tubular, affecting a young, adolescent boy shape."
Many of the Gatsby-era women's styles were inspired by the fertile design mind of France's Coco Chanel.
"It was Chanel who was most responsible for introducing the period's new silhouette for women," says Lehman.
When it came to makeup in the Gatsby era, women were anxious to imitate the style of Hollywood's silent film "It Girl," Clara Bow, with the pale face offset by heavily rouged lips, cheeks, and a narrow, penciled eyebrow.
"And then there were the shoes," says Lehman. "They were so beautiful, some two-toned, with Oxford-style ribbons, while others were accented with metallic silk."
Lehman set her Gatsby-epoch fashion exploration against the historical context of that decade between the end of World War I and the Great Depression.
"You got the sense that the post-war youth of America was so disenchanted with all the killings that it led to a change in the mindset of those young people," says Lehman. "For them, it was: Let's have fun because tomorrow we might die.
"This new freedom was further cemented by women losing the corset, and any kind of structure encasing their bodies," she continues. "Women also cut off their hair and exposed their arms and shoulders. The Gatsby-era fashion liberated women to dance with their arms and legs free to move about."
* * *
LaLonnie Johnson – her Hawaiian-derived first name came from her father who had spent time there while in the military – was born in Jackson, Mich., about 90 miles west of Detroit. Her mother was a homemaker, while her father worked as a prison guard, before becoming a salesman of everything from roofing to siding.
Lehman's first forays to college included a junior college in Jackson and few years at Michigan State University. Married by age 19, Lehman and her first husband lived in El Paso where she had her two sons, Gregg and Scott.
By 1964, Lehman and her sons followed her first husband to Fort Worth where she started a fashion design business in her home. Having moved near the TCU campus, Lehman met Henry Hammack, a professor in the theater department, a director and costume designer.
Hammack approached Lehman about working for him at TCU, so starting in 1968, "my first job was to do the finishing work on the costumes that Hammack had initially designed," recalls Lehman.
The more time Lehman spent with Hammack, the more questions about costuming she asked "until one day," Lehman recalls, "Dr. Hammack suggested I return to school and finish my degree and do this fulltime. So I did. First to TCU, for my bachelor's, and then I stayed at TCU to get my master's in theater."
By 1972, Lehman was teaching fulltime at TCU. During the last 41 years, she has taught 13 different theater costume courses and designed costumes for well over 300 productions.
"Honestly, before coming to TCU, I knew nothing about theater," admits Lehman. "It was a huge learning curve to absorb all the theatrical literature let alone learning about putting clothing on actors."
Lehman now admits that even with the advent of the computer, she still considers costume design largely a hand-made pursuit.
"You have to first teach students to draw by hand before they go to the computer," Lehman says. "Costume design remains one of those old-craft skills, like beading or knitting. I teach a practical costume class to 12 students and half of the class doesn't know how to thread a needle to sew on a button. Where I come from, that's all part of basic housekeeping skills."
With her first book put to bed and the hedonistic style of the Gatsby era still resonating in her creative head, Lehman bemoans the fact that today's fashions are so far removed from the swank, fastidious look of the 1920s.
"Today, too many of us dress like slobs," Lehman laments. "Back in Gatsby's day, they were so spiffy, wearing all that gorgeous wool from England. Even the men always wore shirt and tie – so much so that the idea of going out without a tie, well, you had to be a real cad to do that."