TCU couple explores Antarctica
Jess '01 (MLA '07) and Nicole Maurer Price '09 trek to Antarctica in quest to see every continent.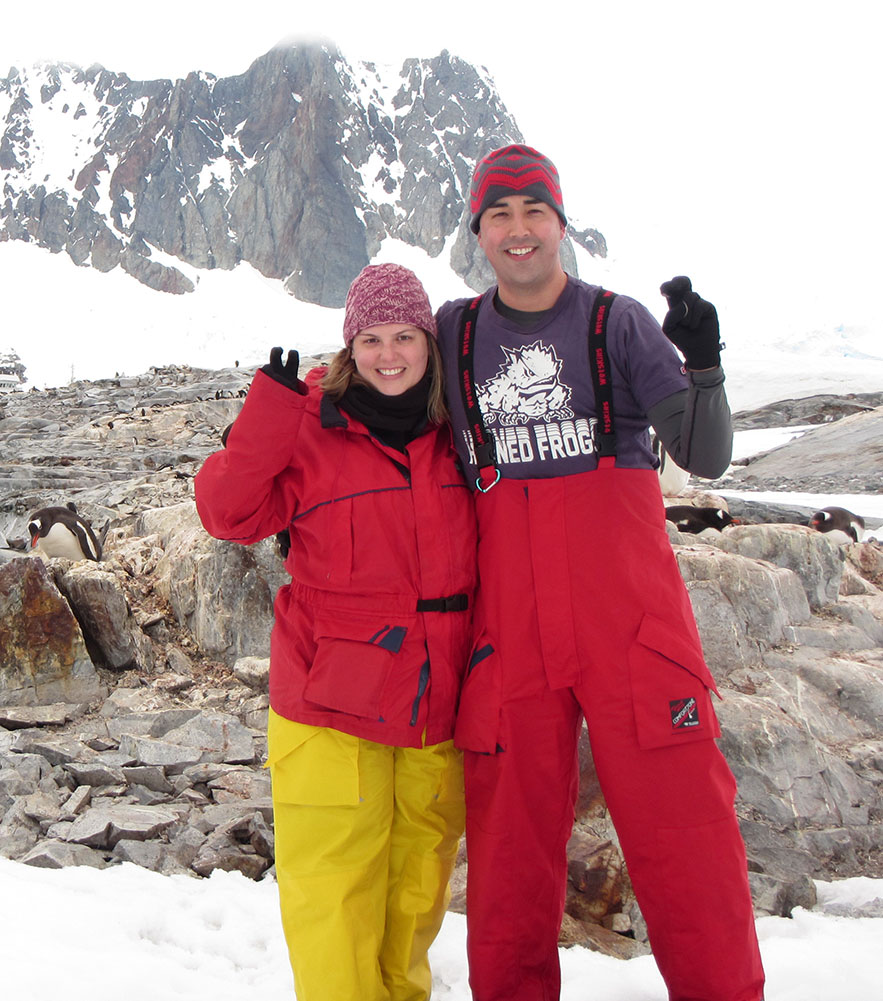 TCU couple explores Antarctica
Jess '01 (MLA '07) and Nicole Maurer Price '09 trek to Antarctica in quest to see every continent.
While other Frogs spent the winter break visiting family, hitting the slopes or soaking up some sun, Jess '01 (MLA '07) and Nicole Maurer Price '09 sailed to the bottom of the world as "along for the ride" passengers aboard a research vessel taking scientists to Antarctica to count penguin-nesting populations.
Since Antarctica is the hardest to reach, the Fort Worth couple assumed it would be the last destination in their quest to travel to all 50 states and seven continents. They talked about their plan in terms of "someday" or when they retired.
But in 2012, when Jess Price's mom was in her 50s, she retired with plans to enjoy life before she got too old. Just a few months later, she passed away unexpectedly.
"It was a sobering lesson that time is precious and that you can't always bank on 'someday,'" said Price.
Antarctica moved to the top of their priority list.
"Nicole quickly pieced everything together from travel forums, adventurer blogs and her own ingenuity," said Price, adding that the hardest part about planning was buying all the warm clothing, gear and "a Walgreen's worth of medicine" they might need for their remote adventure. "It is purely for adventure. It's sort of a 'bucket list' for us."
Decidedly not scientists — Jess works in media; Nicole in human resources — the couple chose to travel aboard the Akademik Ioffe because they wanted a vessel with fewer than 100 people. (An Antarctic Treaty limits the number of people who can make landfall each day.)
When weather and terrain allowed, they also camped onshore. Temperatures on a "warm" day were around freezing, but the wind could top 80 mph, so instead of using tents, they dug pits in the waist-deep snow and the wind blew over them as they slept.
During the austral summer, it's 24 hours of daylight that far south. So the voyagers made blindfolds out of scarves for when the fog lifted.
"It was very surreal. Midnight on New Year's Eve was in blazing sunlight. Camping outside required sunscreen.
While Price would relish the chance to return to Antarctica, adventuring to the North Pole also intrigues him. And Alaska, Asia and Australia remain on the couple's bucket list.
"The tsunami in Japan a few years back dashed a planned visit to Asia — but we hope to make a trip to the Far East, perhaps with Australia as the final destination, very soon," he said. "And maybe Alaska serves as the jumping-off point for that North Pole excursion."
Price said the couple is considering re-visiting Europe and Africa this summer and hit Asia and Australia over the winter break.
"The bottom of the world was incredible! It was so pristine in its beauty. You felt like you were the first person setting foot in some of these remote areas," he said.