Inspiring virtuosity . . . Tamas Ungar
Tamás Ungár earns top honors from national group as his students prepare for the Cliburn competition.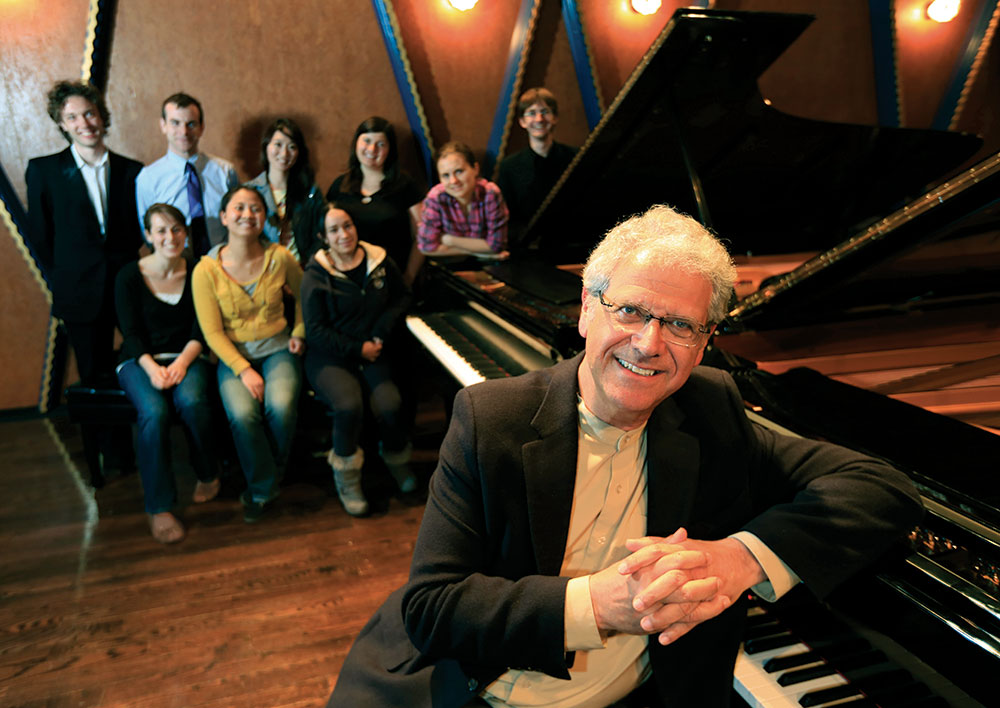 Inspiring virtuosity . . . Tamas Ungar
Tamás Ungár earns top honors from national group as his students prepare for the Cliburn competition.
Professor of Piano Tamás Ungár is certainly pleased to be named Teacher of the Year by the Music Teachers National Association, but topmost in his mind this spring isn't that accolade — it's his students who will be competing in the prestigious Van Cliburn International Piano Competition, which begins in May.
This year, two of his students — one current, one former — are among the 30 finalists for the 2013 quadrennial competition.
Ungár is no stranger to the competition: Over the years, five of his students have made the cut into the top 30 for the Cliburn. Marcin Koziak, a current student of Ungár's in the competition this year, says he's impressed by the seemingly endless amount of time Ungár devotes to any student.
"I was preparing for the Cliburn Competition audition and I really needed Professor Ungár's help," recalls Koziak. "And the only time we could find was between midnight and 1 a.m. — but he had no trouble doing that. He really sacrifices everything for his students."
* * *
A native Hungarian, Ungár's route to TCU was circuitous, but in the 35 years he's been on campus, he's trained and mentored hundreds of talented pianists with exceptional success, says Gary Ingle, executive director of the Music Teachers National Association.
"Tamás is not only considered a highly rigorous and demanding teacher, but also one of the most warm-hearted and nurturing as well," he says.
Each year, Ungár takes on just 18 piano students so that he can give them the kind of attention TCU is known for.
"I know there are a lot of teachers who are technically better pianists than I am," admits Ungár. "But what I bring is such passion for the music, combined with wanting to share as much of my insight as possible into whatever piece of music my students are working on."
At the heart of Ungár's pedagogic approach is the elimination of that often intimidating barrier between professor and student.
"I don't have any wall between me and them," admits Ungár. "As a teacher, I realize the students are like a sponge that wants everything you can give, and I feel that intense need to help them understand what is behind the notes."
In his classroom, Ungár makes sure his students grasp the context of the times in which the great pieces of classical music were written. If his students are working on a piece by Tchaikovsky, Ungár will urge his pupils to immerse themselves in works by Dostoyevsky or Tolstoy, all describing the social fabric of the epoch in which Tchaikovsky composed.
And Ungár heartily recommends his students visit some of Fort Worth's prestigious local museums, say, the Kimbell Art Museum, to take in several Impressionist works in order to understand how those paintings influenced Debussy and Ravel.
"Students don't fully appreciate how important the bridges are between fine arts and classical music of the same period," says Ungár.
* * *
Ungár's globe-trotting path to the teacher-of-the-year mountaintop started with his earliest piano training, at age 5, in his birthplace of Budapest, Hungary. When Ungár and his family fled revolution-torn Hungary for Australia in 1956, he continued his rigorous piano training at the Sydney Conservatorium of Music.
Barely out of his teens, Ungár left Australia for Indiana University where he eventually earned his doctor of music. Several years later, he secured a teaching post at the University of California-San Diego. In 1978, the eminent pianist, Lili Kraus, an artist-in-residence at TCU, happened to hear Ungár perform — and was clearly impressed.
"Lili definitely was key to persuading me to try out TCU," recalls Ungár. "She approached me 16 years after the first Cliburn Competition, so I was already fascinated about possibly moving to the place so associated with the Cliburn."
Clearly Kraus' efforts paid off as Ungár joined TCU's music department in 1978 and has never left.
* * *
Only a few years into his tenure at TCU, Ungár hatched one of his proudest achievements: PianoTexas. First christened the TCU/Cliburn Piano Institute but renamed in 2005, PianoTexas allows young, aspiring pianists the rare opportunity to meet, during the quadrennial Cliburn Competition, various Cliburn jurors, competitors, music managers, and other members of the classical piano community.
"My goal was to utilize the music and manpower of all the people around the competition and expose young artists to that," says Ungár.
Through the 1980s, Ungár's festival grew at such a rapid clip that, by 1990, it became its own annual festival, unyoked from the Cliburn. Since then, for three-and-a-half weeks every June, PianoTexas all but dominates the musical landscape at TCU. This year, however, it runs from May 17 to June 16.
Some of Ungár's PianoTexas progeny have gone on to win numerous highly touted competitions, while others teach at colleges and privately. In addition to the Cliburn competitors, this year students Anna Bulkina and Mikhail Bersestnev have been invited to participate in the Queen Elizabeth Competition, Belgium, one of the biggest in Europe.
He says his success today stems from his early mentors.
"I feel that it is in those teachers," says Ungár, "that form the biggest part of my legacy."
On the Web:
PianoTexas — www.pianotexas.org
Van Cliburn International Piano Competition — www.cliburn.org