In my day, I could play . . . Niki Newton '05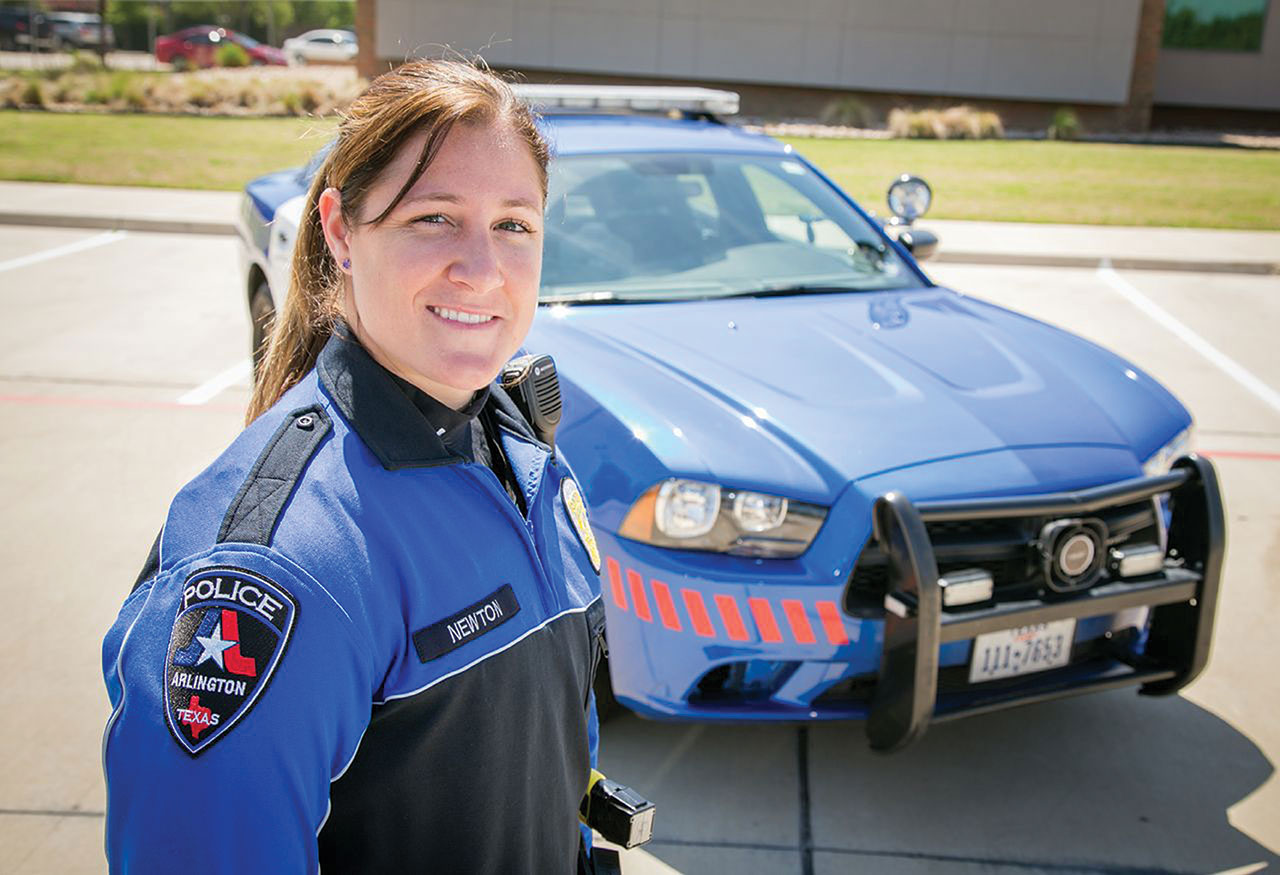 In my day, I could play . . . Niki Newton '05
Coming off the bench as a key reserve for TCU women's basketball from 2001-05, forward Niki Newton patroled the paint for the Lady Frogs. Newton's Frogs went to the NCAA Tournament all four of her years and finished as Conference USA champs three times.
Today, she's Officer Newton for the Arlington Police Department. Whether on a mountain bike or squad car, Newton monitors the city's south retail district.
"I love it. I enjoy making sure people are safe and feel good about their community," she said. "Just like at TCU, when I put the uniform on, it's game time."
How long have you been with the Arlington Police Department?
I've been with the department going on eight years.
What are your duties?
I'm on a specialized unit called the South Retail District Unit. There are seven of us. With our sergeant makes eight. We're responsible for the area containing the Parks Mall and the Arlington Highlands area – north of I-20 and south of Arbrook. We're technically considered a patrol unit. We're a mountain bike unit, one of the few in the department. When the holidays come around, and the malls get really crowded, it's tough to get around traffic-wise. So we use biking to get in and around the malls and the whole patrol area. We take care of everything that happens in that area. If a robbery call goes out, a fight, shoplifters, anything like that, our unit takes care of it. We have a beat 540s officer that works patrol out of here, but their 540s area is much larger that ours. Ours is just controlling that retail area. I've been on that unit for five years.
What did you do before?
I was on patrol.
Do you enjoy it?
Yes, I absolutely love it. We usually don't get dispatched to calls like patrol does, but we do take calls in our area. A lot of activity is self-initiated – making traffic stops, developing community contacts.
You're making a traffic stop on your bike?
Oh, absolutely. We stop lots of cars on your bike. Not necessarily speed enforcement, but things like disorderly conduct, loud disruptions, a theft and they're fleeing. We handle a lot of things dealing with drugs. My unit, we call ourselves The Bloodhounds. We get very good at tackling crime in our specific area.
What do you like about your job?
I know the area like the back of my hand. I absolutely love the people I work with. We're like a family. We have each other's backs on everything. You don't have to worry about answering a call or making a stop without someone 10 seconds away from you. The schedule is great. The area is great. I'm extremely happy with where I am and don't plan on going anywhere anytime soon. I love the kinds of calls that we get to work. I love the self-initiated activity that we get to do. It makes me happy every day.
How does it compare to being on a basketball team?
It's very similar. Being a college student-athlete teaches you work ethic, teaches you dedication, teaches you motivation. You get out of bed and you know you have a competition coming up, and every practice you are working toward that. Well, here, my motivation is putting bad guys in jail, helping people who can't help themselves, being a role model for children in the area. We like to be a presence that people can trust and look up to. When I put on my bullet-proof vest, it's game time!
It's like the uniform!
That's right. When I put it on, it's go time! It takes a lot of work ethic. Being a police officer is definitely a calling, and I believe it's God's purpose for my life.
What did you study at TCU?
Criminal justice.
Did you know then that law enforcement was where you wanted to go?
When I took my first criminal justice course in college, it was my sophomore year. It was Dr. Ronald Burns, who is still there, and he was going over his syllabus. Right then and there, I knew that's what I wanted to do. It caught my attention and captured my heart. This is exactly what I wanted to do. I made criminal justice my major and followed through with it. As soon as I graduated, I knew I wanted to be a police officer. [Former TCU adjunct professor and former Arlington Police Chief] Theron Bowman led me here.
You grew up in North Texas, didn't you? So this is close to home?
I grew up in Crowley. I didn't spend a lot of time in Arlington growing up. But I did know about the department while I was at TCU and that you needed a college degree to serve on the force. The officers on the streets are educated and knowledgeable people. The department is growing. The city is growing. We have a lot of venues and a lot going on here. Cowboys, Rangers, Six Flags. It's a family destination.
You've had the Super Bowl, the World Series, the NBA All-Star game, big college football games, Final Four here. What's your role with those?
We all help when those big events are happening in town. Sometimes it's at the venue. Sometimes it's covering for another officer who is working the event.
Did you ever consider something other than law enforcement?
Being a college athlete, the notion of coaching is not far from your mind. I love coaching. That's my second passion. I like to do that in my spare time – helping with a clinic or coach a spring league team or camps. But there was something that God instilled in my head about being a police officer. So I have just followed through with it.
What did your parents think?
To be honest, they were a little shocked when I told them that that's what I wanted to do. I don't have any law enforcement in the family. I have an uncle who is a sheriff. At first, they said, "You want to do what?!?" As I got through it and graduated from the academy, they absolutely love it.
Do they fear for your safety?
Yes, absolutely. Whenever something is on the news, they always call me and ask if it was close to me. My mom and dad are always saying praying for my safety. And my goal is to go home every night.
Is there a moment since you've been on the force that stands out as especially challenging?
The hardest thing I ever had to deal with was the night [Arlington police officer] Jillian Smith died [in December 2010]. I was one of the first ones on scene and go into the apartment and realize that we did have an officer down. To see her laying there was probably the first time that I thought that I am going to have to shoot and kill somebody or somebody is going to shoot and kill me. We didn't know if the suspect was still in the apartment. We had know idea what was going on. We knew there two victims, one being an officer. That was the toughest thing I have ever had to deal with in my life. Even to this day, that won't ever fully go ahead. Knowing Jill is still with us in some way is something I'll always hold onto. She was a great person, a great officer and great sister in Christ. Every time I go by those apartments, it comes back to me. And it probably always will. That's part of the job. That's why we're here. We do our best to protect everybody in the community, and sometimes things like that happen. When they do, you have to be ready, and that's why I believe this job is a calling.
How is the job like basketball?
You don't know what's going to happen on any given day. So you have to be ready. You have to trust your teammates and your training in order to succeed. I love it. I enjoy making sure people are safe and feel good about their community. Just like at TCU, when I put the uniform on, it's game time.
What was the highlight of your career at TCU?
Winning the tournament in Hawaii my senior year [in 2004]. We beat Michigan State in the championship game.
Wow, not one of the NCAA Tournament games?
We made it all four years. We played at UConn. We played at Tennessee. We played at Georgia. We played in some great places. We won three conference titles. I have conference championship three rings. But I tell you, we had the most fun in that Hawaii tournament. We were the underdogs. They didn't expect us to win it. It was a close game. It was the first time that I got to surf. Coach [Jeff] Mittie did a great job when we traveled places. When he could, he arranged it so that we could go a few days early and tour and relax and have some fun. When it was game time, it was time to focus. He was always great about enjoying our team as a family.
Do you still keep up with teammates?
Yes, a lot of them are coaches. Ashley Davis is the recruiter at North Texas. Jenna Lohse is coach at Richland High School. Ebony Shaw is at TCU. Sandora Irvin was at TCU. Adrianne Ross is playing overseas. Tiffany Evans had a baby not long ago.
Tell me something about Coach Mittie that people may not know.
He's very family-oriented. He cares about his players like they're an extension of his family, like they're his daughters. He's tough on the court, as he should be. But he's always one you can go back and talk to him. He's a really great coach.
Will Year 2 in the Big 12 be better for the Lady Frogs?
I hope so. The first season was tough. Moving to the Big 12 is going to help with recruiting. The status is going to lift the program. They're just young. But I don't have any doubts that they'll rebound and start to adjust to the conference and be right with the top teams.