Making his own legend
In passing Leo "Dutch" Meyer '21, Gary Patterson is now the all-time winningest football coach in TCU history. Here's what this milestone means to the coach, his program and the school.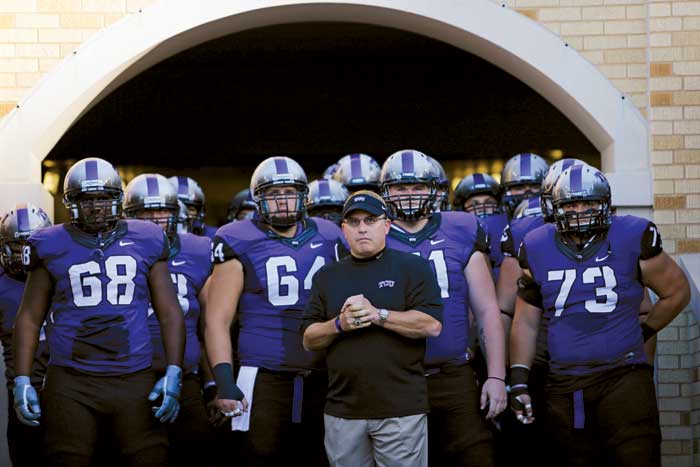 Making his own legend
In passing Leo "Dutch" Meyer '21, Gary Patterson is now the all-time winningest football coach in TCU history. Here's what this milestone means to the coach, his program and the school.
Gary Patterson — hoarse, sweaty and practically spent — was on the move. Not a frantic rush or a frenzied hurry, but a purposeful, efficient stride, eager to wrap up the business at hand and start thinking about what was next.
It was late Saturday evening on Sept. 9., the end of another relentless work week. But this was no ordinary occasion, and this was no ordinary season. Starting his 12th year as head coach, Patterson had just watched the final seconds tick down as his No. 20-ranked Horned Frogs won their opening game of the year — a 56-0 drubbing of Grambling State University.
The Tigers had been hand-picked to take a thumping as the Frogs christened the brand-new Amon G. Carter Stadium — a win that also catapulted Patterson into the record books as the winningest coach ever at TCU. It was his 110th career victory, placing his name and win-total above school legend Leo "Dutch" Meyer '21.
TCU Athletics had planned a short ceremony to recognize the milestone and while Patterson knew it was coming, it was the only thing to happen that evening for which he was not prepared.
He'd warned his players not to douse him in Gatorade, and they complied. Then he jogged to midfield for the post-game handshakes before hustling to the east stands to sing the alma mater and fight song with the band.
By the end, Patterson was surrounded by dozens of current and former players hollering and clapping. Chancellor Victor J. Boschini, Jr. and Athletics Director Chris Del Conte cornered Patterson, and with a brief ceremony, presented him with a crystal football trophy.
Patterson accepted shyly. He'd often said that his record was the product of the hard work of those players, his coaching staff, school officials, donors and TCU alumni and fans. So with thousands of eyes trained on him, he hoisted the hardware overhead for everyone to see and nodded and mouthed "thank you," over and again, seemingly not able to say it enough. It was theirs as much as his.
Then he paused. He cradled the trophy. Treasured it. Just for a few seconds. When he looked up again, he found wife Kelsey and leaned in for a peck on the lips and the cheek. He'd done it.
"Thank you. Thank you," he began after taking the microphone, his gravelly voice echoing throughout the stadium. "I just want to say one thing. We've been here 15 years and TCU's been my family. To be able to share this with you tonight, in a new stadium, and a new conference — I just want to tell you from the bottom of my heart, I love you."
Cheers and fireworks boomed as he hoisted the crystal football once more and walked over to show the student section. Then he marched inside to talk to his team.
At the postgame news conference, he said all of it was just how he'd want to script a game and a memory.
"This happened because of a whole lot of people, not just because of me," he said, thanking his coaching staff and former mentors such as Dennis Franchione. "To watch all this happen is just spectacular. Fort Worth raised me as a head coach. There were a lot of people in my past to help get me to that point, but Fort Worth raised me."
An underdog story
"It seems so long ago that you almost forget it, but Gary wasn't the first choice here," recalled Jack Hesselbrock '82 (MBA '86), associate athletics director for internal relations and 25-year veteran of the department. "He had to grow on some people and convince them he could be a head coach. And we all know Gary is at his best when he's proving people wrong."
Patterson arrived at TCU in 1998 as the defensive coordinator on Dennis Franchione's staff. They had worked together for six years at New Mexico, posting three winning seasons and getting the Lobos to their first bowl game in 36 years. In Fort Worth, they inherited a floundering Horned Frog program that had bottomed out at 4-7 and 1-10 in its first two seasons in the 16-team Western Athletic Conference after being left out of the newly formed Big 12.
TCU needed a spark, and Franchione and Patterson provided it. Former head coach Pat Sullivan had left some talent on the roster, and with new leadership, the team and the program responded.
"They had LaDainian Tomlinson and Aaron Schobel as sophomores. Both went on to be NFL stars," said John Denton '85, who's called TCU games on radio since 1988. "We had offensive linemen, defensive linemen, safeties, return men that all became all-conference players. They had talent. They just needed a culture change."
In their first season with Franchione, the Frogs beat Iowa State of the Big 12, Vanderbilt of the Southeastern Conference and No. 23-ranked Air Force. They'd scratch their way to six wins, good for a winning season and a surprise invitation to the Sun Bowl, where Patterson's 4-2-5 defense humiliated USC to minus-23 rushing yards, a record-low for the El Paso-based bowl and the Trojan program. It was TCU's first bowl win in 42 seasons.
The next year, TCU finished as co-champions of the WAC and upended No. 20 East Carolina in the Mobile Alabama Bowl for its eighth win of the year, most by a Frog team in 15 seasons. A year later in 2000, they started ranked in the Top 25, climbing as high as No. 9 and winning 10 games and another WAC championship. Patterson's defense was statistically the nation's best.
But by then, after leading TCU to three bowl games in as many years and getting the school invited into Conference USA, Franchione had the big dollars and prestige of Alabama awaiting him. He wanted his defensive coordinator to come with him, but Patterson chose to stay, hoping to become head man of the Horned Frogs.
Eric Hyman, TCU's athletics director at the time, now at Texas A&M, also had his eyes on Alabama, targeting University of Alabama-Birmingham coach Watson Brown for the Frogs. Hyman felt TCU needed a man with head coaching experience and believed Brown had a winning formula. The fact that he knew Conference USA was the clincher.
But not everyone was convinced. Dick Lowe '51 and Herb Zimmerman '52, both players under Dutch Meyer, were leading the collegiate athletic committee and thought TCU had an unpolished gem in Patterson. When they learned Brown was the front-runner, they implored TCU provost Bill Koehler, who was the administration's athletics liaison, to give Patterson stronger consideration.
Koehler had heard good things about Patterson already. While lifting weights in the Walsh Complex, he would hear players talk about the coach with high esteem. Unswerving work-ethic, brilliant strategist, tough-minded disciplinarian. Koehler also liked that Patterson essentially supervised the program's academic efforts and compliance, and monitored team behavior. A stickler for rules himself, Koehler was convinced Patterson could carry on what had started under Franchione.
"He had the No. 1 defense in the country," Lowe recalled. "He was handling everything but the offense and talking to the media. The best guy was in-house. What more did we need?"
So when Hyman recommended Brown, Koehler urged him to give Patterson a second look. The word was that Patterson, a career assistant, had not interviewed as well as the other candidates. But Koehler continued to insist on Patterson. Hyman relented and officially recommended him to the Trustees, who unanimously approved the hire. Patterson took over in time to coach the Frogs in the 2000 GMAC Mobile Alabama Bowl, with Franchione talking to commentators on the ESPN telecast.
After exams and the coaching change, the Frogs lost, 28-21, to Southern Miss, and a faction of doubters grew.
More grumbling would follow. In 2001, Patterson implemented his own procedures and recruited players he thought would not only keep the winning seasons going, but grow the program to even higher levels.
After a strong showing but narrow loss at Nebraska in the Kickoff Classic, Patterson's Frogs won two in a row before losing in overtime at home to lower-division Northwestern State.
"I remember standing outside the locker room and some pretty influential TCU people were telling me, 'Are you sure we have the right guy?' " said Hesselbrock. "I kept saying, 'You gotta give him more time. It's going to take time.' "
Four games later, TCU was trailing at the half, 27-3, at home against East Carolina when Hesselbrock went down to the locker room to have a look. Expecting a ranting coach berating his players, Hesselbrock instead found a strangely calm Patterson about to address his defense.
"He wiped his glasses and looked at them and said, 'Here's what we need to do.' And he proceeded to draw up several formations and situations. The locker room was quiet, just watching and listening, as if it was a midweek film session."
TCU came roaring back in the second half. The defense held the Pirates to one score, while Horned Frog quarterback Casey Printers threw for four touchdowns over the final 23 ½ minutes. With less than two minutes left, TCU recovered its own onside kick and marched down to the East Carolina 10-yard-line. One 4th down and with 5 seconds left, Printers' final pass to the end zone was batted down. The Frogs lost, 37-30, but Hesselbrock's faith was restored.
Two games later, the Frogs obliterated No. 17 Louisville and then beat Southern Miss to reach their fourth bowl game in four years. Patterson's teams have gone to a bowl game every year since but one.
The doubters are gone now. Instead, there are T-shirts with profane initials jumbled with his (GMFP) and fake social media handles that lovingly imitate his favorite maxims and sideline quirks. All created with the tongue-in-cheek reverence found in the sports world.
Not only has Patterson won, he's done it while raising his program, the athletics department and the university. The Frogs' pummeling of No. 23-ranked and Mountain West Conference champ Colorado State in the 2002 Liberty Bowl probably captured the attention of the MWC and paved the way for TCU to join the league in 2005, Denton said.
"Then, when we go 8-0 in the first year of the Mountain West, we force all those schools — including BYU and Utah — to adapt to our speed and emphasis on defense," Denton said.
In turn, the Frogs' Fiesta Bowl appearance in January 2010 may have been the final straw that convinced the Big East Conference to invite TCU to join the ranks of the Bowl Championship Series automatic qualifiers. Years from now, the term "BCS buster" will be synonymous with TCU and Patterson's teams. Then there were the back-to-back 12-0 regular seasons in 2009 and 2010 and the 2011 Rose Bowl victory to finish No. 2 in the country and 13-0 — all of which helped build the Frogs' case for inclusion in the Big 12.
"I didn't always believe it, but he's been the perfect coach at the perfect time in college football in the perfect environment to make TCU a national power," said former Patterson neighbor and friend Dan Jenkins '53. "That sure was a fine afternoon in Pasadena to convince anyone who didn't believe it."
The numbers say Patterson has earned a spot among the elite coaches in college football. Since his first full season as head coach, the Horned Frogs have won 79 percent of their games, ranking seventh nationally. Among active coaches, Patterson's win-percentage is fourth-best in the NCAA, and his 113 wins (as of the victory over SMU) make him one of only eight active coaches to have at least 100 victories at his current school.
Even more impressive, TCU has gone 46-5 the last three years and is the only school in the country to win 11 or more games in six of the last seven seasons.
"Ask around campus and TCU folks will tell you that Gary Patterson is more responsible than anyone for the Frogs getting into the Big 12," said the program's play-by-play radio commentator Brian Estridge.
Now at Texas A&M, Hyman agrees: "He's been remarkable for TCU and his record speaks for itself."
The tough-love tactician
Patterson doesn't seem like a man who has lived 52 years. Framed on top by youthful blond hair, his face is marked by full cheeks and piercing blue eyes. Whether he's ambling down the hallway or talking in his signature one-sentence mottoes, he still shows tendencies of the fiery, stocky, 5-foot-10 overachiever who walked on at linebacker at Kansas State. "Win by one point." "You have to bring your own emotion." "You have to take the game." "We're all we need." "Don't back down." At times, especially when talking to the media, he looks like he could still make a tackle.
He's told reporters and alumni groups that he's always had to work harder and smarter. Growing up in Rozell, Kan., he spent summers helping his father and brother grapple with uncooperative farmland. Starting before dawn, he would flatten soil and level bumps. His job was to make the rugged earth smooth so that crops could flourish.
He's doing the same today with 18- to 22-year-old men. Leveling the field. Turning adversity into advantage. Taking running backs and making them into defensive ends, or turning quarterbacks into safeties.
Possibility isn't an easy thing to imagine. It takes an innovative mind to see potential in a young player. Then a lot of patience and time. Patterson shrugs at the notion that his methods are inventive. Most high school teams in Texas put their best athletes at quarterback and running back. So the coach and his staff look there to find future stars. Other programs do it too, but few have the success Patterson does.
His brilliance at unearthing talent and speed from less obvious recruiting areas is well documented. He and his staff want fast offensive players, many of whom are years from their peak, and convert them into muscular, defensive hitting machines. All-America defensive end Jerry Hughes '10, who led the nation in sacks with 15 in 2010, is the most prominent recent example. A tailback at Austin High School in Sugar Land, Hughes bulked up while retaining his quickness and developed into a force as a pass rusher and eventually into a first-round draft choice of the Indianapolis Colts.
"That's probably [Patterson's] greatest strength," Hughes said, now in his third NFL season. "He believes in the potential of a player more than the player probably does. Now, he's going to yell at you and ride you. But that's good. That's how you know he sees it inside of you, and he's trying to make it come out."
Patterson is not just a yeller. In fact, the coach doesn't care for photos of him yelling in the press. Doesn't stop him from doing it. But Patterson really is a paradox — an old-school tactician constantly looking for new ideas and innovative strategies while being that tough-love disciplinarian who hollers himself hoarse during practices and games.
This fusion of intensity and care is on display at every practice. Barking. Pointing. Roving the field. But he's really looking for the next teaching moment. Sweat-soaked and red-faced, he drives players to make their maximum effort, to use their athletic instincts and on-field smarts.
"I would love to see you finish a practice as hard as you start one!" he needled a young secondary player at a two-a-day practice. A moment later, he had an arm around the same underclassman and calmly demonstrated the proper pursuit angle. Molding while scolding.
Greg McCoy '11, a former defensive back and return specialist from Dallas,  was so touched by Patterson's approach and tough love that he had a glass award created to give the coach.
In an accompanying letter, he wrote: "As you know, like many other players, I come from a place where opportunities to make something of yourself do not come often. However, you gave me one. You may or may not have noticed, but I have watched you closely in my years at TCU, and I have learned so much. Before I met you, I lived in a world where people did not give others advice because they were afraid that others would pass them up in life. You offered advice even when you were not asked for any. To me, that advice is worth more than any award or money."
McCoy was drafted last spring by the Chicago Bears.
"Gary keeps that letter here in his office because that's why he got into coaching," said wife Kelsey. "His job isn't just to win football games. It's to shape young men and get them prepared for life."
Football players aren't the only ones he's helped. The spring after TCU won the Rose Bowl, men's tennis coach David Roditi '96 had his best recruit visiting campus. Roditi asked if he could bring the young player by to meet the football coach and see the trophy the Frogs won in Pasadena.
" 'No problem, come on by.' That's what he said," Roditi remembered. "He didn't have to do that, but it made for a big day for my recruit."
On another occasion, shortly after a February drug bust that included four football players, Patterson followed through on a commitment to attend a luncheon in East Texas for a new athletics sponsor.
"He had every reason to cancel, but he didn't. He knew people were counting on him, hoping he'd be there, and he kept his commitment," said Hesselbrock. "That's why he emphasizes it with his guys. It's about building character and he has it."
Another favorite story of Patterson's integrity is when he was pulled over at a side-street checkpoint on the way to Colonial Country Club for the Crowne Plaza Invitational. The coach had forgotten to buckle his seat belt. The officer approached the car, and issued Patterson a citation. When he got back to his office, Patterson joked about how mindless he'd been. A staffer asked why he didn't try to talk his way out of the ticket, Patterson simply said, "I'm guilty," and went back to work.
"Our iconic figure"
TCU Athletics reached its own milestone before this season. It topped more than 31,600 season tickets sold, the most in school history and marked the third straight season that the Frogs have set a record. Additionally, the program's streak of consecutive sellouts at Amon G. Carter Stadium has reached double figures, and the inaugural season of the Big 12 in 2012 ensures that a packed house will continue for years to come.
That's no surprise to Del Conte. The new conference, record ticket sales and  stronger ties between the university of Fort Worth are all connected to Patterson's remarkable success, and the milestone is just the latest triumph.
"What Gary Patterson has done is amazing. He is our iconic figure. He is creating the next legacy," Del Conte said. "In the 1930s, this university built a stadium. It was at the beginning of the Great Depression. Five years later, in 1935, Dutch Meyer won a national championship.
"We're in the same position now. We are coming out of the greatest recession in modern history, and what does TCU do? We build a stadium. We have record ticket sales. We have record admission numbers. We have the city behind us. We've been to the Fiesta Bowl. We've won the Rose Bowl. It's only fitting that we have a new stadium, and that Gary Patterson passes Dutch Meyer."
Patterson has managed to do something else Meyer did: turn TCU into the city's home team and bring national attention to Fort Worth.
TCU is a small school with about 83,000 living alumni — 34,000 of them in the Metroplex — and that's not enough to fill the stadium, even if all of them came to the same game.
"TCU needed Fort Worth's help, and that was going to happen one fan at a time. Gary had to win, keep winning and over time, people would get engaged with the Frogs," Estridge said.
First came the Bleacher Creatures, an idea Patterson had to reach younger fans, which would in turn attract their parents and family. The concept built upon the foundation the department began in 1998 to bring more funding and improvements to athletics facilities.
By 2008, it was time to ask the city to step up. In a chance meeting over breakfast, Patterson and then-Fort Worth Mayor Mike Moncrief started talking — a story Patterson likes to recount.
"It started with how Fort Worth and TCU weren't on the same page with supporting the hometown team, and how we needed to work together to fix that," Patterson said.
Moncrief remembers the talk, too. "We had one of the top teams in the country, but there weren't enough butts in seats."
The mayor told the coach he would help, first tapping  Bill Thornton, a die-hard Frog fan and former TCU assistant coach under Jim Wacker, who now is president of the Fort Worth Chamber of Commerce.
That call ultimately led to a proclamation from the mayor's office that Fridays in the fall of 2009 would be Purple Fridays. The city got on board. Fort Worth city staffers even razzed Moncrief for wearing Texas Ranger red at the end of one week. Excitement grew around town and purple was seemingly everywhere.
"That first game that sold out, everybody was wearing purple. And you couldn't find purple any more," Moncrief said. "By the time the next game came up, everybody from Walmart  to Neiman's had purple — and a lot of it."
The Tarrant County Regional Water District even got involved, trying to adapt Chicago's famed St. Patrick's Day tradition of dyeing the Chicago River green. "As it turns out, it's much easier to dye a green river greener than it is to dye a brown river purple. But we did it, at least symbolically. And we did sell out the rest of the season," Moncrief said.
"Now that TCU is a member of the Big 12, the stage is going to change, and it's going to change drastically. Little did I realize that all the things we did as a result of that breakfast would also create a strong foundation and a lot of support for the fund-raising efforts to complete that stadium."
Working together, they'd turned the idea of TCU as Fort Worth's hometown football team into a culture of support. Retailers, schools and civic organizations all understand that it's fashionable — almost a Fort Worth resident's duty — to get behind the Frogs.
With that support and TCU's own personnel, the Frogs' future is, perhaps, shinier than at any point in history.
"We have a perfect storm here — a wonderful board, a phenomenal chancellor and, in my opinion, the very best football coach in the country — and the three of them are a formidable force," Moncrief noted.
Patterson won't rest easy now. "We've got too much in front of us," he said. The week after achieving the milestone, the Frogs faced Kansas on the road in their first-ever Big 12 game. They won, but Patterson told the media earlier that if they lost — or kept losing — the coaching record wouldn't mean much. "They'll forget about the 110," he said.
That's why he has to keep reviewing game film, keep finding hidden recruiting diamonds, keep yelling every day at practice. His players are watching, TCU is watching, the city is watching. They'll notice if he doesn't. Besides, he can't change. He's a grinder.
"In a couple more years, I'll be here [in Fort Worth] as long as I was in Rozell, Kansas," the workhorse said. "This has become home."