Recollections of the Southwest Conference
Longhorns, Razorbacks, Aggies and others – the Horned Frogs dished out their share of upsets and took a few lumps too.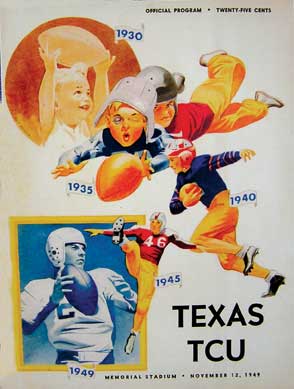 Recollections of the Southwest Conference
Longhorns, Razorbacks, Aggies and others – the Horned Frogs dished out their share of upsets and took a few lumps too.
I recall the memorable student-body trip to Austin in 1949 when the Frogs tangled with the Longhorns in Memorial Stadium. We rode the train to Austin, dropped off the coaches at the depot and marched up Congress Avenue with our cowbells from Cowtown ringing loudly. We woke up Austin! Dutch Meyer threw his nine-man line at the T-sips, something they hadn't seen before, and we beat the vaunted Longhorns, 14-13. Once again the Frogs messed up the 'Horns playpen!
Darrell Debo '52 (BDiv '55)
Two of the greatest games in Frog and SWC history ended up as losses. A battle of Top 10-teams occurred in College Station in 1956 when the Jim Swink-led Frogs took on Bear Bryant and his John David Crow-led Aggies. The fourth quarter brought a hurricane-like storm to Kyle Field as the Aggies won, 7-6. Several punches at the Ags' goal line by Swink were ruled short by the refs, although Frog fans will forever think otherwise. Aggies were on probation that year and TCU hosted Syracuse and Jim Brown in the Cotton Bowl and won, 28-27.
The next year, the rivalry was intense as the Corps made its trip to Fort Worth. Another close one ended up 7-0 for the Aggies. After the game, Frog frustration overflowed. A major fight began at Amon Carter Stadium and continued across the campus among students from both schools. Later, A&M sent a bill to TCU for damages to sabers, boots, etc. Ill feeling between Aggies and Frogs had reached a boiling point. Sorry to see the Aggies not around in the Big 12, so no doubt Texas will become our biggest conference rival.
Gordon Pynes '60
TCU's SWC opener vs. Arkansas, Oct. 5, 1957, at War Memorial Stadium in Little Rock, Ark. I was a freshman in the Horned Frog Band. The city was in turmoil due to the integration of public schools. Our bus to the stadium passed Little Rock Central High School, with armed National Guardsmen on the steps. The band was given folding chairs on the field near an end zone. Arkansas Governor Faubus came on the field in a convertible while the Arkansas band played "Dixie" to a frenzied partisan crowd, some of which threw stuff at us. The Frogs lost, 20-7, but were winners in other ways. Quite a conference opener.
Don Lacy '61
In 1961, we attended the TCU-Texas football game in Austin. Texas, ranked No. 1, was headed for a national championship. A guy named Sonny Gibbs, quarterback, threw Buddy Iles a pass for TCU — 6-0. That is how it ended. This is my Christmas card from that year. My front door was painted purple when I returned to Odessa. This is my fondest memory of TCU in the old Southwest Conference.
Richard P. Owens '49 (MS '62)
TCU vs. Texas, 1961. TCU held the vaunted Texas team, ranked No. 1 in the country four times, inside the 5-yard line and won, 6-0, that November day in Austin. Many sports authorities claim it ranks as one of the greatest upsets in college football. TCU's quarterback, Sonny Gibbs, threw a 50-yard pass to Buddy Iles who outran the Texas defenders to the end zone to account for the only points in the game. TCU was a 28-point underdog that day. What a great day for Frog Nation!
Diane Clark
We went down to play Texas in 1961 when they were ranked No. 1 in the nation. TCU football was nothing to write home about. In fact we were called cockroaches that, "just run around and mess everything up." It was a 0-0 game and down to about the final play when Sonny Gibbs threw a double bomb to Buddy Isles to win, 6-0. My, my, how things have changed. Go Frogs!
Larry Ackers '62
In 1961, UT was headed for a title and we had not won very many games that season. We beat them that year, when we shouldn't have. We were golden, but Darrell Royal said, "They're like a bunch of cockroaches. It's not what they eat and carry off. It's what they get into and mess up." Good times!
Virginia Al-Rikabi '68
I hate all of them corksoakers. Every one of 'em. They were and now are the enemy again. I tell people that when I was at TCU for four years Texas never beat us in football. While they are trying to figure out when that was, I explain that my sophomore and senior year we beat them in '65 and '67, both in Austin. The other two years I say that they were ahead and time ran out but they NEVER beat us in football.
I grew up in Indiana in the '50s during the Hoosiers era and I was a walk-on on the basketball team. My senior year in '68 it came down to the last game of the season with the Frogs tied with Baylor and Texas for first place. The year before I got to TCU the Frogs had only won one basketball game. Our freshman team played Texas in Austin the last game of the season tied for the freshman SWC championship. We were down by 11 with 1:10 to go and wound up losing by 2 points. Our coach, Bob Walker, told us after the game he was proud of our effort that year, and if we worked and stuck together, we could win the SWC before we were done.
In '68 we had won all our games at home, but it was tough to win on the road. We had to go to Waco to play Baylor while Texas played Arkansas in Austin. We were bigger and stronger than Baylor inside with McCarty and Cash, and our guards just never made a mistake. With a little over a minute to go in the game there was a timeout and we had the lead. Paul Ridings was right by our bench and had a little radio. The Texas game ended with Arkansas winning in a close game. We closed out Baylor and the party was on.
The tradition back then was to throw the coach in the shower. I asked Coach Swaim to give me his wallet so it wouldn't get wet. He did and I stuck in the pocket inside my sport coat. After we got back to Fort Worth we celebrated into the morning since it was a once in a lifetime happening. The next day, when I woke up, I still had coach's wallet. So I called him thinking he might need it. He said no there was nothing in it and just bring it to practice on Monday. Then I looked in his wallet and he was right. There was nothing in there. Not even $1 or a driver's license. So I took it to practice and gave it to him Monday.
The next weekend we got to go to Wichita, Kan., to play in the Midwest Regional. Back then there were only 24 teams that made the NCAA. You had to win your conference or be ranked near the top in the nation. We drew Kansas State who was the Big 8 champ.
When we came out to warm up for the game, we looked up in the stands and all we saw was a sea of purple. We thought, wow, this is great. Then we found out purple was also Kansas State's color and they were all for them. Before the game the media interviewed Tex Winter, Kansas State's coach. They asked him after he beat TCU would he rather play Houstonranked No. 1 or Louisville in the top 10. He said either one would be fine.
We ran the UCLA zone press, and when we put it on Kansas State, they looked like they had never seen a press before. We won by about 8 points. The next night we played No. 1 Houston, who had several guys who went on to be top pros, like Elvin Hayes. We had guys who went on to be doctors, lawyers and top businessmen. So that was the end of our trail.
We wound up in the Final 8, which is the farthest any TCU team has ever gone in the NCAA tourney. It was a great run and a great time and we are still celebrating when we get back together in Fort Worth.
Rick Hosea '68
Back in the late '60s, TCU's football team was really struggling. They never had a winning season while I was there. But the worst times always seem to be when Arkansas came to town. Those loud Hawg fans with their big RVs, funny Hawg hats, and red everything took over the campus and always seemed to put a hurt on the Frogs. Our revenge was in the old dining hall. On game day, the only meats visitors could buy were pork products — BBQ ribs, ham, pork steaks, bacon, you name it. If it was pig, we served it. Of course, when Arkansas finally announced in 1990 that it was leaving the SWC because it wasn't tough enough for them, we really hammered them, 54-26! All of this is terribly ironic for someone who wound up living in Fayetteville for over 20 years and has an MBA from U of A.
Barbara Hofheinz Robinson '66
I was in the stands at Baylor Stadium on Oct. 30, 1971, when I noticed our coach was on the ground. We had lost Jim Pittman, our coach, to a heart attack. The Frogs rallied to win the game, 34-27, but our leader was gone.
Bill Murray '68
One of many favorite memories: Sitting in the west stands at Amon Carter Stadium on a lazy fall Saturday afternoon watching TCU football and B-52s practicing their touch-and-gos at Carswell Air Force Base!
Robert W. Simonsen '67
In the fall of my freshman year, 1967, when TCU beat Texas in Austin, a friend brought back to Milton-Daniel some grass snatched from Memorial Stadium, which I enshrined in my room. Wins were rare. This one, ergo, was especially sweet.
Jim Stuart '71
I was a member and former president of the business fraternity, Delta Sigma Pi, Delta Upsilon Chapter. I remember working on several floats for Homecoming and in particular, Bowl over Bevo, which was a float depicting a bowling alley with Bevo (the infamous Texas mascot) being bowled over. The enjoyment of creating the float was worth the beating we usually took at the hand of the Longhorns. It is with great admiration for our Coach Patterson and his football team that I look forward to revenge.
Richard Wayne Abatelli '72
TCU's football program was not at its peak in the early '70s, but I remember the 1971 victory over Texas A&M, a true upset. The Corps was there in all its pageantry and paid tribute to the winners in a final ceremony. I also remember seeing Lyndon B. Johnson in the crowd when TCU played UT (and lost). Also, I became good friends with John Beilue '72, former tight end who was injured.
Theodore B. Jamison '72
In the late '70s, things were so grim for the football team that I remember a cheer being, "Two, four, six, eight, score before we graduate."
Silver lining: Our son, Chris Allen '14, was a member of the TCU Marching Band, who played at the Rose Bowl. Getting to and winning the Rose Bowl was very special. Even Amon Carter could not get TCU invited to the Rose Bowl in 1938 as the National Collegiate Football champions! Go Frogs!
Francie Richardson Allen '79
Back in the '80s, [actually 1974] we played Texas at Amon Carter Stadium. Their "Tyler Rose," Earl Campbell, was a freshman, as I recall. That day he ran wild. The score? Texas 84, TCU 16. Etched forever in my memory is hearing that @&#$&% Longhorn fight song over and over and over! This year, the Frogs go to Austin. UT has another great freshman running back. However, in 2012, we debut in the Big 12. TCU lurks as a formidable unknown but in possession of robur et agilitas. While I expect to hear, maybe once, their fight song, I expect them to seek wax for their ears from hearing ours.
Bobby W. Cook '78
"Twenty-two is enough!" After 22 consecutive football victories over our beloved Frogs, the heavily favored Arkansas Razorbacks came to Amon G. Carter Stadium in 1981, trying to keep the streak alive. They came within five minutes of making it 23. Those of us remaining few who had stayed to the game's end were treated to arguably the greatest comeback in school history. Scoring three touchdowns and two 2-point conversions, the Frogs sent the defeated Pigs limping out of the State of Texas!
Jay A. Lance '83
Coming from a family of rabid Razorback fans, I'm surprised I was actually allowed to leave the state to attend TCU. My Daddy's rationalization was somehow wrapped up in thinking I was like a missionary in a foreign land — taking Arkansas culture and Razorback mania to TCU.
In 1981, his big visit of the year was Parents Weekend. TCU had not won a football game in 22 years against the Hogs. The Horned Frogs were the perpetual underdog. He had come to gloat over an obvious victory showing Arkansas' superiority in all things. Little Rock television coverage of the event preceded his visit and had him primed for a slaughter.
But back in Fort Worth, the missionary had been converted. I was a HORNED FROG! I had my "22 is enough T-shirt" and crossed my fingers. In the end, TCU triumphed, 28-24. Victory was amazing! My school was amazing! I was so proud. My dad pouted and didn't speak to me the rest of the weekend.
In the years that followed, the rivalry continued. Eventually the SWC folded. Arkansas and TCU had new competitors. The glares between us subsided. In the past few years, TCU has skyrocketed to football greatness; Daddy now follows Horned Frog football. He cheers for us to win. But 31 years later, he still doesn't want to talk about that weekend.
Kathy Sue Stark Hopper '84
I think it was my freshman year, and we were playing Arkansas at home. TCU had not beat the Razorbacks in a long time. I recall students wearing shirts that said 22 years is enough. Back then, the football program was not particularly good, so it was exciting when we beat them. I remember getting ready to march in the halftime show with the band and seeing the Arkansas coach, Lou Holtz, spit on sideline! He looked ridiculous in his white shoes, white belt and red pants. After the game, a girl in my dorm was in tears. It was upsetting to her because she was from Little Rock. I never understood that. Perhaps she was homesick. Anyway, that was my most memorable rivalry.
Alice Gilbert '85
I  remember all the games were just a tank of gas away. It was awesome! I will never forget Matt Vogler hitting Steven Shipley of "Shipley Always Open" fame in the end zone to cap a comeback against Houston and making us 7-4. Wacker was unbelievable.
Dudley Hughes '92
I remember being on the TCU Rifle Team and having a match at Texas. Afterward, one of the Texas students joined the all-women's rifle team and our coach at Chuy's in Austin. We strolled in with our very-stand-out purple jackets and found the Texas/TCU game on the televisions. TCU was winning, I believe, by 11 points when we walked in. We put our names on a list for a table and found seats in the bar area to watch the game. We cheered loudly and received many dirty looks. I think we were not harmed because our jackets said "TCU Rifle Team" on them. Our Texas companion tried to keep a low profile since he was with the "enemy." It took an inordinately long time to get a table; we think that was the only way for Texas fans to revenge our 23-14 victory. I believe that was the first time TCU had beat Texas in a long time, and we were very much the underdogs that year. But it was great fun being behind enemy lines and watching the whole thing go down.
Michelle Parks Ames '96
During my years at TCU, I was a football manager on the video crew. At the end of classes one day in November '97, I was going to my room when I noticed something different about the stadium. So I grabbed my camera and this is what I saw. It cracked me up, being a private school, to see this plastered across the stadium! When I got to practice that day, I learned that one of the Dallas Cowboys players was shooting a Nike commercial in our stadium and they needed it to not be affiliated with any particular school. So Nike paid to have another line added to the "T" and to have the "C" closed and thus, TCU became "IOU" for one day. The next day, commercial finished, we were back to being TCU again. This has been, and always will be, my favorite TCU picture. I cried when I learned that the old stadium had been demolished, having spent many days in the press box and above it running video, but I'm also very excited for the new stadium and all that it will offer to fans and staff.
Crysy McEnroe Nelson '99
The year was 1992. Sullivan had taken over, gutted, then implemented a new, pro-style offense. We didn't win much — in fact, we were 2-8-1, I think. But we beat Texas. At home. And because my girlfriend (who was attending Tulsa University) was in town and didn't want to go to the game, I missed it. It would have been my only win over Texas to see. So, friends, the moral of the story is: To hell with 'em if they won't go to the game with you. There are more fish in the sea — or more "first date" prospects in the stadium.
Mark Mourer '95
My first game at TCU was against Texas Tech in 2006. It and so hot and the crowd was crazy. We put on a defensive showcase, holding Tech's high-powered offense to three measly points. The final score was 12-3 if I recall. All of our points were on field goals by Chris Manfredini.
My other SWC memories are road tripping to Oklahoma in 2008 for the TCU versus Oklahoma non-conference game. I went with Young Life friends and we met some OU Young life leaders. The game atmosphere was awesome when we tailgated before the game. The stadium was huge and the crowd topped out at 85,158 that day. The score seemed close throughout much of the game, though OU eventually won 35-10.
I also went to the University of Texas game when we played them in Austin. I had to watch the game outside with Texas fans since I didn't have a ticket. This game was Andy Dalton's first season as the starting quarterback for the Frogs. Though he did not play horrible, the Texas defense had more experience leading to their 34-13 victory over the Frogs.
Luke Urban '10