Hitting a High Note: Ava Pine '98
Grammy-nominated soprano Ava Pine '98 is winning rave reviews.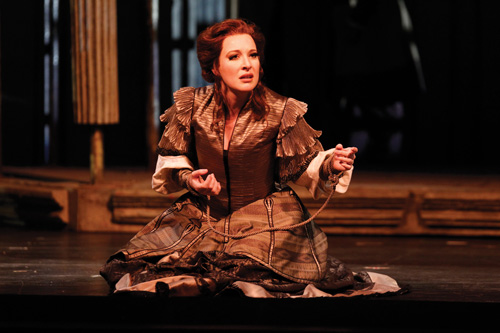 Hitting a High Note: Ava Pine '98
Grammy-nominated soprano Ava Pine '98 is winning rave reviews.
The first time Darren Woods heard her voice, he was at church.
Woods, general director for the Fort Worth Opera, had been coaxed into the choir at First Presbyterian Church and was awestruck by the soprano soloist.
"After the service I went up to her and said, 'Who are you, why don't I know you and why aren't you singing opera?' "
Her name was Ava Pine, and at the time she was an undergraduate music major at TCU who had grown up on a ranch outside Fredericksburg singing country music with her singer-songwriter dad. On campus, Pine developed a passion for theater, but arias weren't part of her plans.
"The opera bug hadn't bitten me yet," Pine says over iced java at a Fort Worth coffee house.
It took a few years, but Pine eventually found her way to the opera stage, drawing raves from critics who have dubbed her a "vocal queen" who sings and performs with "heartbreaking, honeyed sweetness."
Despite her relatively late start at age 28, Pine has risen up the opera world's ranks with star-making turns as Cleopatra in Handel's Julius Caesar and Pamina in The Magic Flute. A Baroque specialist, she performed in Handel's Messiah in concert halls across the country and sang on the Grammy-nominated recording, Marc Anthony and Cleopatra, performed by Houston's Ars Lyrica.
Her big break came in 2008 when she was cast as The Angel in Fort Worth Opera's staging of Loránd Eötvös' Angels in America, a part that requires hitting high notes in dog whistle range while being suspended in mid-air.
"All of the sudden I was singing this part of the angel, which musically was the hardest thing I've ever had to learn," says Pine. "I had to constantly watch the conductor and count at the same time or I would be completely sunk.
"Most of the time, you don't have to count because the music becomes organic, your only responsibility is to watch the conductor and often times you don't even have to do that because you know when to check in when things are tough.
"With this piece, I had to do both of those things all the time and act and sing and also be dangled in the air from the ceiling.
"It taught me a lot about so many things, but ultimately it taught me a lot about being fearless. Because there was no choice, I couldn't stress out about the music. I couldn't stress out about the words or the counting or the flying because all these things had to happen simultaneously and all I could do is be fearless or I would fail."
This year Pine had a whirlwind spring season that found her taking on four roles, including Lysia in Fort Worth Opera's Lysistrata. Now she's ready to take her career to the next level, preparing for auditions in Europe and a New Year's Eve recital with the Fort Worth Symphony.
"I haven't done a recital since I was an undergrad and so I'm really looking forward to researching a program and putting it together," she says. "It's kind of a calling card I'll always have once I put something together. I'll have this program that I can take anywhere."
* * *
Pine's journey from the Texas Hill Country to the world's leading opera houses was more winding than most. In high school, her vocal skills were recognized with all-state honors and she earned an academic scholarship to TCU. The scholarship and intimate campus appealed to her, but there was another reason she chose TCU — Ron Shirey, the longtime director of choral activities.
"He remembered me, that I was a two-time all-stater, and made me feel I could be part of something if I came to TCU," she says.
Pine was a soloist for the 2010 performance of Brahms' German Requiem at Bass Performance Hall, dedicated to the memory of Shirey, who died in 2009. She credits him for shaping her musicianship and inspiring her to grow as an artist.
"He was the first person to truly challenge me beyond my abilities, and when someone does that, you grow to fit that challenge," she says. "He always respected me, but he never coddled me."
Remembering her mentor, Pine tears up.
"I miss him if you can't tell," she added softly.
While she loved studying vocal music, she also wanted a broader-based education, so she switched to a bachelor of arts in music major and opted for a minor in theatre. She was cast in the stage version of Under Milk Wood by Dylan Thomas because the director wanted someone who could sing.
"It opened my mind to the world of theater," she says, "I feel a lot more affinity to the stage animals of the world than the purely musical creatures. I remember feeling like I finally found my tribe when I got on stage and got to be in character and use the text, both speaking and musically. I just absolutely loved it."
After graduation, Pine didn't have any concrete plans. She could have moved to New York to audition for Broadway, but was a bit intimidated by the Big Apple. Instead she took a marketing job at a Fort Worth Internet company.
Eventually the opera bug did bite her and she called Woods, attending his young artists summer program in upstate New York. From there, she went to the Dallas Opera, becoming the company's first resident young artist.
Woods says Pine has a unique combination of vocal talent and dramatic range, powerful tools that play off each other to mesmerize opera audiences. For example, he points to her portrayal of Lyris in Lysistrata. She played a Greek woman who urges her fellow females to boycott sex to persuade their men to stop a pointless war. Near the end, she has to make an emotional shift from comedy to tragedy when she learns her own lover has been killed.
"Ava is in the middle of an aria and turns to the audience and just rips out their hearts," Woods says. "It's not something everyone can do, but Ava has a charisma that's just so natural to her."
* * *
While she has no problem stepping into larger-than-life operatic roles, she's no diva in real life. Ava, pronounced aahhh-vahh because the avocados her mother craved during her pregnancy inspired her name, remains down to earth and easily approachable.
"She's just such a lovely person." Woods says. "She would rather drink beer and eat Mexican food than sip on champagne and dine on caviar."
While he would love to keep her around Fort Worth, Woods expects Pine to soon take the stage of the world's leading opera houses.
"I think in a few years she'll be singing with the Met and all the other big houses," Woods says. "I really don't think there's anywhere she can't play."
For her part, Pine is focused on staying grounded while also reaching for the stars.
"As artists, we're always seeking and we always want to better ourselves and we want to move to the next level. When we see people at the next level we think, 'I want to be there, I want to do that.' You never know the choices and sacrifices they've made to get to that point, so all we can do is keep on our own path, and do our own thing and find our way to where we want to be in the most healthy way possible."
Pine will perform with the Fort Worth Symphony in a concert called "A Night in Vienna" December 31 at Bass Performance Hall.
On the Web:
fwsymphony.org