Going global: TCU International Students
International students take different paths to TCU.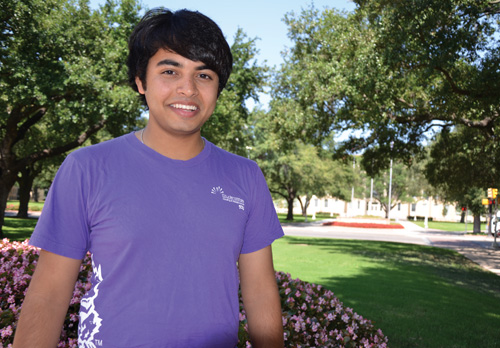 Going global: TCU International Students
International students take different paths to TCU.
Varun Pramanik wasn't nervous when he first arrived at TCU from Mumbai, India, but the campus wasn't quite what he expected.
"I was imagining a place that looked like Hogwarts," he said, referring to the school made famous in the Harry Potter series. "I thought there would be this gated community, you'd go to it and there would be this great hall where you'd start your journey.
"But when I came here, I was by myself in a taxi and the driver pulled up and said, 'Here's TCU.' I looked around and realized there wasn't a gated community. I realized I was in big trouble because I didn't know where to go."
The driver dumped him and his four heavy suitcases out at the Brown-Lupton University Union. Eventually, a woman asked if he needed help and then offered to pack his bags in her car and take him to Jarvis Hall, home of the Office for International Students.
"I asked her how I could repay her and she just told me to pass on the favor," says Pramanik, who is now a senior strategic communications major and political science minor. "That was the first of my many positive experiences at TCU."
This summer he was busy helping other students new to TCU as an orientation student adviser. He's just one of the approximately 650 international students from more than 90 countries studying at TCU this year. That includes about 500 degree-seeking students, plus exchange students, those seeking artist's diplomas and students enrolled in the intensive English program. A breakdown by nationality finds that China is the number one country of origin followed by Vietnam, Panama, El Salvador and India.
Karen Scott '83, who oversees international student recruitment for the Office of Admission, says American universities such as TCU are appealing to foreign students who view the U.S. higher education system as superior to those in their native country, where they are often shut out of specific majors and programs.
"In some countries, access is very limited to higher education," she says. "It's not that we're settling for the weak students, they may be fantastic students, but they just don't have enough spots for them."
According to the Institute for International Education, the number of international students studying in the United States continues to rise, reaching 723,277 in 2011. Scott says other English-speaking countries such as Australia, Canada and Great Britain offer easier visa procedures than the United States and are gaining on the U.S. in recruiting international students.
"In general, the United States is still seen as more prestigious, but that's shifting in recent years," Scott says. "That's something we have to contend with."
Scott uses a variety of tools to recruit international students, including attending several international higher education fairs and conferences held overseas. That's where she met Pramanik, who appreciated her welcoming smile.
"Some of the big-name universities were there, but they had this haughty attitude, like they didn't really need you," he says. "Then I saw this big purple cloth with a gold horned frog that had business cards coming out of his back. That's when I met Karen Scott. She was really friendly. I left the table thinking this was a really nice place and decided to apply." (His sister, Priyanka, was also impressed and graduated from TCU in May with degrees in psychology and child development.)
Scott says in the last couple of years she has focused on India, Asia and Latin America, taking a break from recruiting in Europe, the Middle East and Africa.
Word-of-mouth has always been an important way students find their path to TCU too, particularly when it comes from current and former students. Scott says active alumni in countries such as Panama help spread the word about TCU.
"In Panama, everybody already knows about TCU," says Scott, noting Stephanie Vander Werf '09, the reigning Miss Panama, is a TCU alumna.
Word-of-mouth has also been critical in boosting applications from students in Vietnam, says Scott. In that country, students often turned to the non-profit VietAbroader program to find academic programs that match their needs.
"Many students find out about us through that organization because we have current students who have worked with them," Scott adds.
Many international students learn about TCU while they are already studying in the U.S. Shan Jiang, a sophomore from Beijing, first heard about TCU while she was spending her junior year in high school studying at the Episcopal School of Dallas.
"I knew I wanted to go to college in the U.S. and was looking for the right school for me," she says.
While she considered a variety of schools, including Rice University, Southern Methodist University and Miami University, she liked the friendly feeling she got touring the TCU campus. She was also impressed by how much her high school journalism teacher at Episcopal, Barbara Meier '59, loved her alma mater.
"We talked about her experiences here and how TCU is such a big part of her life today, and that had a big influence on my decision," Jiang says.
Now Jiang is a biology major whose list of campus activities includes Alpha Delta Pi sorority, TCU Leaps and volunteering to help the homeless in Fort Worth. She has also worked for the Office of Admission, talking with admitted international students and telling them about her experiences at TCU.
"I tell them what it's like to go to classes, take exams, what my daily life is like here at TCU," she says. "They're very curious about it. It's very different from school back home. They want to know what your dorm's like, what teachers are like, what the food is like. I feel like my talking to a current student gives them a picture of what school will be like."
She says many students overlook Texas when they are considering studying in the United States, something she hopes to change.
"All my friends back in China, if they go to the U.S. for college, they just apply to schools on the West Coast and East Coast, they don't apply to schools in Texas because they don't know about it," she says.
"I knew how great TCU was," she adds. "The students who end up here all love it; they don't regret their choice at all."