Picture show
Family of TCU alumnae donates 1929-era footage to the university.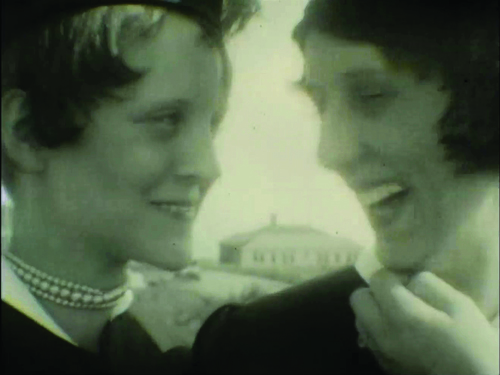 Picture show
Family of TCU alumnae donates 1929-era footage to the university.
When Velleda Penry Flechtner, a 1929 graduate of TCU, died last year at the age of 102, she left her children a unique treasure — a box of vintage film reels.
"Her family loved to take home movies and fortunately these films remain in remarkable condition," says her daughter Kathryn Flechtner Gressett.
Gressett recently had some of the films converted into DVD files and discovered footage of her mother, family and friends that transports viewers back to TCU and Fort Worth as it was circa 1928-29.
Included are scenes from her mother's graduation that show her celebrating with friends.
"We think one of them is Nancy Mayhew, who was one of her best friends, but we don't know the identity of the others," Gressett says.
Another shot shows her mother diving into the pool that was housed in the old gym, now Erma Lowe Hall. There's footage of men playing golf on what could be the old Worth Hills course.
There are also scenes from two 1928 TCU football games, one with the Frogs taking on Texas and another against Texas AMC, now Texas A&M.
Footage of a parade is believed to be the 1928 Armistice Day Parade in downtown Fort Worth.
Gressett and her siblings decided to share her family treasure with the TCU community.
"Because your university is building a new stadium and support for the TCU football program is so high (Go Frogs!), my family thought the film would be of interest to the school or the athletic department," says Gressett, who is a Texas Tech alumnae. "It might be useful in a marketing or promotional program. It may just be appropriate for your archives. It is up to you."
Flechtner, whose father Joe Lee Penry was a federal district judge in Fort Worth, lived at home while earning dual degrees in English and music and also lettering in swimming. After college, she taught high school for several years before marrying Robert Flechtner, then raising their twin daughters and son.
Grace Flechtner Lyon, Gressett's twin sister, also a Tech grad, says their mother was a talented musician and "seamstress extraordinaire," adding, "If she's wearing it, she probably made it herself."
The twins also noted that their mother impressed upon them the value of higher education.
"I remember when we were only about 5 or 6 years old, she started talking to us about attending college," Lyon says. Her twin Gressett adds, "She said you don't have to get married. College was ingrained in us."
Video: