Gone Hollywood
Cinematographer Michael Grady '91 is the eye behind the camera for the summer hit "Friends with Benefits" and more.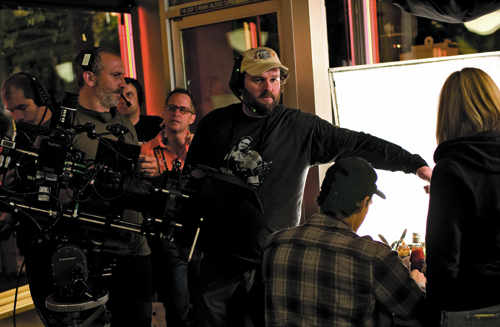 Gone Hollywood
Cinematographer Michael Grady '91 is the eye behind the camera for the summer hit "Friends with Benefits" and more.
When Michael Grady '91 was growing up in Rockwall, the town didn't have a movie theater until his senior year of high school. What Grady did have was a mother who was a movie fan and a father who enjoyed tinkering with a satellite dish at their family home.
"We had one of those rural-area, massive satellite dishes," Grady says. "I wasn't an obsessed movie fan. Just a solid one."
It turns out that a solid movie fan can find a home in the film industry. Grady is a cinematographer and director of photography who has helped create nearly three dozen films and TV series during the last 15 years, including Hotel for Dogs (2009) and Faster (2010). But even though his favorite movie experience as a child was seeing Star Wars, his journey to a movie career did not start in a galaxy far, far away.
"I loved to draw and do art when I was in high school," Grady says. "Then I stopped for a while, but I reached a point where I acknowledged that people make these movies."
When he arrived at TCU in 1987, Grady took business and philosophy classes, eventually earning a bachelor's of business administration in marketing. It wasn't until his senior year, when he took an intro to film class, that he realized he wanted to be one of those people — the ones who make the movies.
"I was into short-form media at first," Grady says. "Things like introductions to sporting events. I thought I would do commercials."
Grady's senior year proved to be a turning point. The film class and an internship at J Mitchell Johnson Productions in Fort Worth formed a foundation. Grady built on that base by doing some legwork. "I hustled for some entry-level jobs and made a few short films around Fort Worth."
The internship also introduced Grady to social documentaries and area films.
"My senior year, I really got into philosophy classes," says Grady. "Maybe that is what turned me back toward art — the philosophy of art. Maybe it was not consciously, but the exposure to those classes got me back on track."
Grady then headed to the University of North Texas to earn a master's degree (all but thesis), then was off to New York University, where he took 18 hours of production classes and a cinematography class.
His first exposure to the glitz and glamour of Los Angeles was a cross-country trip from Texas to California. He had a U-Haul trailer to keep him company during the trek.
"I knew no one in California and had only visited for one day prior to moving there for school at the American Film Institute in 1993," he says.
Grady's break into showbiz moved at the same pace as his trip from Texas to California. "It was a slow climb. I worked on crews and hustled and shot many shorts, music videos and small movies through the years. AFI was certainly a jumping off point. NYU gave me the first exposure."
Grady has built his career on his willingness to work on a large variety of film types. He notes that many of his films, such as Wonderland (2003), Bug (2006) and Factory Girl (2006), have a dark mood.
"I was doing darker, smaller material," Grady says. "Dark and depressing. Nobody wants to pay to be depressed."
So he changed directions and tackled another genre on his checklist of movies he wants to make — a high school movie. Easy A, released in 2010, and directed by Will Gluck, is a teen comedy/romance set in Ojai, Calif.
"For me, the challenge was going from doing dark, noir films to something different," says Grady. "Easy A was a light and fun experience with a bunch of young, lead actors. It is not always that way."
On set, Grady must be flexible and have an intuitive sense of what all the players around him expect: Some directors and producers are concerned about winning Oscars and some are solely concerned with making money. Actors have their own needs as well. Veteran actors often want to know where the best light or the best position is, and all expect the cinematographer to know which is their best side.
"Some directors just want to shoot everything," Grady says. "There is a wisdom to overshooting and getting a bunch of angles because six months later you might wish you had that close-up."
One of Grady's recent efforts was the July-released, summer comedy Friends With Benefits, starring Mila Kunis and Justin Timberlake. Grady was pleased to have a second chance to work with Gluck, who directed the film.
After the filming has wrapped on a set, Grady keeps an eye on how his films are received by audiences.
"They are all sort of your children," he says. "You want them to do well financially. But it can also give you clout and a cool factor if you do a good film that doesn't. Films that do not make money need to have critical success or a cool, 'it' factor to offset it. Critical success, awards and profit are the trifecta to getting to make more movies. Few people can continue to make movies if they do not eventually turn a profit."
Grady's latest project is Gone, a thriller filmed in Portland, Ore., scheduled to be released in 2012. He enjoyed the beauty and climate of Portland and laughs about one thing he does not miss about Texas.
"I miss a lot of things about Texas, but the heat ain't one of them," he says.
He generally seeks work near Manhattan Beach, Calif., where he lives with wife Erin Gordon-Grady '93, who is an early childhood program consultant for various clients in California, and their sons Ethan, 9, and Owen, 3. But when he can't, he occasionally packs up the family and takes them with him. He's proud that son Ethan has a passport and has been to Canada several times.
He and Gordon-Grady sometimes talk about moving back to Texas, where they still have family and maintain strong roots. Their car even sports Texas license plates. And Grady was on campus in March to share his expertise with students in the Department of Film, Television and Digital Media.
For now, they have to settle for small reminders of home. "My son is the only kid that will have a TCU jersey at Manhattan Beach Elementary School," he notes.
Eventually he hopes to tick another genre off his movie bucket list — a Western. He figures for that one, they'll come home to Texas.