Town and gown mixer
In April 1968, the university and city kicked off TCU/Fort Worth Week, just to remind one another that their partnership was still strong and vital as ever.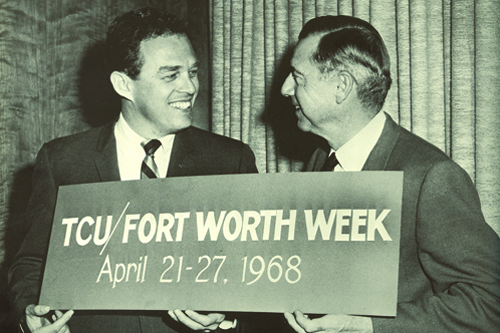 Town and gown mixer
In April 1968, the university and city kicked off TCU/Fort Worth Week, just to remind one another that their partnership was still strong and vital as ever.
It was a simple question: Does the Fort Worth community really know TCU is here?
Students in the 1960s posed that puzzler to Earl Waldrop, the university's vice chancellor for external affairs, because even in good relationships, a little reminder helps now and then.
The subject nagged Waldrop for several years. He knew the students were right. Town and gown could stand to show each other more appreciation. So during the 1967-68 school year, with the help of Fort Worth National Bank senior vice president Bayard H. Friedman, who was also former mayor, Waldrop devised TCU/Fort Worth Week, a six-day festival of forums, guest speakers, television appearances and concerts, all to celebrate the partnership between Cowtown and the Horned Frogs.
"This created a way to say, 'We couldn't do it without each other,' " Waldrop said at the time.
It had been 58 years since the school accepted an offer to return to its hometown after the disastrous fire at the school's campus in Waco in 1910. The city extended a streetcar line and found ample land for the still-fledgling university to spread out. Fort Worth churches took in and welcomed students and faculty.
Friedman, who would later join the TCU Board of Trustees in 1971 and serve as chair from 1979-1990, said the city was equally indebted.
The TCU Daily Skiff quoted him in 1968, saying: "The many contributions TCU makes to Fort Worth's civic, cultural and economic development — above and beyond educating our young people — are all too frequently not fully comprehended and appreciated by our community."
The first TCU/Fort Worth Week was announced about a month before the inaugural event kicked off in April 1968. Waldrop cobbled together as many TCU events as possible for the week long celebration, while Friedman worked to get a "TCU Today" program, featuring Chancellor James Moudy, on local television.
A Fine Arts Festival led off the week with a concert by internationally renowned pianist Madame Lili Kraus. TCU Opera staged Mozart's "Cozi Fan Tutte." Honors moved its recognition of scholars to the third week of April to coincide with the festivities. Athletics scheduled its annual Purple-White Game to cap off the week.
During the week, Moudy told a packed Ed Landreth Auditorium crowd that TCU's most important contribution was education and that Fort Worth businesses provide the school with more financial support than sponsoring churches. TCU needs to "do a lot more" and could "build a really first-ranking university in the city" with even more support from Fort Worth, according to the Skiff.
Fort Worth mayor DeWitt McKinley said in an interview on KTCU with Moudy that the school was fortunate to have many civic-minded individuals, including Sid Richardson and M.J. Neeley, who wanted to help the university. But he acknowledged that Cowtown was an average town that "sometimes does not support" losing athletic teams quite as well as it ought to," the Skiff reported.
TCU also launched a visibility campaign of sorts. Volunteers helped staple hundreds of yard signs with the message, "A TCU Horned Frog Lives Here."
For students, the highlight was hearing New Orleans jazz musician Pete Fountain and folk duo Simon and Garfunkel at Daniel-Meyer Coliseum. The latter wowed the crowd with "Mrs. Robinson," the hit song from the newly released film The Graduate. They finished to a rousing standing ovation after "Sounds of Silence" and "Scarborough Fair."
The Skiff opined that the university had avoided the common pitfall of "shutting itself off from the community," but the week had helped "campus leaders become more conscious of the city's problems" and be more diligent in offering solutions.
In 1973, the celebration was named TCU/Fort Worth Centennial Week by city proclamation in recognition of the university's centennial celebration. But by the mid-1980s, the special week of collaboration evolved into a year-round effort to build strong relationships. Eventually, the formal TCU/Fort Worth Week celebrations came to a quiet end.
Related story:
A tiff with the Skiff — How the student newspaper didn't cover the Simon and Garfunkel concert