Going for gold
Wheelchair sprinter Kerri Morgan '96 has her sights set on the 2012 Summer Paralympics in London.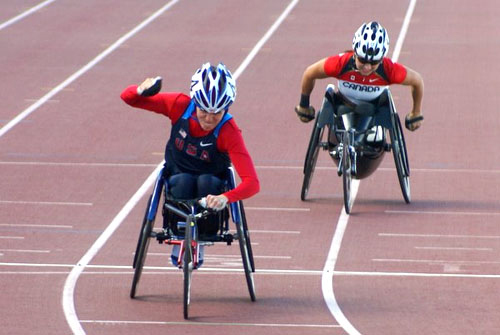 Going for gold
Wheelchair sprinter Kerri Morgan '96 has her sights set on the 2012 Summer Paralympics in London.
During her first six track meets, Kerri Morgan '96 competed in front of 20 to 30 people. Her next event took place in a slightly different environment — 91,000 people watched Morgan compete in the 2008 Paralympics at the Bird's Nest in Beijing, China.
Morgan's journey to becoming a world-class athlete contained detours, beginning just after her first birthday, when a virus affected her spinal cord.
"I'm not sure why or how it happened," she says. "It was just one of those things. It was Transverse Myelitis. It caused a lack of sensation and movement from my chest down. It caused some hand weakness, abdominal weakness and a lot of leg weakness. I use a wheelchair to get around day to day."
It doesn't slow Morgan too much, but it did take time for her to find her place in the world of athletics. When she was a member of her high school swim team, she discovered that competing against able-bodied peers put her at a disadvantage.
"It took awhile to find this avenue," Morgan says of her accomplishments on the track.
That avenue came partly from a friend in her hometown of St. Louis. Morgan's friend, a member of the St. Louis Wheelchair Rugby Team, suggested she try it.
"I looked at him like he was nuts," Morgan says. "I thought it was a male sport."
Morgan showed up anyway, then looked for ways to get better. People advised her that pushing a chair designed for track competitions would help develop better hand speed for rugby, so she got a new chair. She started getting up at 5 a.m. and enduring training sessions, then set her sights on making the 2008 Paralympic Rugby Team. She did not make the rugby team — but she did make the track team.
"I had nine months to transition to track," she says. "It's totally different. It's not a team sport. It's very sprint related and not endurance related like rugby."
Despite the short turnaround time, Morgan managed fifth-place finishes at the 2008 Paralympics in China. She consistently finished behind Canadian Michelle Stillwell.
"I had been chasing this Canadian woman and had seen the back of her," Morgan says.
Morgan's opportunity to change that came at the IPC Athletics World Championships in New Zealand in January. Morgan knew if she could stay close in the 800-meter event, she would have a chance. Morgan came out ahead by 1.5 seconds to earn her first gold medal.
"In New Zealand, everything was coming together," Morgan says. "This is why I get up at 5 a.m. This is why I am on a strict diet and get extra sleep."
For Morgan, who is on the faculty at Washington University in St. Louis, the 2012 Summer Paralympics in London is the next goal.
"I didn't realize this going in, but the only way this works is a ton of support from sponsors, coaching, family and friends," Morgan says. "I am super fortunate to have all of those things line up just right."