From kicked out to kick-started
Horned Frogs' run to Omaha began after getting booted from team facilities.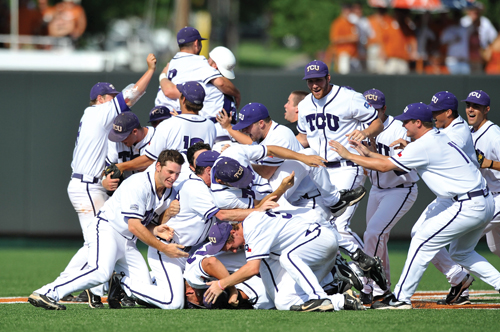 From kicked out to kick-started
Horned Frogs' run to Omaha began after getting booted from team facilities.
June is a pivotal month for college baseball players. Conference titles are on the line. The NCAA postseason heats up. And big-league futures begin to take shape.
But not for Bryan Holaday '10, who more than a year ago was surprisingly unselected in the 50 rounds of the 2009 Major League Baseball Draft.
No one wanted a hustling catcher with a clutch bat?
"I couldn't believe it," remembers TCU coach Jim Schlossnagle. "Bryan was terribly disappointed. But I told him after the last game, 'This TCU team needs a leader, and I want it to be you. Come back and prove them wrong."
Holaday wasn't sure he was the man for the job at first, and spent a few days mulling it over.
"Up until that point, I was a guy that tried to be a good teammate and everybody's friend," Holaday says. "I didn't think I was the best leader.
I didn't know if I could be the one to yell at guys and get on them. I wasn't vocal at all."
By October, however, he found his voice — just when Schlossnagle needed him.
Frustrated by players' tardiness to workouts and the team's lackadaisical effort in off-season training, Schlossnagle kicked the team out of practice and banned them from using TCU facilities for a week.
No locker room. No weight room. No access to Lupton Stadium.
A gaudy preseason ranking after reaching the Super Regionals the season before made some players question the need for fundamental drills.
Incensed, Holaday called a players-only meeting and informed them that they would be working out on "the hill," the grassy field northwest of Lupton Stadium.
"I told coach, 'I don't care what you say, we're practicing,' " Holaday said.
Was it a coaching ploy? Schlossnagle will only say that the following week practices and attitudes were better.
"They got committed and bought into whatever he said," the coach says.
Fans know the rest. The team won the Mountain West Conference regular season and tournament, hosted a regional as a top seed and conquered Texas in a rematch to reach the College World Series for the first time.
The Frogs set program records in wins (54) and home runs (101) and had 10 players earn all-conference honors. Holaday and pitchers Matt Purke and Steven Maxwell received All-American accolades.
"We needed a jolt to get back to what this program is based on," says Holaday, who was highly thought of by MLB scouts as a senior and selected by Pittsburgh in the 16th round in June. "If that hadn't happened, I don't know what we would have done."