Books: Conversation with TCU Press Director Dan Williams
New director of TCU Press discusses the state of the publishing industry and trying to break into e-books.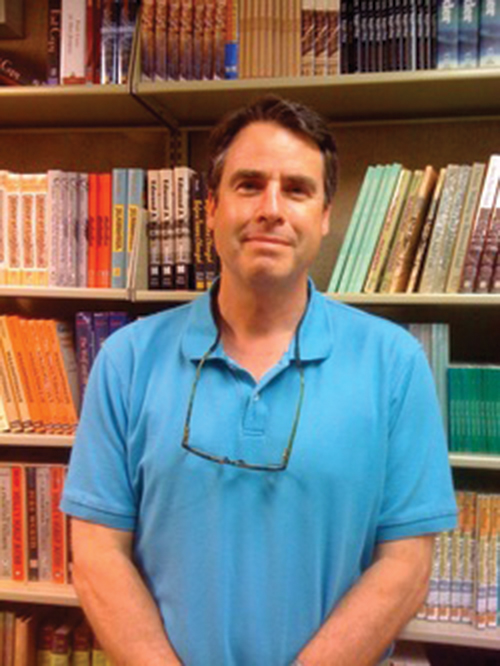 Books: Conversation with TCU Press Director Dan Williams
New director of TCU Press discusses the state of the publishing industry and trying to break into e-books.
English professor Dan Williams took over as director of TCU Press in June. Williams, who teaches American literature and creative writing, takes the reins from Judy Alter '70 (PhD), who retired last year, during a time many university presses are facing economic stress. In May, Southern Methodist University announced it would shut down its press citing "challenging budgetary times." Williams says TCU Press currently has 20 books under contract and scored a recent coup by getting two books featured in the Texas Book Festival Oct. 16-17 in Austin: Smurglets are Everywhere, by Texas Poet Laureate Alan Birkelbach and Comanche Sundown by Jan Reid.
How is TCU Press weathering the challenges facing the publishing industry?
The times are difficult for everyone involved in the world of print.  We are obviously in the midst of a vast revolution that is changing not only how we read and communicate, but even how we think and perceive.  Regardless whether the change takes ten years or a hundred years, the transition from the printed page to the computer screen is irrevocable. Young people are being trained to read differently than they were a generation or two ago.  The basic concepts of what it means to be literate are changing.  To survive, publishers and presses must be part of these vast cultural and economic changes.
TCU Press is trying to anticipate these changes by exploring the possibilities of ebook production.  We will be coming out with a couple ebook editions next year, and we are also experimenting with Print-On-Demand (POD) technologies that will allow us to save money by printing shorter runs.  I think there is a lot of potential in the midst of all the change that is occurring.  People will always read, and scholars will always need to publish, but they will read and publish in new mediums and in new forms.   Publishers and Press Directors talk about the golden age of academic publication in the 70s and 80s, when libraries would having standing orders to purchase just about everything that came off a university press.  Those days are long gone.  Libraries are now ordering as many or more ebooks than they are hard copy.  I think TCU Press will be able to adapt efficiently.
TCU has a special niche focusing on history and literature of Texas and the American West – will that continue?
Judy Alter — along with the excellent help of Susan Petty and Melinda Esco — has done an excellent job of developing a strong niche in Texana and Southwest history and culture.  This is an area that we will definitely continue to develop.  We would like to broaden our publication areas but within our generally defined areas.  We will build on our strengths.
How is TCU press evolving to work with electronic reading devices such as the iPad, Nook and Kindle? 
The simple answer is that we are currently negotiating with Apple, Amazon, and Barnes and Noble to market ebook editions of our publications on their platforms.  Right now there is no universal standard, and each device has its own unique platform and set-up.  No one can really predict what the future will look like.  The only thing I can really state is that the Press will be as flexible as possible to take advantage of the market changes as they occur.  Apple's iPad has already had an enormous impact, and I imagine that in a couple of years we will see a new generation of Nooks and Kindles. Eventually some sort of standard platform will evolve.
What upcoming titles are you excited about? 
We currently have around 20 books under contract, which will take us close to 18 months to produce, and there are some really great titles in the mix, including fiction, nonfiction, and scholarship.  Some of the books coming out in the near future are Alan Birkelbach's Smurglets are Everywhere, a really lovely book of children's poems that is lavishly illustrated.  I think that book will be an instant classic.  Hill Country Deco is a wonderful book of photographs documenting modernist architecture of central Texas.
We publish a great series of Texas Poet Laureate books, and the two latest collections are from Paul Ruffin and Karla Morton, both fine poets. Jan Reid's new novel, Comanche Sundown, is about to come out, and it's an excellent read.  We constantly receive queries from authors and are always looking towards the future.  One of the projects we are just starting to develop is going to be a cultural history of Fort Worth's Garden of Eden community, the first free African-American community in the area. There's a lot to be excited about.
On the Web:
TCU Press