First Person: Coach Jim Schlossnagle
What's different about TCU Baseball after a trip to Omaha? Not much, but it's made for a busy off-season, bringing in the next crop of diamond stars and replacing an assistant coach. But the ultimate goal is the same — national championship.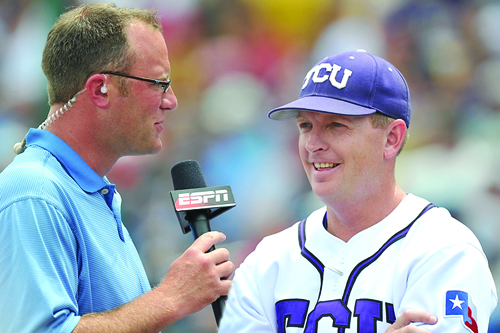 First Person: Coach Jim Schlossnagle
What's different about TCU Baseball after a trip to Omaha? Not much, but it's made for a busy off-season, bringing in the next crop of diamond stars and replacing an assistant coach. But the ultimate goal is the same — national championship.
Three months since the College World Series, how's the rest of your summer been?
It's been a zoo: recruiting, hiring a new coach, getting ready for the school year to start. Playing in the College World Series compresses your summer into a smaller time period. It's been non-stop. But I'll take it, we'll take it – any year, every year.
What's different about being the TCU baseball coach after Omaha?
I don't feel different. Coming into work isn't different. It is nice to see the [2010 College World Series] plaque on the wall [of the Lupton Stadium concourse] every day. Being on ESPN 10, 11 days was wonderful exposure for us. I probably have more individuals who recognize me. The players are more well-known as well. That can be a positive depending on how you channel it. It's helped in recruiting in the sense that people say they watched us on television and they like the program and the team. But the message I've had to our coaches and players is that it's time to get back to the grindstone. Last year was great and all those cliches, but I think it's a true statement that the higher you are, the more distance it is to fall.
What are you hearing from players as you tell them those things?
I think there's buy-in, but we'll find out come Feb. 18 for our first game. I'm willing to let them have their backs patted until Feb. 18 as long as they're doing the work for 2011. I think it's something meant to be enjoyed. The returning players have earned the right to have their backs patted. Within our program, the phrase we like to use is "white collar/blue collar." We're white collar in appearance – take care of our responsibilities and school work – but we're blue collar in our work ethic and preparation on the field. It helps to go to Omaha to sell tickets and raise money and build a fan base, but we have to do all the same hard work as a team to get back there.
Fall practice opened — how was it?
We have made a very concentrated effort to make sure that everything within the walls of our program stays the same. I think our players realize what makes our program successful, and that is no ego, hard work and that blue-collar approach.
The entire starting rotation returns from last season. The obvious losses come from the bullpen with the graduation of Tyler Lockwood, Eric Marshall and Paul Gerrish as well as the departure of Greg Holle to professional ball, who do you see filling those roles?
Losing those three pitchers is tough because of their experience. They were never rattled. All three pitched in big games for us and had a lot of success so you can't duplicate their experience. I do believe we have several talented pitchers to help ease the loss but most of them are freshman. Erik Miller and Trent Appleby, who have both pitched well for us in the past, will be heavily counted on in the bullpen.
Last year, after you extended Texas to three games in the 2009 Super Regional in Austin, the focus wasn't completely there to start the off-season program and you locked the players out of the weight room and baseball facility. Do you worry about that happening again?
Every team is different. In 2008 and 2009, there were no hiccups. We had some in the fall. But all teams are different, and it really depends on the leadership. We lose some great leadership in Holaday and Curry and three senior pitchers, with Holaday the unquestioned leader. We'll see how they do. We're making life tough for them again now. We started lifting [weights] at 6:45 Monday-Wednesday-Friday this week. They start classes and we'll throw in the baseball stuff and see how they do.
Have you identified a guy or some guys who will be that Holaday-type leader for this coming season?
We have a group of guys who are capable. Whether that is to the level of Bryan Holaday remains to be seen. It helps when the unquestioned leader is a guy who touches the ball every pitch. Holaday was. But we've had others. In 2008, it was Clint Arnold, who played centerfield. In 2009, it was Matt Carpenter at third base. I think it needs to be a position player who plays every day, not to say that we don't have leaders on our pitching staff. We do, but it's hard to be a pitcher and be that guy. But, yes, I have personally challenged some guys, and we'll see what happens.
That is what the rigors of the fall are designed to do — develop your leaders and team chemistry. Steven Maxwell certainly has stepped forward a lot in practice, but we would like to have a position player emerge with those kinds of skills. I believe we have some good candidates, but a lot goes into that role. You have to be a productive player who has the ultimate respect from your teammates both on and off the field.
There are not a lot of holes in the field, but there is a hole at first base with the graduation of Matt Curry and behind the plate with the loss of Holaday. Who do you see filling those voids and what do you see the rest of the field looking like?
There is great competition at that position between Joe Weik, Relly Mercurio and Zac Jordan. We will also be taking a look at a freshman, Brett Johnson, in that role as well. Jimmie Pharr and Josh Elander are competing behind the plate to replace Holaday. At this point, no one has really emerged, but they are both guys that would start for most teams we play so we should be in good shape there as both will see significant playing time.
The other positions return a starter so those guys are trying to hold onto their spots. We didn't bring in very many new position players but Davy Wright and Kyle Von Tungeln are two guys who we are very confident in and guys that we expect to be in the mix on a daily basis.
You have a very veteran squad, how have they brought along the incoming freshmen?
Our program has evolved to the point where you have the older guys teaching the younger ones how we do things…both on and off the field. That is great for me as a coach because I'd rather them learn something from a peer than from a coach when possible.
What are your general impressions of fall ball so far?
We are only a couple weeks in with three or so weeks to go so there is a lot of baseball left to evaluate. I've been very impressed with three freshman pitchers, Tony Rizzotti, Andrew Mitchell and Stefan Crichton. They have thrown strikes and haven't looked like they are overwhelmed by being here. That is always a good sign.
You lost a longtime assistant in Todd Whitting and hired a new coach, Tony Vittelo, from Missouri. How will that change the way the coaching staff works together?
Coach [Randy] Mazey's duties won't change, although I will bounce things off him more than I did in year's past. I used to do that more with Todd. Tony's role will be the recruiting coordinator by title, but Randy is heading up things for this coming class. After that, we'll work together as we did when Todd was here. I would say [recruiting] is a two-headed monster. Tony will handle the nuts and bolts of it, the scheduling, the paperwork, the coordination, but they'll both be involved. It's a two-person job. Beyond that, he'll take the areas Todd had: coaching hitters, infielders and first-base coach.
Describe Vitello's personality. What was it about him that made you hire him?
He's a grinder, a worker, like we are. He's team-oriented. He doesn't have what I would call a "bad ego." He wants to do well here and fill his role and help us win. He has what I call "team ego." Mainly, I think he's a good fit with me, Randy, Ryan and Meredith.
Have the players met him? What was their reaction?
They have. They've said all good stuff. They like him. But you know how it is. Wait til he's barking at them in practice. [Laughs]
Do the standards of the program change now that you've gotten to Omaha?
No, the goals within the program are the same: win our conference, get to Omaha, win a national championship. We can't control what the expectations are outside the program. You know Chancellor Boschini was in Omaha for all our games and he said to me, "That was fun. Let's do it again next year." But that's the best part of the College World Series for me. It wasn't the games. It was seeing everybody associated with TCU going and experiencing Omaha and the whole atmosphere around Rosenblatt Stadium, especially in its last season. That will always be special to me that we played in the last one at Rosenblatt. But seeing the looks on all the faces of our fans and boosters, that was the best part of it for me. And now they want to go back, but it's just so hard to get to the Regionals, much less the CWS. But that's what we play for. The challenge now is to play with that bullseye on our backs. The players have had to stay home in the past and watch other teams and think that those are the teams we have to get after.
Do you have more energy and enthusiasm for this year or do you play it low key and try to start back at square one?
When the players aren't here is the worst time of the year for me. So now that they're back, I'm ready to go. I like being around them. When I lay my head on the pillow at night, I'm always asking myself if I helped us get closer to winning a national championship today, and it's harder to feel that way when they're not around.
You almost caught yourself there. You've used that phrase before about getting the team closer to Omaha in the past. Now you have to say, "national championship," don't you?
Well, that's been our goal and it will be our goal. You know, Omaha is really a tournament. The national champion is the team that plays the best and wins that tournament. South Carolina is the national champion. They won the tournament. Were they the best team over the course of the whole season, who knows? I think we have to continually put ourselves in position. The more times you are in Omaha, the more chances you have to win it and be the national champions. But make no mistake. National championship is the goal.
What was the bigger highlight for you: Breaking through the Super Regional round in Austin against Texas or the big rally against Florida State to stay alive at the College World Series?
The Super Regional was the most miserable I have ever been in baseball. I felt like I had an Omaha team, and Texas had an Omaha team. We were two of the best eight teams in the nation that year, and we had to face each other. I was ill that one of us was not going to make it. I remember going back to the hotel after one of the games and watching the UCLA-Fullerton regional with maybe 2,000 people watching – 1,000 for each side. Those two teams were probably two of the top eight also. I just felt like I was going to be physically sick if my team didn't make it to Omaha. I wanted it for all those teams. The stress level was so high. We had the best offense in school history and probably the most talented first four or five pitchers we've ever had. This team has to play in Omaha. I would have felt like a major failure if we hadn't made it. Getting that last out when [second baseman Jerome] Pena threw over to first, it was more a sense of relief than accomplishment.
Omaha was just pure fun, even when we lost. I always say, "There are no bad days in Omaha." It was just so much fun, and I wanted the team and the TCU fans to experience that. And I am so glad that they did.
Given last season, do you see yourself staying at TCU long-term along the lines of two of your mentors, Bill Wilhelm, formerly at Clemson, and Rick Jones at Tulane, who had long tenures with their programs?
The best piece of advice I ever got came from Kevin White, who's now the athletics director at Duke. If you're working with an administration that has the same goals as you and you're working side by side to accomplish the same goals, it's a lot easier to create the job environment you want than to find that job somewhere else. That's what I have had here, whether it's working with Eric Hyman, Danny Morrison or Chris Del Conte. All of them have worked to make things better for this program. They've all asked, "What's the next thing we need to do?" You know, Gary Patterson and I haven't talked about this, but I have the same feeling he does: This is not my program; it's the TCU Baseball program. I went to Elon. That's my school. I obviously take a lot of pride in the success of the program, but it belongs to the players. It doesn't belong to me.
A donor has recently made a $1 million gift to TCU Baseball to improve Lupton Stadium. So what is going to be next?
The first thing we're going to do is expand our seating. Right now, we have 250 seats designated for student seating, but last year, we had just under 1,000 students, on average, attending games. We are going to extend the upper deck to the end of the stadium and take out all the bleacher seating and put chair backs up there. After that, it's going to be about the players. Everything we've done since I got here has been for the fans. So after we do all that, we're going to do some things for the players. We're going to turn the players' locker room into a players' lounge with couches, a pool table a couple of computer areas, maybe a small kitchen or a wet bar. I want them to have a place to hang out that is not the place they get dressed and undressed. Then the batting cage area will become a new locker room, and we'll build a new hitting area along the third base line.
Do you think the fans will bring more energy and vocal support to the program in the 2011 season?
Yes, I do. Our season ticket numbers more than doubled last year, and I suspect we'll have an even bigger number this coming year. What stands out to me is how our fan base really learned how to cheer and provide a playoff atmosphere during the 2009 Fort Worth Regional. I had hoped that would carry over into the 2010 season, and eventually it did but it took some time. I don't know if that's just playoff baseball or the fans attending those early-season games. I think that's something that will continue to evolve over time as we have success. People standing and clapping for a third strike, that's something that I would like to see happen every game, and maybe it does for 100 people. But we need everyone doing it. We need the everyday fan to be vocal and we need that for all our sports.
What's your take on the movement of teams in the Mountain West Conference – the departure of Utah and the additions of Fresno State and Nevada?
I don't know. It's such a fluid environment in conferences all across the country. But I think our philosophy is right: All we can do is take care of our own house. I know Chancellor Boschini and Mr. Del Conte are being aggressive and doing what they think will put TCU in the best possible position. Fresno is a traditionally strong program, and they won the College World Series two years ago. Reno is really coming on. I think they're two good programs that will help build the strength of our league. And they want to join our conference because it will help them get better.