Man with a planet
Business and science must join forces to solve the world's needs, says guest researcher and Egyptian chemist Hassan Azzazy.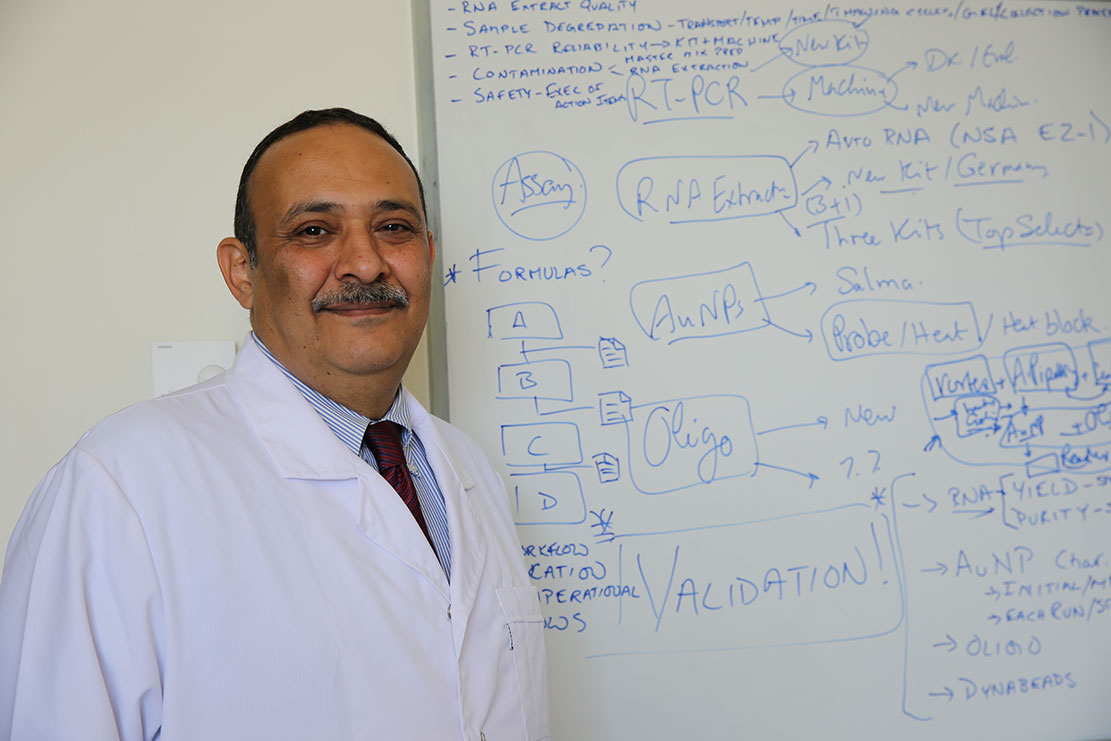 Man with a planet
Business and science must join forces to solve the world's needs, says guest researcher and Egyptian chemist Hassan Azzazy.
Chemist, professor and biomedical pioneer Hassan Azzazy is a believer in the power of multidisciplinary research and entrepreneurship to develop solutions to global challenges.
When not teaching or coaching research groups, Azzazy travels to interact with other research teams, whether the journey is to a far-flung country or to a common area somewhere in his home institution, the American University in Cairo.
As a scientist, his brain is wired to seek out solutions. "Scientists need to address the ambitions and challenges of society," he said.
Azzazy, a professor of chemistry, received TCU's third Global Innovator Award during the Fall 2014 Convocation. The award, part of the Quality Enhancement Plan, fosters a global perspective at the university.
At TCU, Azzazy shared his perspective on the recent revolutionary unrest in Egypt, discussed the region's history of innovation and delivered a public presentation titled "Scientific Innovation and Global Citizenship."
The Global Innovator Award included $25,000, with which Azzazy plans to launch a biomedical research project involving TCU faculty members Giri Akkaraju, associate professor of biology, and Jeff Coffer, professor of chemistry.
Manochehr Dorraj, TCU professor of political science, discovered Azzazy after reading an April 2014 article in The Chronicle of Higher Education discussing his invention of a low-cost test using nanoparticles to detect Hepatitis C.
In his lectures, Azzazy reiterated the concept of a global consciousness in which problems in one place affect people all over the planet. He discussed the major issues facing humanity, including climate change, hunger, disease and the gap between energy production and consumption.
"We need solutions that are out of the box," he said. "Resources are limited, and problems are big." Azzazy urged tolerance and peace as the necessary soil to grow a sustainable future. He mentioned zero-waste green chemistry and a soccer ball that turns kinetic energy into electricity as the type of innovative ideas the world needs.
In 1994, Azzazy earned a PhD in biochemistry and molecular biology at the University of North Texas Health Science Center in Fort Worth. He participated in research projects and taught clinical chemistry, biotechnology and medical technology for eight years at the University of Maryland School of Medicine in Baltimore.
Azzazy's wife is Egyptian, and when they married in 2001, the couple planned to reside in Maryland. But after the events of 9/11, her visa application was rejected repeatedly.
The professor said he was forced to choose between his marriage and continuing research in the United States. He accepted the professorship position in Cairo, where he spearheaded the establishment of two graduate programs, in biotechnology and food chemistry. He also created a research group, "Novel Diagnostics and Therapeutics" and the International Medical Technologists program.
"I like building things from existing resources, connecting the dots," he said.
Azzazy wants to inspire people at his university to find real-world applications of scientific research. He tells his students, many of whom are female, to "look at your history, build on the innovative civilizations that originated in the region, and try to do something useful."
He reminds them that Egyptians designed the calendars and clocks people use today. The wider Islamic society also blazed trails for higher education. Fatima al-Fihri, a Muslim Moroccan woman, established the world's first degree-granting institution.
But innovation has fallen by the wayside in Egypt. Azzazy said political quagmires occupy much of the youth attention. Practical problems, including electrical shutdowns due to an energy shortage, rampant unemployment and curfews to stem societal violence, can cause challenges for everyday life. He said scientists have to jump through extra hurdles in their efforts to find solutions for Egypt's many challenges.
As a consequence of the nation's volatility, many of Egypt's brightest students leave the country to find opportunity in more stable environments.
"We have to reverse the brain drain," said Azzazy. He founded a company called D-Kimia, which means "this is chemistry" in Arabic. The bio-entrepreneurial endeavor, which The Chronicle of Higher Education reported as is a first in Egypt, harnesses the synergy between the business realm and scientific research.
The company designs affordable solutions to health crises. D-Kimia's first product provides a diagnostic test that detects the genome of the hepatitis C virus, which affects almost a fifth of the Egyptian population.
D-Kimia's test, which is a tenth of the cost of the more commonly used test, uses gold nanoparticles to seek out the disease, Azzazy explained. Nanoparticles can have differing optical qualities depending on size. In this test, when floating separately as individual particles, the nanoparticles are red. The assay is designed to cause gold nanoparticles to aggregate in the presence of the genome of the Hepatitis C virus, causing the solution to turn blue (colorimetric signal for the presence of the virus).
"There is a glimpse of hope as far as research in Egypt," he said before cautioning that problems will not be addressed on the macro level until people in Egypt's "highest level of government" devote sufficient resources to scientific research.
Azzazy said that no problems exist solely within the borders of one country and encouraged TCU students to think far beyond campus. He said those who can, must donate their intellectual gifts for the betterment of humanity. "Where is your consciousness? What is your contribution?"