Jim Swink: 1936-2014
Acclaimed running back was All-American and College Football Hall of Famer, but also was campus leader who became an accomplished physician.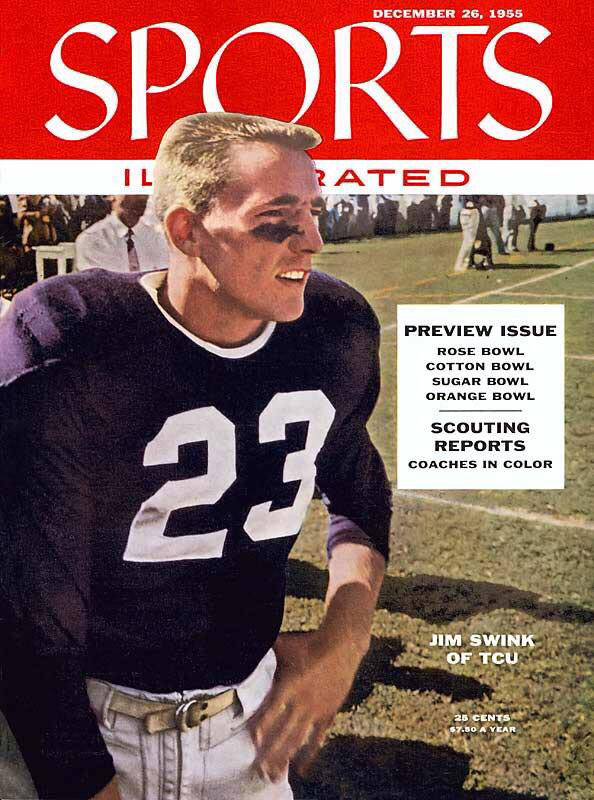 Jim Swink: 1936-2014
Acclaimed running back was All-American and College Football Hall of Famer, but also was campus leader who became an accomplished physician.
TCU football legend Jim Swink '57, whose shifty moves as a running back earned him the nicknames "Ol' Swivel Hips" and "The Rusk Rambler," died in December at his East Texas home. He was 78.
Swink's elusive running style, especially in the open field, made him one of the most acclaimed halfbacks in Southwest Conference history and helped the Horned Frogs to a SWC crown in 1955 and back-to-back Cotton Bowl appearances in 1956 and 1957 under coach Abe Martin.
As a junior in 1955, Swink led the nation with 18 touchdowns and 1,283 yards on only 157 carries, earning him the first of two All-America honors and a second-place finish in Heisman Trophy balloting. His 8.2-yards-per-carry average that season is still a school record, and his 2,618 career rushing yards remain ninth on TCU's all-time list.
Swink was inducted into the College Football Hall of Fame in 1980 and into the Cotton Bowl Hall of Fame in 2000. He was presented the Doak Walked Legends Award in 2005.
"He was one of the five best players in TCU history and should have won the Heisman," national sportswriter and TCU historian Dan Jenkins '53 told the Fort Worth Star-Telegram in 2005.
"He was a guy, basically, with Davey O'Brien and Sammy Baugh, that put TCU on the map," coach Gary Patterson told the Star-Telegram.
TCU Director of Athletics Chris Del Conte told the Associated Press that Swink was "a true TCU legend and one of the faces of our proud football tradition."
Swink was a popular speaker at campus pep rallies in the 1950s. He served in student government and was a standout student, while playing football and basketball for the Horned Frogs. His wife Jeannie told the Tyler Morning Telegraph that he was most proud of being an Academic All-American.
Despite gridiron success and being selected in the second round by the Chicago Bears in the 1957 NFL Draft, Swink bypassed pro football to attend medical school.
In 1960, he signed with the AFL's Dallas Texans (now the Kansas City Chiefs) but played only five games, finding it difficult to be a part-time player and full-time physician.
Swink was drafted into the U.S. Army in 1966 and served as a medic and surgeon at the 12th Evacuation Hospital in Ku Chi, South Vietnam, during the Vietnam War. He earned the rank of captain and was awarded a Purple Heart, Air Medal and Bronze Star.
He returned to Fort Worth and established an orthopedic surgery practice, which he maintained for 35 years.
Swink also is remembered for being the object of the famous University of Texas expression, "Hook 'em, Horns." Before No. 8 TCU squared off with the Longhorns on Nov. 12, 1955, Texas students had heard of Swink's evasive style and developed the oft-heard phrase.
"They had a guy in their student body that knew our team and spread the word that they needed to stop me from running," Swink told the magazine in 2006. "The Texas players obviously had heard about how string a team we had, too. So they came up with 'hook him' because they wanted to catch me, trip me up, slow me down. And that game was the first time they used that."
It didn't work. Swink had one of his best games, rushing for 235 yards on 15 carries for a 15.7-yard average and scored a school-record 26 points. The Frogs romped the Longhorns, 47-20.
Born March 14, 1936, in Sacul, Texas, Swink moved to Rusk at age 13 to live with Obie and Grace Walker after his mother became ill with tuberculosis. He was a standout athlete in high school and chose TCU in part because the school would let him play both football and basketball.
Swink never lost his allegiance to TCU football, even though his health prevented him from traveling to recent games.
"He religiously followed them," Jeannie Swink told the Star-Telegram. "He watched the Rose Bowl on television. His chair was right in front of the television, and Jim was always someone who didn't set in one place for very long. But when TCU was playing, especially if they were playing good, he didn't move."