Sara Peterson '96 and HGTV's Dream home
Editor-in-chief Sara Peterson '96 launched HGTV Magazine and led the startup to 1 million circulation.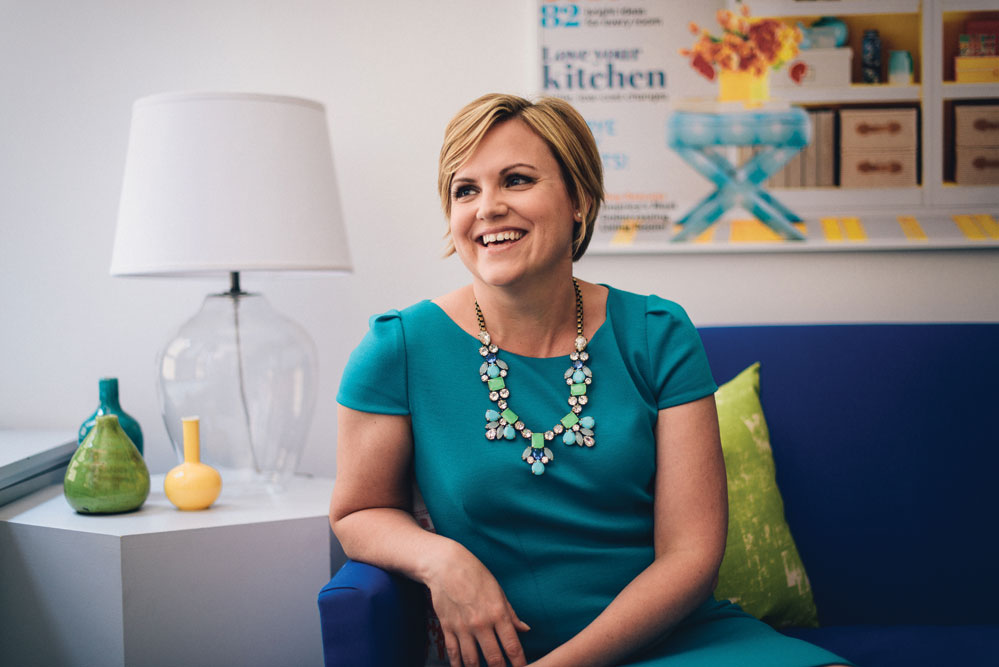 Sara Peterson '96 and HGTV's Dream home
Editor-in-chief Sara Peterson '96 launched HGTV Magazine and led the startup to 1 million circulation.
Sara Peterson '96 has always loved magazines. As a teenager in Holdrege, Neb., she looked forward to a fresh issue of Seventeen arriving in the mail.
"I was obsessed," she says. "I still have the issues stored in my mom's basement. I find it really hard to throw magazines away."
She knew back then that she wanted to work in publishing, and her dreams of a magazine career have landed her atop the masthead of one of the industry's hottest titles – HGTV Magazine. In 2011, she led the launch of the publication tied to the ever-popular home improvement network – and this month, its circulation is poised to top 1 million.
"It's a big, big proud moment for us to have a million circulation," she says from her office in Hearst Corp.'s midtown Manhattan headquarters. "It says a lot about how many people love the brand HGTV – me included."
It also says a lot about Peterson, whose career in publishing has taken her from compiling the class notes in The TCU Magazine to overseeing one of the industry's most successful startups in recent years. (Last year, Advertising Age named HGTV Magazine the Launch of the Year.)
"It was so fun to translate this amazing brand that everybody loves and everybody watches into print," she says. "Everybody wants HGTV to come to their house. They're hoping those Property Brothers show up or Mike Holmes and rescue us all with their handyman heroes."
Of course, it's not as easy as it looks on television or the printed page. On any given day, Peterson is overseeing production of three issues simultaneously.
"There's one we're shipping, one we're doing the photos and the copy for and one we're planning in advance," she says.
"It's very hard to keep it straight what month it is in real life," she adds. "It's October and we're working on March and April lineups. So the other day I was shopping and I thought, 'What season's clothes am I trying to buy?'"
She says some seasonal stories may have to be shot a full year in advance to have a ready supply of pumpkins or Christmas trees.
"There's a lot of preplanning. I think that always surprises people about magazines," she says. "Maybe it seems like you just show up at people's houses and start taking pictures, but there's so much preplanning that goes into it."
Peterson's methodical planning skills were evident early on. When it came time to go to college, she carefully explored her options, looking for a private, liberal arts-based school with a top English department. Perusing the catalogs in her school's guidance office, TCU looked like the perfect fit.
"I liked the size of the classes and the emphasis on writing and literature," she says. "I applied for a scholarship and got some help and drove on down to school."
Peterson was an English major/journalism minor who found paying gigs as a work-study student in the English department and as an intern at The TCU Magazine.
"I did all the class notes and once in a while I would do a feature. That was really fun," she says. "It's such a great feeling to see your stories printed in a magazine. I love that feeling of working on something and being able to hold it in your hand. It's something I'll never get tired of."
She also fondly remembers a favorite English professor, Jim Corder. As a freshman, she signed up for his sophomore-level personal essay writing class. A few weeks into the class, he clued in to her freshman status but let her stay.
"I was so afraid he was going to kick me out," she says. "I wanted to stay in that class. He was great."
After graduating from TCU, Peterson moved to Dallas where she waited tables and worked as an unpaid intern at The New York Times bureau. Before long, she landed a gig at D Magazine working as personal assistant to its publisher, Wick Allison.
To celebrate her new magazine job, her friend Tory Marpe toasted her with pink champagne.
"That turned into Pink Champagne Day," she says of the treat that has become a tradition among her close friends celebrating life accomplishments. "It set off my career. I've always been really thankful for my first job."
It also plays into her career advice for others eager to enter the magazine industry.
"I tell people who want to know how to get into magazines, you've got to get in any way you can because once you're in, you're part of the magazine club and you can work your way up," she says. "Sometimes the hardest thing is getting that first job."
From D Magazine, Peterson moved to Southern Living, where she worked as homes editor. Then she moved on to become executive editor and then editor in chief at the company's sister publication Coastal Living.
Peterson says she loved traveling the country, meeting homeowners and seeing the creative ways they transformed their homes into welcoming enclaves. Of course, not every photo shoot went according to plan.
"You never know about kids or dogs or flowers — any of those live things," she says.
She learned to be flexible. If the family dog didn't want to sit on the sofa or the flowers were drooping in the vase, then it's OK to improvise.
"I think the best editors are really good at adapting quickly," she says. "If it starts to rain outside and the lighting gets bad in one room, just adapt and go to another room. Don't get stuck in one scenario, don't get stuck in there's only one way to do a story."
While she loved her job at Coastal Living, another challenge would prove irrestible. In 2010, Hearst Magazines came calling, offering her the chance to edit a new publication tied to HGTV Network.
"I always watched HGTV," Peterson says. "My sisters and I loved to watch House Hunters and all the makeover shows and the decorating shows and now the real estate shows so it was a brand I was really into."
Peterson doesn't go on every photo shoot, but she does attend those involving the network stars such as Sara Richardson, David Bromstad, Vern Yip and Genevieve Gorder.
Her staff is always scouting and talking with industry sources to find potential homes to showcase in the magazine.
"People always ask me how do you find the homes that you feature in the magazine? The best answer is we talk to people we know. It's just like any kind of networking: You talk to designers you know or homeowners you know or friends of friends of friends.
"There's also people who have blogs and are sharing their home projects online. We get a lot of ideas from homeowners themselves who have blogs. We'll call them up after we see pictures of their homes, so we can scout pretty easily online too. There's no big magic to it; you just kind of do your legwork. You just talk to people. The more you talk to people, the more homes you find."
While the magazine offers a tablet version for mobile devices, Peterson says readers still like to get the printed version in the mail or on the newsstand.
"I don't know what the future holds, but I know that creating content and creating beautiful pictures is the goal for every editor. And how people want to read – on print or on their computer or iPad – it doesn't matter. They're still going to come to us for ideas and pretty pictures."
Follow Sara on Twitter @HGTVMagSara