How to succeed in business
Born in the Great Depression, TCU's Neeley School of Business is reinventing itself again to meet new challenges of a changing world. But one constant remains –– the close bonds formed among its students, faculty, staff and alumni.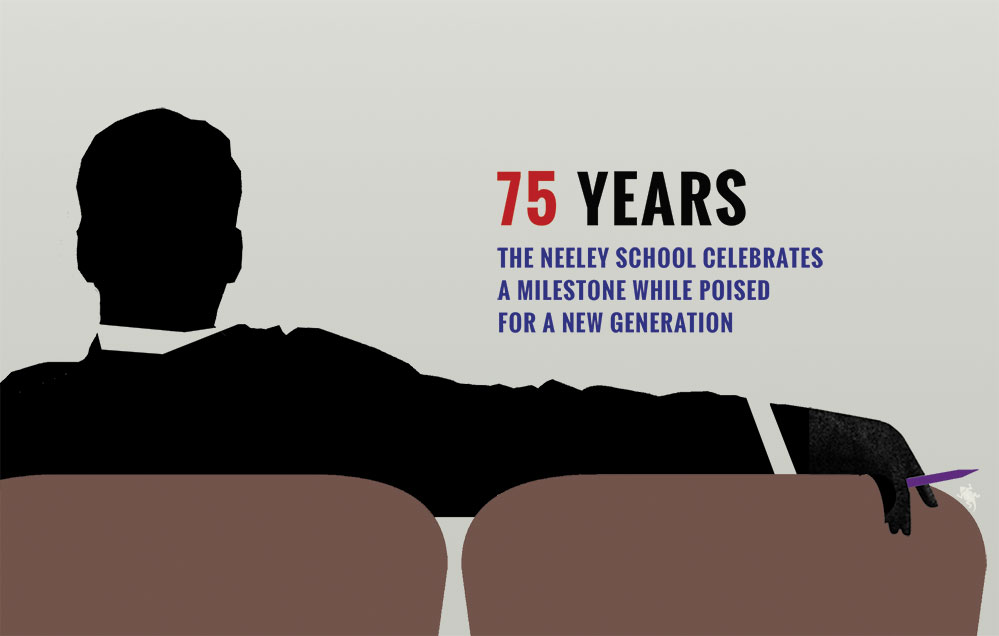 How to succeed in business
Born in the Great Depression, TCU's Neeley School of Business is reinventing itself again to meet new challenges of a changing world. But one constant remains –– the close bonds formed among its students, faculty, staff and alumni.
In 1938, the world was on the eve of a devastating war and the United States was struggling to emerge from the Great Depression.
At TCU, campus administrators were undergoing a bit of soul searching. There was movement to add "semi-professional" degrees to the traditional liberal arts curriculum, but some worried it would be a step backward academically.
In his book History of Texas Christian University: A College of the Cattle Frontier, Colby D. Hall, longtime professor and dean, details the debate and how it led to the birth of a business school and a new degree plan, the Bachelor of Science in Commerce, that combined the academic rigor of a liberal arts degree with in-depth courses in economics, finance, accounting and management.
"This is progress!" Hall wrote. "The day may come when a business man will get a broad cultural education; today, he is getting a much broader one than his father received."
In November, the Neeley School of Business celebrated 75 years of providing that broad-based education to more than 19,000 alumni living in 71 countries. Now Neeley is poised to enter a new era with more students, new programs, high rankings and increased global attention.
For O. Homer Erekson '74, the John V. Roach dean of the school, it's a special time to look back over recent accomplishments and remember the legacies of the people and programs that have built Neeley into what it is today.
"Throughout its history, (Neeley) has been an innovator," he says. "It was an innovator in 1973 with the Educational Investment Plan. It was an innovator when we started the Center for Productive Communication (now the Professional Development Center). I think we were one of the first ones in the country to have that in a business school. We were a real innovator with the entrepreneurship program. It wasn't just that we became innovative three years ago, it's part of our history."
Thanks to pioneering programs and additional degree plans, enrollment continues to grow. This year, Neeley has 1,942 undergraduate students – the most of any college on campus and a seven percent jump compared with last year. Neeley's graduate enrollment was 320 and the school added two new degrees: the MBA for Energy professionals and the Master of Science in Supply Chain Management.
Climbing the rankings
More students are looking at Neeley as the school continues to rise in prestige.
The Economist ranked Neeley's MBA program 35th in the nation, and the Neeley MBA faculty number one in the world. In The Economist's first ranking of Executive MBA programs, the Neeley EMBA program was tabbed 21st best internationally.
Neeley also ranked seventh for Most Competitive MBA Students in The Princeton Review's 2013 specialty ranking of U.S. MBA programs. In Bloomberg Businessweek's Best Undergraduate Business Schools, the Neeley School is 28th in the nation and consistently scores A-pluses in teaching quality and job placement.
The school's unique entrepreneurship program has also boosted its reputation. Bloomberg Businessweek named Neeley one of the Top 10 business schools for entrepreneurship and Entrepreneur magazine ranks it 22nd in the nation.
"I think there are relatively few business schools in the country where you have outstanding scholars who love undergraduate and graduate teaching and are committed to that," Erekson says. "We're in a very small set of schools where that's true. That's a big part of the rankings. It's the commitment and dedication of high-quality faculty to excellence in teaching."
But just as it was in the beginning, the school's ability to provide both a broad cultural and business education to its undergraduate students remains a core strength.
"If you think about it, the quality of an undergraduate business program is only as good as the quality of those first two years of a liberal arts education," Erekson says. "Students have to be strongly grounded in subjects such as history, English, political science, sociology, math and sciences. When you work in business, you draw upon the lessons that you've learned about society.
"I think one of the advantages that you see in the Neeley School is that TCU is a strong liberal arts university, and we happen to have a great business school. Our students benefit from that very strong foundation."
Decades of Growth
In its earliest years, university leaders were hesitant to add a Commercial School alongside the college's core liberal arts subjects, Hall wrote. But by 1884, courses in bookkeeping were added "in an effort to adapt this field to college teaching."
Thanks to the passionate efforts of early professors such as A.C. Easley, who Hall describes as "a red-headed dynamo of energy," just two years later the School of Commerce had three pages of space in the course catalog, including classes in accounting, business administration, finance and insurance, secretarial sciences and transportation/public utilities.
In 1922, it became the Department of Business Administration and, by 1938, had evolved into the School of Business, offering a master of business administration degree. A year later, the school had 26 undergrads and one MBA student.
By 1944, the School of Business became the seventh major unit in TCU's structure and E.M. Sowell was appointed its first dean. Enrollment boomed after the end of World War II, and by 1951, trustees saw the need for more space and launched a campaign to fund a new building.
In 1957, Dan Rogers Hall was completed at the cost of $825,000.
In 1967, the school was officially named M.J. Neeley School of Business to honor the man who served as a TCU trustee for 30 years. Twenty years after that, continued growth led to the construction of Tandy Hall and renovations of Rogers Hall to house the growing school. Tandy Hall was completed in 1989, doubling the available space for business programs and activities. Smith Entreprenuers Hall opened, made possible by a gift from former TCU trustee Sarah Smith and Steve Smith in 2003.
While it was physically adding space, the school was also adding programs. In 1968, it added a Master of Management Science degree. In 1973, the Educational Investment Fund was founded with a $600,000 gift of Alcon stock from Alcon co-founder William C. Conner and, in 1986 the Tandy Center for Executive Leadership was established with William Campbell as director. The following year, the Center for Productive Communication opened with a $1.6 million endowment from M.J. Neeley.
The Neeley Entrepreneurship Center opened in 1999, followed by the Supply and Value Chain Center and RadioShack Computer Lab in 2001 and Luther King Capital Management Center for Financial Studies in 2002.
To help give students real-world experiences and mentoring opportunities, the BNSF Next Generation Leadership program and Neeley Fellows were launched in 2006 and 2010 marked the beginning of the Richards Barrentine Values and Ventures® Business Plan Competition presented by the Neeley Entrepreneurship Center.
A Bright Future
Neeley is poised for an even brighter future as TCU carries out a bold vision called The Academy of Tomorrow that brings together creative teaching, technology and research to stimulate innovation and new ideas.
At the center of this vision is the Intellectual Commons currently under construction on the east side of campus, including Rees-Jones Hall, a new interdisciplinary, state-of-the-art instructional building; an addition to Annie Richardson Ball Building for the Harris College of Nursing and Health Sciences; and a reconfigured Mary Couts Burnett Library featuring a technically advanced, media-rich environment.
In November, the TCU Board of Trustees approved the first stage of a campaign to initially raise $75 million for new and expanded facilities for the Neeley School. Preliminary plans include a new east and south wing, a central atrium and office complex and an auditorium all constructed adjacent to and integrated with existing Neeley facilities.
As it continues to build on its past success and prepare for a bold future, Erekson says the Neeley School will continue to focus on preparing students to navigate an increasingly dynamic and complex world.
"We have to be agile," he says. "We have to respond to trends happening at a very, very fast pace. So we have to continue to increase our ability to adapt to change. That's such an important part of the future. Whether it's a program, our faculty or a building, we must have an environment that enables us to adapt to those changes quickly but in a very high-quality way."
He also sees alumni playing an important part of the Neeley success story.
"We're increasingly seeing alumni, whether they graduated two years ago or 30 years ago, becoming actively involved in our programs and supporting our students with internships and career opportunities," he says, "They are our best advocates, carrying our story far and wide."
People and Passion
Looking back over Neeley's proud past, Erekson says it's easy to find inspiration from his predecessors and colleagues. He notes that Robert Lusch, who served as dean from 2000 to 2004, made major strides to enhance Neeley's national reputation, and Daniel Short, dean from 2004 to 2008, continued that trajectory. He also says Neeley has been impacted by a wealth of committed faculty and staff members, such as Bill Moncrief, who was instrumental in developing the undergraduate program. Joining him is a long list of consummate teacher/scholars, including Chris Barry, Stan Block, Bob Greer, Jane Mackay, Mary Stanford and many more.
They have all been part of the Neeley family and Erekson hopes that whatever the future may bring, the school will keep the special bonds that have set it apart.
"It's that personal touch at Neeley, that's probably what I love the most," he says. "I love the passionate dedication of faculty and staff who are committed to excellence while preserving a positive environment. People like to work here. Students like to learn here. It's often difficult for an organization to grow and improve and not lose that family feel. As we continue on our future path, it is vital that our positive, personal environment imbues everything we do.
Related content:
75 years: A Neeley School timeline
Life-changing lessons: Alumni recall influential business professors
Diamonds & Ice: A glittering gala celebrates the past and looks to the future
Making the grade: It takes more than great grades and top scores to get into Neeley