Making the grade at the Neeley School of Business interview
It takes more than great grades and top scores to get in Neeley. Students also have to interview to get in.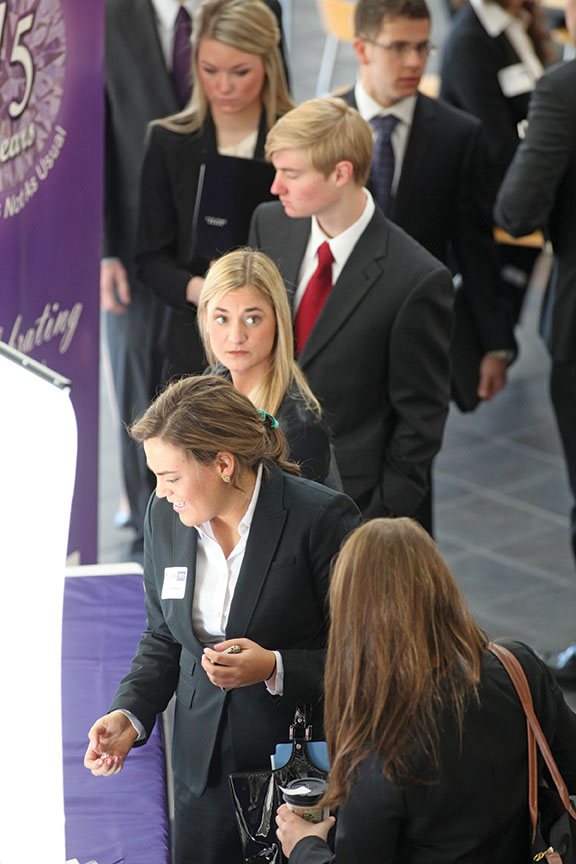 Making the grade at the Neeley School of Business interview
It takes more than great grades and top scores to get in Neeley. Students also have to interview to get in.
Erin Sovereign was the last in the waiting room to go in. Dressed in a black blazer, matching skirt and heels, she paused a half-second for a deep breath and a confident smile before opening the door and striding in with a firm handshake and introduction.
She'd been up since 6, but her Interview Day had just begun.
Across the table from her were a business analyst manager from a Tarrant County manufacturer and a small business owner from Dallas. First question: "If asked, and you knew you wouldn't be caught, would you help someone cheat?"
The sophomore marketing major from Houston had her response ready, saying that she thrives working in team tasks but believes in each person carrying his own weight.
"We practiced ethics questions in the mock interviews," Sovereign said afterward. "I didn't know it was coming, but I felt prepared to answer."
That's precisely the goal of TCU's Neeley School of Business formal admission process, known around the college every February as Interview Day.
Since 2004, executives, mayors, hiring managers, tax professionals and others have come to TCU for one day every spring semester to help screen a crop of sophomore business majors. Working in pairs, about 120 professionals (many of them Neeley alumni themselves) meet and greet and question more than 390 students for about 20 minutes each.
"Interviewing is part of our admission process and is important to us, but we want students to use it as a learning opportunity," said Kelly O'Brien, director of the Neeley Professional Development Center. "The goal is to give them the best experience possible so they'll be prepared for later interviews for internships and employment."
Students look and sound the part with buffed shoes, starched collars and succinct summaries of their experience and training. The interview, which has been tabbed as a best practice by Association to Advance Collegiate Schools of Business, is only a portion of the process and rarely makes or breaks an applicant. Sophomore business majors must have completed 54 semester hours with at least a 3.0 grade-point average. They also must achieve Microsoft Office Specialist Certification in Excel, PowerPoint and Word, plus complete the core level of Neeley's Premium Credentials training program. They also are required to submit a résumé and cover letter to the college's Academic Advising Center.
It's competitive, and Neeley wants students who offer polish and well-roundedness, says George Low, associate dean for undergraduate and international programs.
"We have three pillars at Neeley: personal, connected, real," he said. "That's what we're looking for. We want students who demonstrate the ability to express a point and show confidence, not only perform technical skills well. In the real world, the candidates who stand out are the ones who connect with an interviewer."
While advancing in the college is important to these undergrads, the stakes will be higher later in life, said Lynn Cole Muller, assistant dean of undergraduate programs.
"We'd rather they make mistakes and learn here," she said. "The point is for them to gain confidence, to develop a social intelligence that will serve them for their careers to come."
Students get support and opportunities to practice leading up to the interviews. Each participates in at least one mock interview with other executives and takes a course to prepare a résumé and cover letter.
Sarah Carstens, a sophomore entrepreneurial management major from Scottsdale, Ariz., said she was very comfortable at Interview Day, expounding on bullet points on her résumé.
"I talked about assembling a business plan and giving effective presentations," she said. "From the greeting to talking about my work experience, just about everything I learned was put into practice. They do a great job of preparing us here."
José Gonzalez, a sophomore business information systems major from Panama City, Panama, was able to overcome some initial jitters, thanks to using the STAR (Situation, Task, Action, Results) method.
"My hands were kinda sweaty, and I felt nervous," said Gonzalez, who'd never worked on a résumé before his second year at the school. "But once they asked me to talk about how I got to TCU, I could tell them about myself and why I am a good fit for TCU and Neeley."
Neeley works with the interviewing volunteers to pose questions that would arise in real-world job screening, such as previous experiences and passion for business, but also about their perception of the global business world and how their studies have prepared them for a career.
"It's a tremendous benefit for students," said Meghana Mathew '08, an analyst for Fort Worth-based Aquasana, who interviewed for Neeley in 2005. "A real connection is drawn between what they're learning and how they're just starting to navigate their career and the professional business person they'll become."