First Person … Golfer Julien Brun
Two-time PING All-American is among college golf's best ball-strikers. While the junior from Antibes, France, dreams of pro career, he still has a national title in mind for the Frogs.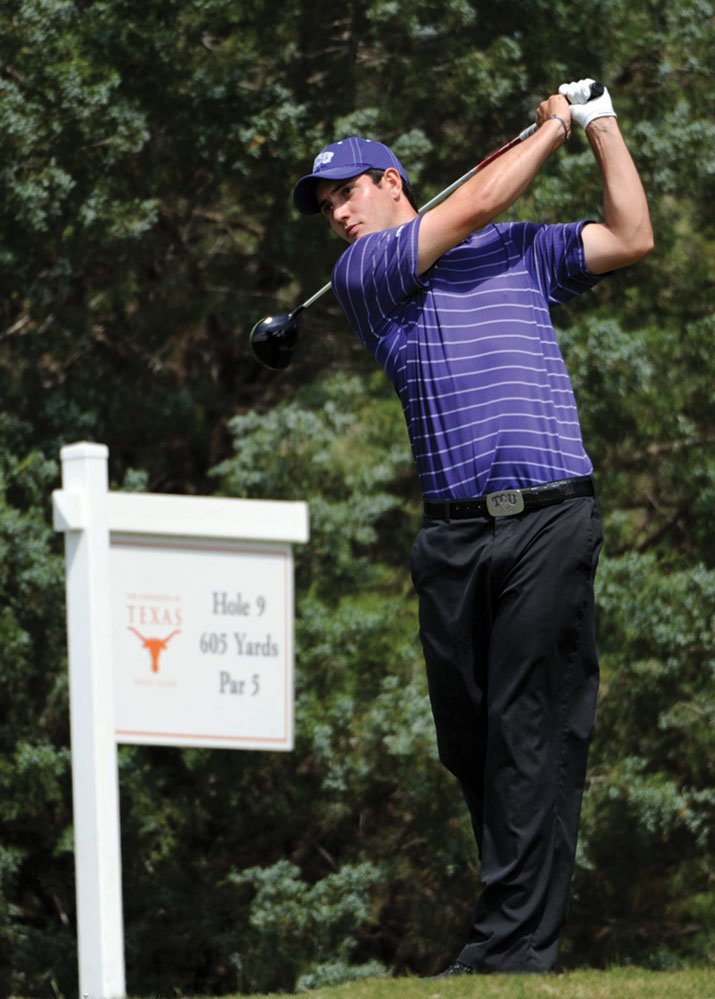 First Person … Golfer Julien Brun
Two-time PING All-American is among college golf's best ball-strikers. While the junior from Antibes, France, dreams of pro career, he still has a national title in mind for the Frogs.
You qualified for your first PGA event, the 2014 Crowne Plaza Invitational at Colonial. How did that come about?I won the tournament this past week at the Spirit International down at Whispering Pines near Houston. I was representing France with Paul Barjon, a [TCU] teammate from France. We had five Frogs playing in the tournament. By winning, I get a spot at the Crowne Plaza Invitational. I'll be playing at least the first two days. I've played events in the European Tour and Web.com but never the PGA Tour.
What do you think about the tournament, what challenges does it present?You have to be steady. You have to play smart and put the ball in the right spot. They do a good job at promoting the tournament and it's just a historic tournament with the Wall of Champions and [Ben] Hogan and the clubhouse is pretty nice. It's a nice tournament for sure.
I go almost every year. I can remember Phil Mickelson winning it in 2008 on the final hole. He hit that shot over the trees. I was watching it. Those trees are high.
You're a two-time All-American. Can you still get better at the game?It's like the game of golf is just a learning process. If you practice the right way, you're going to get better small step by small step. But it's a long process. They always tell you the best years are after you're 30. I'm only 21. Hopefully I still have a long way until I learn everything and get the best of my game.
Are you better as a junior than you were as a freshman or sophomore?It's difficult to just look at the stroke average because we don't play the same courses every year. So far this year, if you look at my stroke average, it's like way higher than the other years. But I've probably played my most solid golf. The courses we've played are so hard and the course set up is really hard, so it's hard to just look at the stroke average. I think what makes me better is all the courses I've played in the U.S. … and the competition and adversity is just great in college golf. We have a really good program. We pretty much play with the best teams in college golf every time we go out and that competition just makes you better.
Do you think you can win an individual title at the NCAA Championship?I finished second my freshman year, so I was kind of close. It's just one tournament, so it's pretty wide open. It's the ultimate goal individually, but I try to be more focused on the team aspect, get the team going. At the end of the day, it's a team sport. It's a much better experience winning as a team than just winning by myself.
What are your strengths as a player, and what are you trying to improve on?My short game is pretty steady. I can count on my putting pretty often, and my chipping is pretty good. I'm really working to get my driving and long game up to give me a more comfortable round and more comfortable game over the years. When you play a really long course, you need to hit the ball far and rely on that long game to get more comfort. But I think what I'm really good at is my game plan and just keeping really steady. … I don't get burned out when I get a triple [bogey] or something. And that's why I don't get really high scores.
How did the fall season go for you and for the TCU men as a team?Personally, I feel like my game is going the right way. I left a lot of strokes out there with my short game. But we played really hard courses and my long game was going well. I had more comfort on the course. And I had my best result [seventh place] at Isleworth [Collegiate Invitational], a tournament we play every year. And I really saw my game was going the right way. For the team, we're just a young team. We need time. I'm the oldestguy. Last year three seniors were in the lineup. … Now we have none.
What's the upside of this team? How far can it go?We have good potential on the team. As long as we keep practicing and playing the way we've been doing, we're going to have a shot to win the Big 12at the end of the year. Then we'd go to Regionals and once you're at Regionals, it's just about that one tournament and being on your game at the right time. I think we have good potential. We just have to be patient with ourselves. We have good freshmen. When you get to Regionals, it doesn't matter how you did the whole year. Whether you're No. 1 or No. 70 going in, it doesn't matter.
Is it tougher to play in the Big 12 than the Mountain West?It's a better conference tournament in the Big 12. It's 72 holes instead of 54 holes and it's a great course. But the Mountain West was really, really good when I was a freshman. There were two teams in the top 10 and I think there were at least five teams in the top 40. Obviously in the Big 12 you have OSU that has been the best program ever in golf. You have UT that won the national championship in 2012 and will be a contender to win it this year as well, and OSU is a contender. It's a bit better for sure.  But it's not a big difference for us. We play better courses, and it's closer to home.
How does a golfer from France end up at TCU?A French girl [Alexandra Bonetti] was on the team and she put me in contact with coach [Bill] Monitgel. It became one of the schools I was looking at. I had a few offers and TCU was the best of those. I'm glad I came here. It's a pretty good spot for me.
Have you gotten used to the weather?I'm from the southeast [of France] and I can golf year-round. The weather is very similar to here at least in the winter. It's better [in France] in the summer. It's not as hot. I came freshman year, and it was the most heat I'd ever seen. It was ridiculous.
How did you get into the game of golf?Did you play with your dad? Did you watch Tiger Woods? I was following my dad on the course for sure, but I grew up with Tiger Woods, watching him fist bump on the 18thgreen. I think our generation really grew up with Tiger Woods. Now it's a bit different. The overall field and the overall talent is much better now than when Tiger came like 15 years ago. So it's going to be really hard to get someone as dominant as he was.
I never know who to expect to win a PGA tournament. One bad mistake and a great golfer is suddenly out of contention.That's what's fun about golf: It's never a done deal. You always see that guy plays 66-68-66 and he's leading by three and the last day shoots a 77 or something and finishes like 15th. It's really a game that makes you humble. You have to gain and earn everything.
What are you studying at TCU?I'm going to be a communication major. I'm almost done with my business minor, just one more class.
I assume your goal is professional golfer.Yeah, sure, but it's good to have a back-up and get your degree here. It's a good degree. You never know what's going to happen in your life, especially as an athlete. Maybe one day I will have a car accident and get injured. Then there's no professional career anymore. It can happen.
What do you think of American football?I'm lost. It's a bit too long for me. I kind of like the tailgate and everything that's around it is nice. And the game is just like, the game is not what I really like the most. It's just different than what I've been used to back home. It's been nice. But I like baseball much more.