VC emeritus Newcomer dead at 100
Longtime TCU administrator credited with bringing Phi Beta Kappa chapter, Van Cliburn International Piano Competition to TCU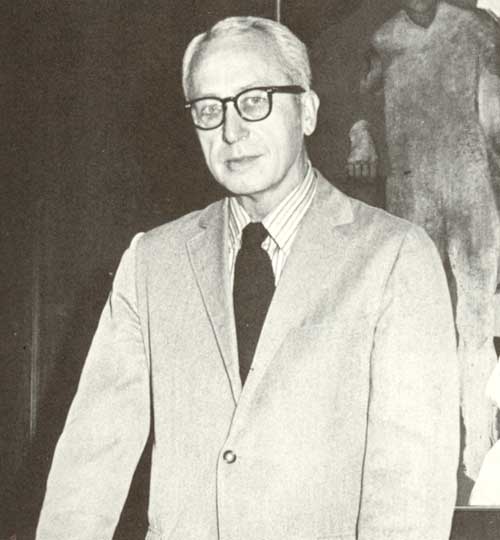 VC emeritus Newcomer dead at 100
Longtime TCU administrator credited with bringing Phi Beta Kappa chapter, Van Cliburn International Piano Competition to TCU
Dr. James William Newcomer, vice chancellor emeritus for Academic Affairs, who served the TCU administration for parts of three decades has died. He was 100.
TCU will lower the university flag to half-staff on Tuesday in his memory.
Newcomer taught Horned Frog students and guided the university's academic efforts from 1965 to 1982, serving as the director of TCU Press and holding the Trustees Chair of English, in addition to his duties as vice chancellor. He retired from TCU in 1987 as vice chancellor emeritus.
Newcomer was instrumental in establishing a TCU chapter of national honor society Phi Beta Kappa in 1971, just the fourth chapter in Texas at the time. He also is widely recognized for attracting the Van Cliburn International Piano Competition to the university and Fort Worth in 1965. A year later, Hungarian pianist Lili Kraus was invited to judge the competition. Soon after, Newcomer asked her to become artist-in-residence at TCU. She accepted, bringing national acclaim to the School of Music.
Through more than 20 years of friendship, Newcomer kept a journal from which he fashioned a memoir – Lili Kraus and the Van Cliburn International Piano Competition, published in 1997. Writing was a lifelong hobby of Newcomer, who wrote and published many volumes of poetry, essays and short stories as well as books on noted Irish novelists of the 18th century.
A first lieutenant in the U.S. Army in World War II, Newcomer treked through the battles of Normandy, Northern France, Ardennes, Rhineland, and Central Europe. He participated in the liberation of Luxembourg and became a lifelong scholar of the history of that country, resulting in the first complete history of the country to be written in English, The Grand Duchy of Luxembourg: The Evolution of Nationhood for which he was awarded the Commander of the Order of Merit of the Grand Duchy of Luxembourg.
He and late wife Ruth traveled extensively in Ireland, England and Luxembourg, spending months studying and researching for his writings. He was a member of Christ's College Cambridge.
Born March 14, 1912, in Gibsonburg, Ohio, Newcomer was the son of Rolland Truben Newcomer and Vera Mabel Ervin Newcomer. He graduated from Gibsonburg High School in 1928, where he was the quarterback of the football team and a cheerleader. He received a Ph.B. degree in English in 1933  from Kenyon College, where he was a member of Beta Theta Pi fraternity and Phi Beta Kappa, of which he was an active member for 79 years. Later, he received a M.A. from the University of Michigan and a Ph.D. degree from the University of Iowa.
Early in his career, he was assistant head master at Elgin Academy in Wheaton, Ill., where he met and later married Beulah Ruth Salisbury. Before arriving at TCU, Newcomer was dean of Hockaday Junior College in Dallas and head of the English Department (1946-51), dean of the College at Olivet College in Olivet, Mich. (1952-60) and dean of faculty and gradute school dean at Texas Woman's University in Denton (1960-64).
He enjoyed music from a young age and began playing violin, often accompanying the TCU Symphony Orchestra. In high school and college, he also played the saxophone and played in dance bands.
At the party on the occasion of his 100th birthday, Mayor Betsy Price read a city proclamation.