Directed energy: Mant Hawkins '11
You could call entrepreneur Mant Hawkins '11 MBA "disruptive," and be thankful that he is.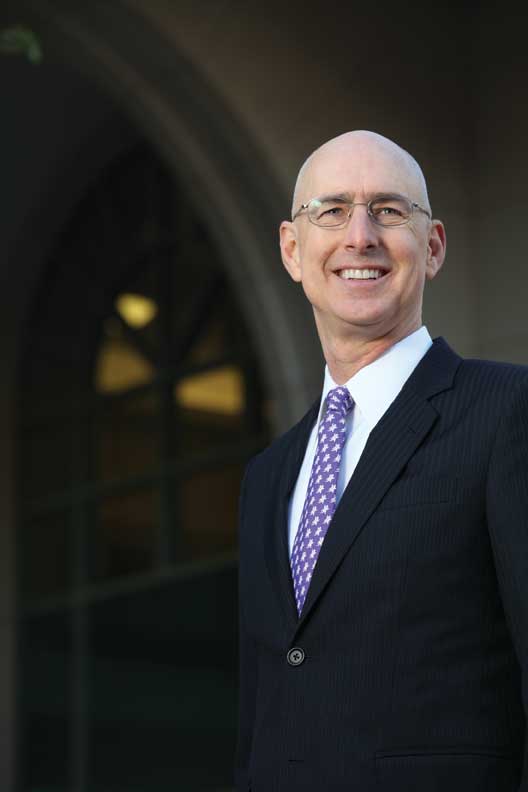 Directed energy: Mant Hawkins '11
You could call entrepreneur Mant Hawkins '11 MBA "disruptive," and be thankful that he is.
Mant Hawkins '11 MBA draws heavily upon his experience as a Marine Corps senior officer in his new life as a corporate executive.
As a military strategist, it was Hawkins' responsibility to understand what drives countries to behave as they do, what leads them to fight.
And as a Marine Corps Battle Captain of ground and air forces from Al Asad Airbase, it was his job to sell the people of Iraq on the merits of democracy versus the alternatives — al Qaeda and insurgents. Now he's focused on what motivates customers and investors to make buying decisions.
That is, the retired colonel was — and still is — in the business of winning over hearts and minds.
"The career of a senior Marine Corps officer is very similar to being an entrepreneur," says Hawkins, 54. "Business is really about personal relationships and understanding the nature of man and why they do the things they do."
Hawkins, whose distinguished military career included orchestrating all Marine Corps flight and aviation ground combat operations in Al Anbar Province, Iraq, is now helping develop cutting-edge disruptive technologies that could save service members' lives. As president and chief executive officer of Kaonetics Technologies Inc., since 2011, he oversees the development of innovative solutions for national security, law enforcement and the private sector. The company is moving its operations from California to Fort Worth, where Hawkins and his family have lived since he retired from the Marines in 2008.
"It's the perfect place for this company," Hawkins says of Fort Worth. "It's got a business ecosystem to support all three technology platforms of what Kaonetics plans to offer."
If Kaonetics' transition to Cowtown goes as planned, it could soon be producing inexpensive fuel-cell-quality hydrogen. Hawkins also plans to develop circular polarized antenna technology that would provide reliable communications signals in the harshest signal environments for commercial, military or law enforcement use.
But the main thrust of the company's efforts is to create directed energy devices that would use a focused beam to shut down an electronic device. Directed energy could be used to stop bombs from detonating, halt a vehicle in its tracks or cut off transmission of a radio or phone signal.
"Nobody's doing this," Hawkins says. "Most disruptive devices available today are for jamming electronic frequencies. What our beam does is it makes your radio stop working without damaging the radio. This will do for defense and law enforcement what Apple's iTunes did for music."
Focused beam technology can do more than disrupt. Hawkins believes it has the potential to detect objects on the other side of a wall through spectral analysis. A soldier could use the technology to find a hidden bomb, or a highway patrol officer could find out whether a car he stopped at 2 a.m. has a loaded weapon in the glove box or drugs in the trunk. A civil engineer might use the technology to identify corroded rebar that needs to be replaced in a road or bridge project.
Business as a foreign language
Hawkins is well-versed in the strategies of fighter pilots and policy makers. He flew F-18, KC-130 and CH-46E missions in places like Libya, Iraq, Kosovo and Asia, and was chosen as an instructor pilot for the prestigious Naval Fighter Weapons School (TOPGUN). From 2005 to 2007, Hawkins directed a U.S. Central Command think tank studying the Iraq, Afghanistan and African conflict areas. And before transitioning from active duty in 2008, Hawkins served as Director of the Global Combating Terrorism Network and Strategic Initiatives for U.S. Special Operations Command in Tampa, Fla.
But he found the private sector spoke a bit of a different language. He credits the MBA program at the Neeley School of Business with helping him become fluent in business thinking, logic, strategies, and decision making.
"As a military officer, I wasn't sure how to convert military knowledge into business tactics," Hawkins says. "I needed a frame of reference to place it in. My TCU education was very valuable and helped me with the transition. I call it my business cultural immersion training."
Hawkins made a splash in the private sector in 2009 by becoming chief executive officer of Enoetics, a company that designs and constructs buildings, campuses and facilities that make more energy than they use. Enoetics also retrofits existing buildings to save as much as 70 percent of their total energy costs. Hawkins hopes such energy-reduction efforts open up opportunities for trading carbon credits and lead to new ways of thinking about fuel consumption. Hawkins took a leave of absence from the company when he began doing consulting work for Kaonetics in July 2011. He is now serving as a member of the Enoetics board of directors.
"Enoetics can help reduce dependency on foreign oil," Hawkins says. "We buy oil and gas from people who don't like us and they use that money to thwart our national interests."
Giving Back
When Hawkins — who grew up in rural Kansas — retired from the service, he and his wife decided to settle in Fort Worth, in the Tanglewood neighborhood near TCU. It's a city they had grown fond of several years earlier when Hawkins was commander of the Marine Aircraft Group, which consists of F-18s, KC-130s, heavy equipment, and other self-sustaining rolling stock at the Naval Air Station Fort Worth Joint Reserve Base, formerly Carswell Air Force Base.
Hawkins was in the process of deploying to Iraq in 2004 when his son, Trey, suffered a near-fatal kidney injury. He credits the staff at Cook Children's Medical Center with saving Trey's life and the Fort Worth school district's home-based program with helping his son complete the eighth grade during a long and stressful recovery period. Hawkins expressed his heartfelt gratitude to the staff at Cook Children's for helping save his son's life, but also the city of Fort Worth whose tax dollars cover in-hospital schooling and the home-school program costs during his son's health crisis and almost five-month recovery.
"While I was gone, the city of Fort Worth really took care of my family," Hawkins says. "I really feel like I want to give something back to Fort Worth."
He's giving back in a variety of ways. Hawkins — a graduate of The Citadel with master's degrees in history from the Marine Corps University and in strategic studies from The Air University — is sharing his love of history and appreciation for creative thinking by serving on the Board of Visitors of AddRan College of Liberal Arts. TCU and the city have a vibe that Hawkins says matches his personality.
"I enjoy the culture, the entrepreneurial environment, and my wife likes it as well," he says.
His military expertise is often called upon locally. Hawkins regularly shares his informed perspective on world events through his involvement with the Dallas Committee on Foreign Relations as well as the Dallas and Fort Worth World Affairs Council. And he's often hired to speak at area leadership events.
He's also in high demand nationally. Hawkins has spoken on C-SPAN and delivered the keynote speech for the HBO premiere of the 2009 film "Taking Chance." HBO also brought him in as an adviser for its documentary "Wartorn: 1861-2010." And he's a member of the State of Texas Governor's Private Sector Advisory Council for Homeland Defense and Infrastructure Security.
Most days, Hawkins faces a hectic schedule filled with numerous commitments. But you won't catch him complaining. CEOs and pilots know better than to get flustered by a cluttered calendar.
"It really goes back to the DNA of being a Marine," Hawkins says. "Marines like to do hard things exceptionally well — every time — and we really like to do it as part of a first-class team."
Video: