The hugeness of Hunger Week
For 30 years, the TCU community has raised money and awareness to stem the tide of local, national and global hunger.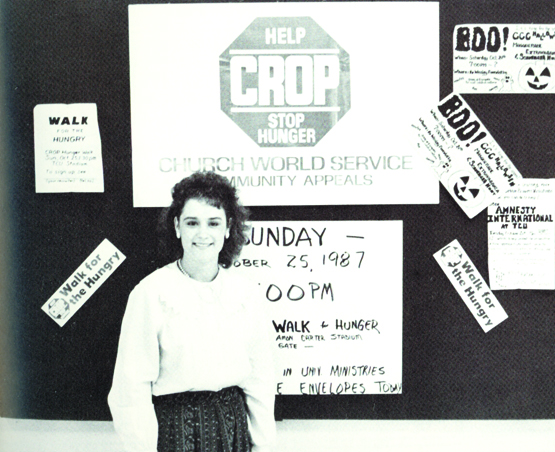 The hugeness of Hunger Week
For 30 years, the TCU community has raised money and awareness to stem the tide of local, national and global hunger.
In 1982, Ronald Reagan was in the White House, Duran Duran's "Rio" was climbing the charts and a BBC film crew aired shocking footage of dying children in famine-ravaged Ethiopia.
Worldwide broadcasts of the unfolding human tragedy led to an outpouring of support and galvanized activists on TCU's campus to create Hunger Week. Now in its 30th year, the event has evolved into an ongoing campaign that engages the campus community to fight hunger.
Religion professor Andrew Fort (below left) was one of the original Hunger Week founders, along with Claudia Camp, Weatherly professor of religion, and the Rev. John Butler '67, who served as minister to the university from 1979 to 2004.
"I was persuaded in the 1980s that hunger was truly unnecessary," Fort says. "There was enough human will, enough food, enough money and I thought, this is just wrong."
Hunger Week initially was held in the fall and united the campus in a variety of events, from an all-night prayer vigil to canned food drives at football games to a concert dubbed Frog Aid, inspired by the massive 1985 fund-raising event Live Aid.
Through its first eight years, Hunger Week raised $131,000 for hunger relief in Fort Worth and overseas, with the funds going to charities such as UNICEF, Oxfam America and Catholic Relief Services.
"There was education, there was social activism, there was flat-out donation. We had some of everything going on and it was just so exciting to be part of it," Fort says. "We had some of the best campus leaders as student chairs and John Butler kept University Ministries humming as the headquarters for all the activities."
One of the hallmarks of Hunger Week was the annual Hunger Banquet. The TCU Daily Skiff reported in November 1983 that 140 students attended the banquet and before entering, each was randomly assigned a number that would determine what they would have to eat.
The Skiff reported: "Those who drew No. 1 ate the first world food (elite food). They were seated at elegant tables and enjoyed a meal consisting of salad, steak, baked potato, broccoli, iced tea and chocolate mousse. Waiters and waitresses served them.
"Those who drew No. 2 were seated at tables in the middle of the room and served lukewarm stew and a roll served on plastic dinnerware cafeteria style. Those with a No. 3 ate Third World food. They waited in line for a plastic bowl of tasteless spicy rice and beans and a cup of brown liquid, which was either weak tea or make-believe dirty water."
In 1985, the group assigned to the Third World attempted a revolt. The Skiff reported: "During the banquet, the Third World staged several uprisings. On one occasion, the whole Third World stampeded the First World. Third World and Second World individuals constantly begged for food and shouted insults at the First World and blew out the candles at their tables."
Fort says the banquet provided a first-hand experience that students didn't soon forget.
"When it was big, it was fantastic," Fort says of the event, which also garnered national media attention. "We had people from ROTC who came in their uniforms and made sure people were kept separate. People started throwing rolls from one side to the other."
Another highlight of Hunger Week was the Charity Auction, which offered up goods and services donated by faculty and administrators. The Skiff reported some of the items auctioned off in the 1984 event included:
An Indian curry dinner for two prepared by journalism department chair Anantha Babbili.
Chancellor William E. Tucker '56 MDiv offered a reserved parking space for the week of Jan. 28.
Philosophy professor Richard Galvin offered, "a serenade beneath the window of your beloved (song to be mutually agreed upon)."
Head football coach Jim Wacker offered a signed football and a TCUunbelieeevable jacket.
There were also celebrity-donated items from stars such as Oprah and David Letterman, including a pair of white socks from actor John Ratzenberger, who played mailman Cliff Clavin on the popular television show Cheers, who signed them "Keep your socks white and your hearts pure."
In 1990, Fort took the auction to hair-raising heights. Margaret J. Barr, vice chancellor for student affairs, offered to pay $100 for Fort to cut off his long locks, which he wore in a signature ponytail. The wager was quickly countered by faculty, staffers and students who contributed matching donations to allow Fort to keep the ponytail in place. By the end of the auction, it was deadlocked at $629 for both sides, for a total of more than $1,200.
"I asked my barber to come, she put in $20 bucks to keep it, so that's what won and I had to wear the sucker for an additional year," Fort says.
In 1987, TCU's Hunger Week won first place as "the most creative and effective hunger program of any campus in the nation," presented by the National Association for Campus Activities and National Student Campaign against hunger. In its application, TCU officials estimated that Hunger Week directly involved 1,400 TCU students and 35 campus organizations.
But in the '90s, Hunger Week donations began to fall as other issues took over the media spotlight.
"Things changed and hunger wasn't the charity du jour," Fort adds. "Also, I think the information overload that we all are under is a factor greater than it was back then.
"It was one of the most exciting things in my life," he says. "We mobilized this campus, but there was a way we mobilized back then that I think is impossible now."
Starting in 2006, Hunger Week broadened from a one-week initiative to a year-round focus called the Heal Hunger Campaign and included advocacy and education ranging from Hunger 101 workshops to raising funds for agencies such as Heifer International through the "TCU Build an Ark Campaign."
That year also marked the beginning of "Kanstruction," with teams of students competing to construct models of buildings and objects using more than 13,000 cans of food donated by Albertsons.
The Rev. Angela Kaufman '95, minister to the university, said the competition was created and operated by students themselves.
"In just five years, we were able to get something like 50,000 cans of food to the food bank," she says. "We mobilized a lot of people and did some structurally, very interesting things. Things like that can still happen here."
On the Web:
hunger.tcu.edu