Books: Conversation with Sherri Lee '68
Avid gardner and lover of all things Southern, author focuses on the deliciousness and versatility of the fig.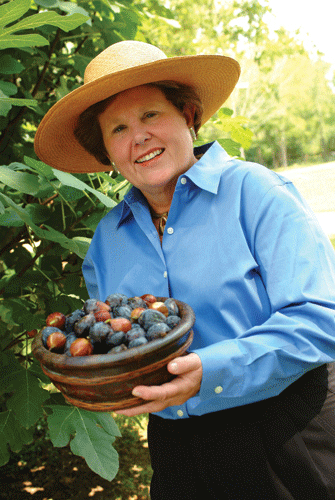 Books: Conversation with Sherri Lee '68
Avid gardner and lover of all things Southern, author focuses on the deliciousness and versatility of the fig.
Sherri Lee '68 is an avid gardener and local fig expert in Knoxville, Tennessee. She recently published an award-winning cookbook about figs titled Under the Fig Leaf: A Cookbook for Fig Lovers and enjoys traveling throughout the South lecturing about her horticultural and culinary pursuits. In between garden club gigs, Lee whips up new fig recipes and ruminates on her next publishing endeavor, "probably adventure stories with my grandchildren."
In your book, you talk of sampling figs right off the tree as a little girl. What inspired you to grow your own trees as an adult in Tennessee? Yes, we'd eat them right off the tree. That's what most people did back then. Figs are what you call a backyard tree in the South, and that's how most people of my generation knew of figs. You just went out in the backyard and picked the figs. My grandmother had very few left over to cook. In the summer all the kids were outside. We'd eat all the figs we could eat and then we'd play kick the can. That was just part of the summer ritual.  Figs have recently become really chic again. I was ahead of my time. They are very healthy, low in calories, low in fat, high in antioxidants. With the growing interest in edible landscaping and growing your own produce, part of that is encouraging people to grow a fig tree. My grandmother, who lived through the Depression, would flip her wig if she knew what I'd paid for figs trying to finish this project because they are very expensive when you have to buy them. But it's easy to have your own tree. It will grow right there in your yard.
Did you have any trouble finding people willing to taste-test your fig creations? There are a lot of people from Texas and from all over the South up here, so I would have regular fig feasts when I was planning my cookbook. People would know when my figs were in. I've sort of become "The Fig Lady" around here. So, we'd have figtinis and appetizers with pancetta, fig breads, fig butter, entrees and salads. I'd cook as many things as I could cook and I'd get opinions. I finally hired someone to help me. We worked for six weeks, whipping out recipes, and I ended up with about 130 for the book. The problem is that there are so many good ways to do it. We'd get in the kitchen and get one wild-brained idea after the other. You can easily get sidetracked having a good time eating figs.
So, what's it like being The Fig Lady? I'm not sure that's why my parents spent all that money for me to go to TCU. But it's fun. I do a lot of speaking engagements to gardening clubs. I've been all over the South. One of my friends even gave me the specialized "fig lady" license plates for my 1968 Firebird.
You received acclaim for Under the Fig Leaf, winning The Eric Hoffer Award and placing as a finalist for the Benjamin Franklin Award. Were you surprised by all of the attention for your first effort? I went to New York for the Benjamin Franklin award (ceremony). There were only three finalists, and it was like winning the Academy Award. I'm going to write more books now. I want the main prize.  I'm already plotting how I can go back and win the award. It was fun to be recognized. I am an independent publisher, and both of these associations recognize independents. I think it would be fun to write adventure stories with my grandchildren. I haven't actually started the work yet but I've been thinking about it.