Books: Conversation with Jim Wright (et al.)
The former Speaker of the U.S. House of Representatives and colleagues from TCU Press and the department of Political Science and English discuss a new book of his speeches and essays.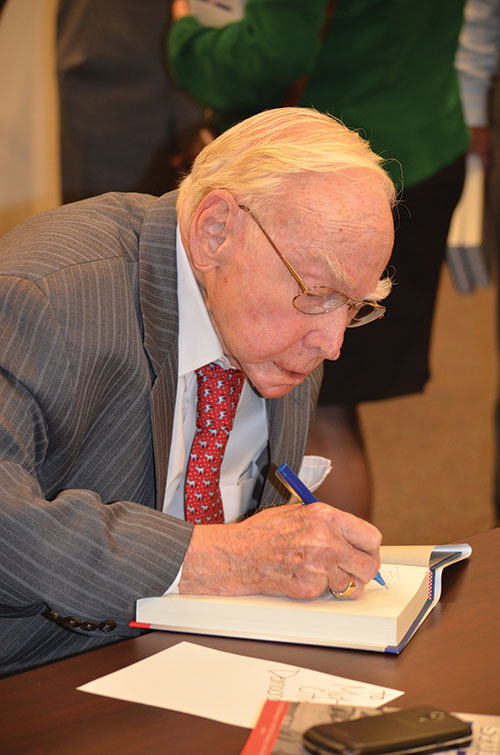 Books: Conversation with Jim Wright (et al.)
The former Speaker of the U.S. House of Representatives and colleagues from TCU Press and the department of Political Science and English discuss a new book of his speeches and essays.
Jim Wright is best known as a powerful politician who worked his way up from being the mayor of Weatherford to the speaker of the U.S. House of Representatives, but he's also a writer.
Readers can once again by regaled by his powerful prose in the The Wright Stuff: Reflections on People and Politics by Former House Speaker Jim Wright, a collection of his speeches and essays that chronicles his life including the 34 years spent representing Texas' 12th District in the U.S. House of Representatives where he also served as Speaker of the House.
Born the son of an English teacher and a salesman who was a voracious reader, Wright had a way with words and also recognized their power.
"Actions speak louder than words, we are told. Yet very often the most dramatically heralded deeds have ben inspired or provoked by words. Since time began, words have started and ended wars," he writes in the book's introduction.
At TCU, Wright taught the course Congress and the Presidents each fall for nearly 20 years, from 1992 to 2010. He donated his papers to the TCU Library and that repository was a treasure trove for the editors of this new book, political science professor Jim Riddlesperger Jr.; English professor and TCU Press Director Dan Williams and Anthony Champagne, political science professor at the University of Texas at Dallas. They spent months combing through the collection. They found that the biggest challenge was deciding what not to include. To remedy that, Williams notes a second book is already in the works.
The editors and Wright came together to discuss the book, joined by Speaker Wright, at a launch party in April at the Mary Couts Burnett Library. Here's a portion of their comments from that event:
Dan Williams:  I was so pleased when were able to coax Speaker Wright into helping us collect some of his work. I talked to Jim and Tony about it and they immediately offered their help and support and they were the ones who went through this massive material, started collecting and annotating. It was a real collaborative effort.
It's a broad spectrum of Speaker Wright's thoughts and reflections from throughout his career from when he was mayor of Weatherford and to as recently as a half dozen or so years ago.
My first introduction to Speaker Wright's writing was when I moved here 11 years ago, and I started reading his columns in the Fort Worth Star-Telegram and thought he was a remarkable writer and a man of great vision and courage. That's carried through to this day.
James Riddlesperger Jr.: This was a joy and it's been a joy since I've known Speaker Wright. I've known him since before he left Congress and was the first to welcome him back to campus in 1991. At that time, when he spoke about his coming to TCU, there were more than 40 news people at the announcement.
It's been my pleasure and my joy to read many things that Speaker Wright has written. I think I've read virtually everything he's written and everything that's been written about him, well some of it I haven't read because I haven't read the daily Washington Post which would have been an interesting thing too, but he is a brilliant writer. He writes just beautifully.
The book goes back to before he was mayor of Weatherford, there's a wonderful piece in here that was published in three parts called "Keeping Free Enterprise Free," which was published in 1946 and 1947, that's the earliest piece here. It's just a wonderful piece of writing, and if you want to start with Speaker Wright as a young Populist, I would suggest you start with that piece. It goes right on up through his public career to the most magnificent public speech he gave as he left Congress, which is still one of the most magnificent pieces of oratory we've had in the United States.
Anthony Champagne: One thing that really impressed me with the Jim Wright collection here in the library is it's just an incredibly comprehensive set of papers. There are so many good things in this collection. I have worked over the years with many, many Congressional collections and this is the most comprehensive collection of any that I've worked with.
Jim Wright: I have enjoyed working with these gracious gentlemen. I've learned so much from them and they've included everything, but they cut some of it out! Amazing how that's the case.
On the Web:
To order The Wright Stuff, call 1.800.826.8911 or order online at prs.tcu.edu.