New director to lead Jazz Studies
Saxophone professor Joe Eckert appointed to replace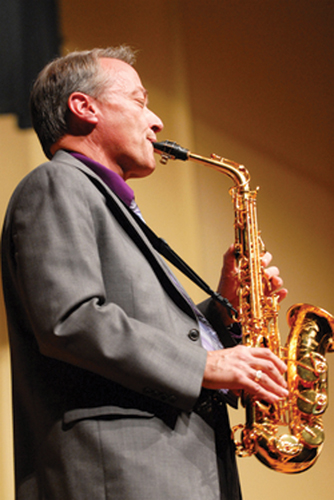 New director to lead Jazz Studies
Saxophone professor Joe Eckert appointed to replace
Jazz musician and saxophone professor Joe Eckert was appointed Director of Jazz Studies in the TCU School of Music. He took over the program in May from Curt Wilson, who retired from TCU after 35 years.
Eckert joined the TCU School of Music in 2007 after a 20-year career as lead alto saxophonist/woodwind specialist and music director of the famed U.S. Air Force "Airmen of Note," the armed forces' premier jazz ensemble.
He has also served on the music faculty at Shenandoah University and West Virginia University.
Eckert has performed with some of the great names in jazz, including Louie Bellson, The Brecker Brothers, Bob Mintzer, Peter Erskine, Clark Terry and many others.
On the Web:
Curt Wilson's final curtain