Honors student: Social media tools good, evil
Facebook and Twitter have evolved from fun diversion to powerful political weapon, Honors student tells Honors Convocation.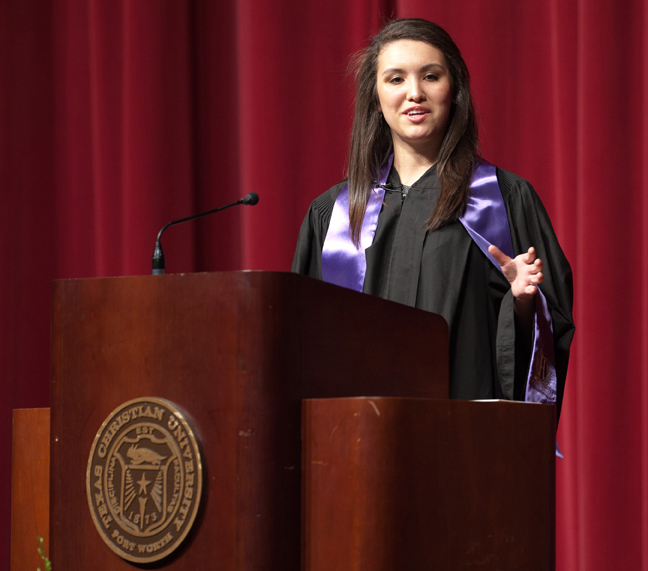 Honors student: Social media tools good, evil
Facebook and Twitter have evolved from fun diversion to powerful political weapon, Honors student tells Honors Convocation.
Social media sites such as Facebook and Twitter have emerged as revolutionary tools that can be used for good as well as evil purposes,  senior political science honors student Kimberly Dena told the annual Honors Convocation in April.
Dena was selected to give the keynote address to the John V. Roach Honors College after winning the third annual Honors Oratorical Competition, which requires students to write a speech based on a specific title. This year's was "The U in Revolution."
Dena, whose senior honors thesis looked at how terrorist groups use social media to recruit would-be jihadists, said social media have evolved from a fun diversion to a powerful political tool that has helped spawn revolutions in places such as Iran, and most recently Tunisia and Egypt. But, she added, they aren't always accurate sources of information.
For example, she said social media sites first reported that men riding camels who charged protestors in Egypt's Tahrir Square earlier this year were supporters of President Hosni Mubarak.
"The only problem was this wasn't the full story," she said. "The men who were riding on camels instead were part of Egypt's tourism industry. These men were upset that their jobs were being displaced by the protestors. They weren't ardent Mubarak supporters."
She also spoke about how terrorist groups are using social media to lure recruits. She noted that Al-Qaeda rapper Omar Hammami's YouTube videos have found a worldwide audience for his anti-American messages.
"Whether we like it or not, we each have a role to play in an emerging revolutionary society," she said. "Protestors in the Middle East and North Africa have chosen their role, using technology to promote democracy. Terrorists like Omar have also chosen a role, using technology for subversive purposes. What role will you play?
"We can chose to respect our increased access to information but doing it intelligently," she said. "We can also choose to be vigilant. You've probably heard before that eternal vigilance is the price of liberty. This has never been truer than it is today."
In addition to winning this year's competition, Dena has also been active in student government and the College Republicans. She served as a delegate in the national Republican Convention in 2008.
The Honors Convocation also included an award for distinguished alumnus of the program. This year's honor went to Texas State Senator Wendy Davis '90. In presenting the award, Andy Schoolmaster, dean on the AddRan College of Liberal Arts, noted she graduated first in her class.
She went on to Harvard law School then joined the law firm of Haynes and Boone LLP and later, Cantey Hanger LLP. In 1999, she was elected to the Fort Worth City Council, representing the district that includes TCU. In 2008, she was elected to District 10 of the state Senate.
"Wendy Davis is an example of how TCU prepares people for exceptional careers," Schoolmaster added.
Davis was unable to attend the ceremony because a bill she was sponsoring was up for debate in Austin. District Director Charles Boswell accepted the honor on her behalf.
The Honors Faculty Recognition Award went to Giri Akkaraju, (above left) assistant professor of biology, whose research includes the pathogenesis of the Hepatitis C virus.
"Are you sure this wasn't a mistake?" he jokingly said as he accepted the award. "It's a great privilege to teach at TCU and to work with my colleagues in the biology department, professors who I look up to as great teachers, researchers and professors which is why I think this is a mistake. Thank you very much, this is humbling."
The program also included music by the TCU Jazz Ensemble. The students played selections from their recent trip to Cuba including one song with special significance.
"We came to call this our signature song," said Curt Wilson, (right) who is retiring at the end of the semester as director of Jazz Studies. "It came to represent the trip for us. You'll recognize it as the theme from 'I Love Lucy.' "
"We weren't sure how Cuban audiences would react to the piece, but when they heard it, they went completely bonkers," he said.
Duy Nguyen '10, a graduate student in math, performed Frederic Chopin's "Winter Wind" on piano and Erik Danielson lead the audience in the singing of the "TCU Alma Mater."
On the Web:
TCU Daily Skiff coverage
John V. Roach Honors College
Video: