Face reading: Jesús Castro-Balbi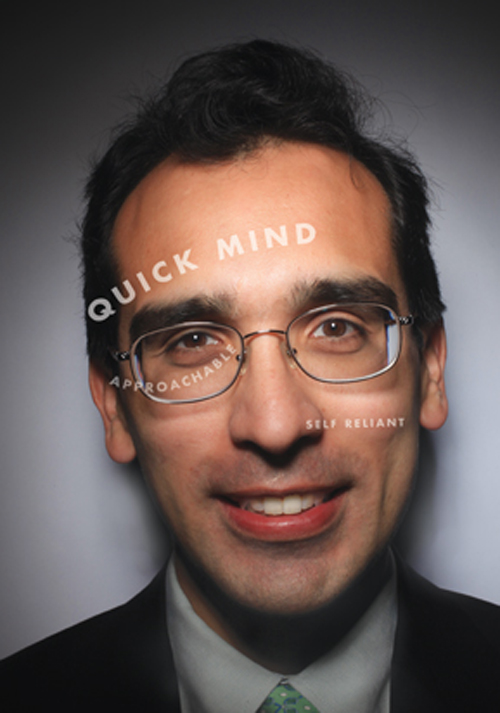 Face reading: Jesús Castro-Balbi
Face reader Mac Fulfer's take on … Jesús Castro-Balbi, Associate Professor of Cello, TCU School of Music:
Here is another brilliant guy. His thick, even eyebrows reveal that not only is he a thinker, he sees all the related aspects quickly and easily. If you want to convince him of something, his straight eyebrows say that you will have to show him the facts, data and proof.
He has an almost mathematical mind coupled with high intuition. The extra hairs at the beginning of those magnificent eyebrows tell me that he has conscious access to his inner thoughts and feelings and can easily find pattern recognitions that come up for him as gut feelings.
And, he has learned to trust in his gut feelings, despite his factual preferences.
He has high ears and low eyebrows, meaning that he can be mentally intimidating in his field, simply because his mind chews on a problem.
He has an extremely quick mind and you can show him "A" and he can go straight to "Z." If he has to deal with other people he should learn to slow down, repeat himself and give examples.
His nose reveals that he is self-reliant and prefers to control his own pace and style of work.
His Bambi eyelids give him natural charisma and make him approachable. In fact, he may even have strangers telling him more things than he cared to know, because his eyelids draw them out.
In this photo his eyelids don't match. His right eyelid is hanging down a little more than his left, which indicates that he has been pushing himself in his professional life. His front teeth tell me he has a stubborn streak. He is not a flip-flopper.
Castro-Balbi's take on Fulfer's analysis:
"What a fascinating world of unexpected interpretations of the person as revealed in one's face! Thank you for taking the time to analyze my traits!"
Next face: Jim Schlossnagle, Head coach, TCU Baseball
Sidebars:
Face value: Attorney turned professional face reader Mac Fulfer '71
Fulfer reads some "TCU famous" faces
Face reading 101