Face reading: Darron Turner '87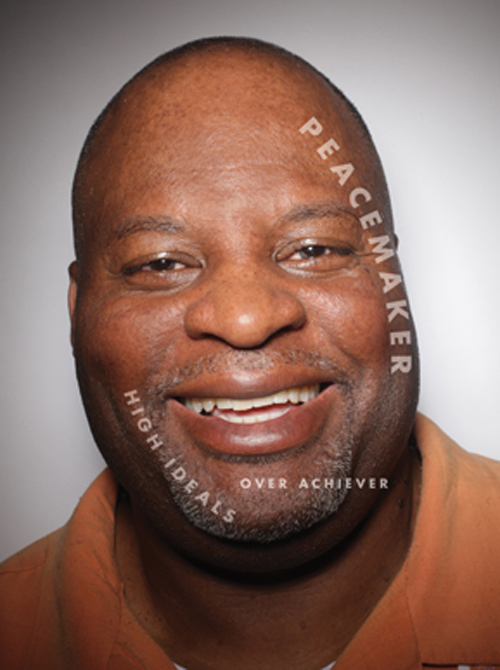 Face reading: Darron Turner '87
Face reader Mac Fulfer's take on … Darron Turner, Assistant Vice Chancellor for Student Affairs, Inclusiveness and Intercultural Services:
He has small high ears and high eyebrows: The small ears show that he takes in information best when he sees it. His ear and eyebrow combination indicates that he takes in information quickly — you don't have to explain it twice. But his eyebrows indicate he needs to be sure that it also feels right. His round eyebrows show that he is a people person.
Full, round cheeks make him a consensus builder who is capable of getting everyone on his bandwagon.
The overall shape of his face shows that he is a peacemaker capable of finding middle ground and straightening out difficulties between others, but he is no pushover, and if he is not consulted he may put up emotional walls.
His square chin tells me he goes all-out for his projects, goals and ideals. And he has high ideals. The beard gives him a gruffer external appearance than he internally feels. The tougher appearance can help keep others from taking advantage of him because he is a naturally kind hearted, easy-going type of guy.
His jaws show he has incredible tenacity. He is not a quitter, even when times get tough.
His broad nose announces that he is a natural provider. He is generous to a fault. His full lips show a warm personality and a natural expressiveness.
His nose tip turns down which says that he does not extend trust quickly. However, his healer cheeks will cause others to instantly feel that they can trust him. He would be an excellent trainer, therapist, coach or counselor because he has a face that others trust.
Turner's take on Fulfer's analysis:
"For a person that I have never met, he was amazingly accurate. There were a couple of areas that I would disagree with, but for the most part his assessment was on the money. I guess to the trained eye our faces share more about us than we think."
Next face: Jesús Castro-Balbi, Associate Professor of Cello, TCU School of Music
Sidebars:
Face value: Attorney turned professional face reader Mac Fulfer '71 
Fulfer reads some "TCU famous" faces
Face reading 101